458th Bombardment Group (H)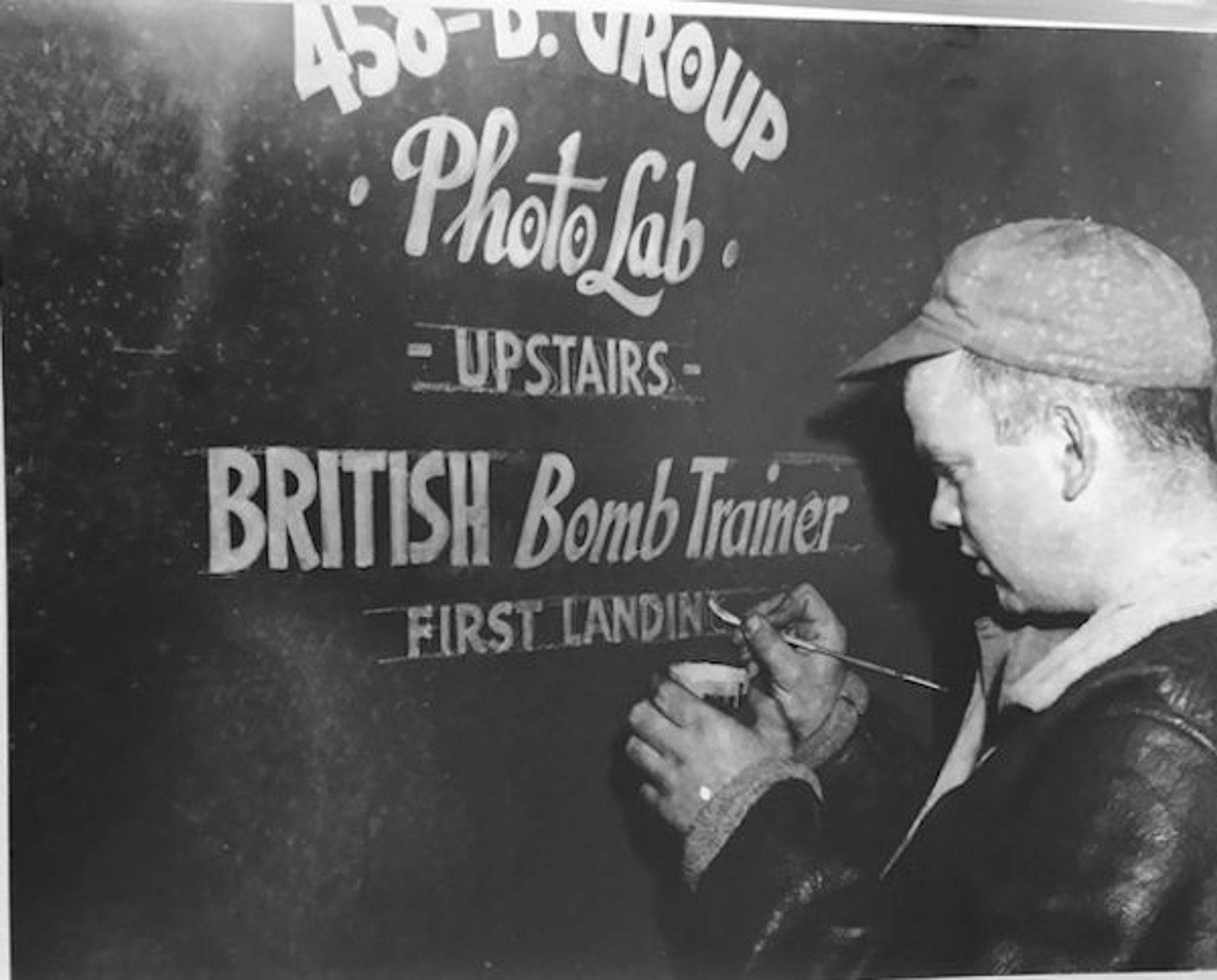 Our photo laboratory, we think, is one of the best equipped laboratories of the bomber group chain in the United Kingdom.  The equipment is of the latest type and the building allotted for this work is conducive to earnest work without too many interruptions. The enlisted staff of eighteen men, under the supervision of Lt. Joseph H. Fischer, have either had extensive photographic work in civilian life, or have attended one of the Army schools of photography.  Lt. Fischer received his commission after graduation from the Army Air School of Photography at Yale University, New Haven, Connecticut.
The most important function of this section is the installation of cameras for bombing missions and the development of the negatives taken during the mission. A typical example of the work done in this respect is as follows:
Alerted from Group Operations – Formation plan received from Group Ops – Alert photo technicians and start the ball a'rolling.  First of all, decide on which planes will carry cameras and the type camera.  This is done and the men get to work.  The cameras are carried to the planes and the delicate work of wiring them to the automatic bomb release and the bombs is started.  This is finally accomplished, the work is passed as, "OK" by the Photo Chief.  The crews arrive at the ships and one EM familiar with the installation is on hand to brief the bombardier on the camera installed.  When the A/C arrive back to the base, the EM are on hand to remove the cameras, take them to the lab and start the development of the negatives.
The films are developed, printed, sorted and forwarded to the division within three hours.  One set of prints are forwarded to the Group Photo Interpreter and the results are followed up by Lt. Fischer.
In addition to their aerial duty, extensive ground work is also accomplished.  There are passport pictures to be taken of the combat crews, public relations photos for the PRO Officer, pictures of pieces of flak found in the ships, photos of engines, battle damage and modification of A/C.  All grades of echelon maintenance on cameras and other apparatus such as printing machines, developing, drying machines are performed right in the lab and very little, if any, work sent out to the larger depots.  On hand, there is approximately a stock of 18 K-21 [cameras] and 10 K-20's.  No matter how insignificant or important a job may be, a print and negative of all photos taken are kept in the well-indexed file.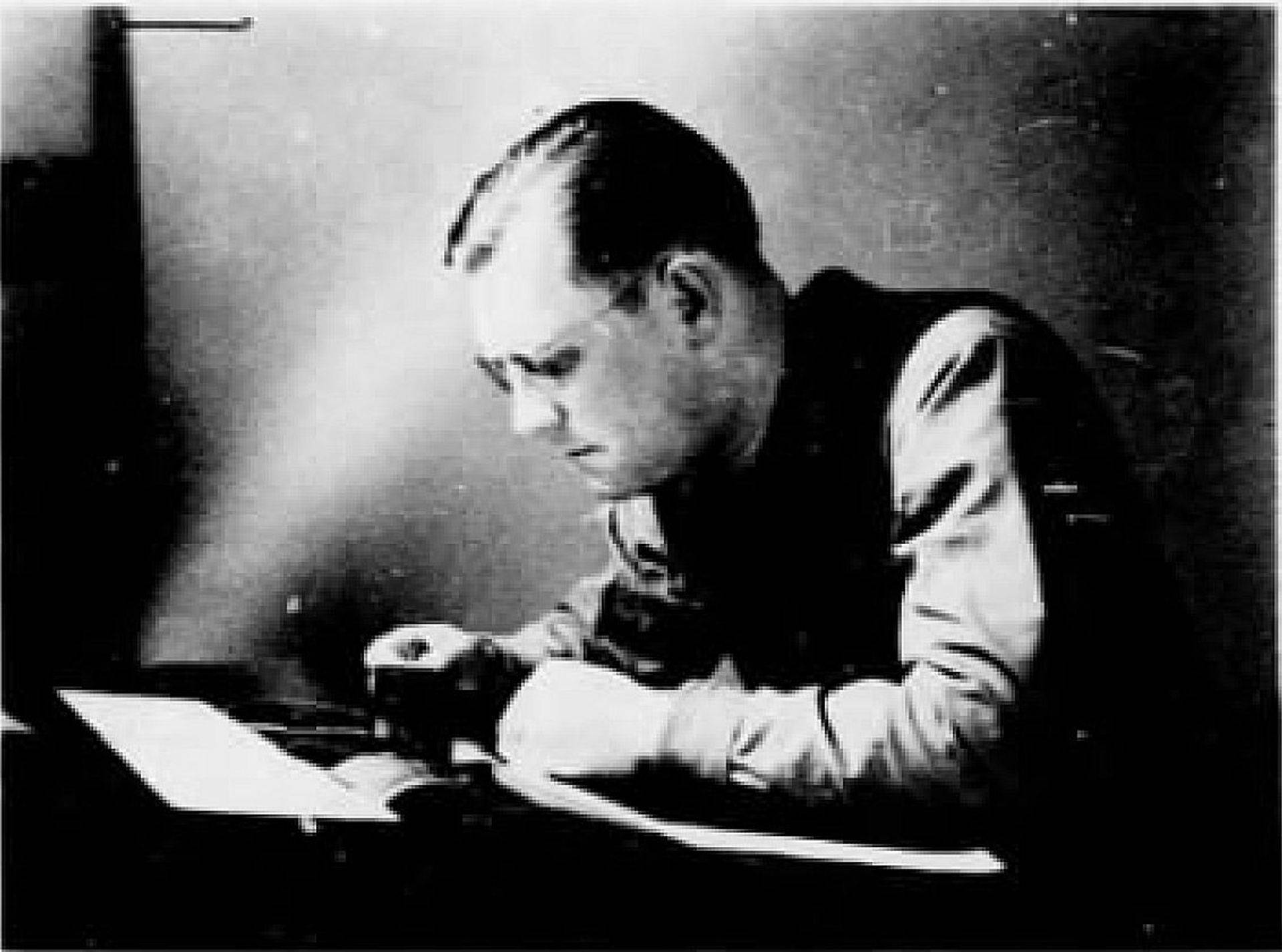 AN EIGHTH AIR FORCE LIBERATOR STATION, ENGLAND: — Cpl. Joseph C. Langguth of Altoona, PA. is seen here examining a target film of his group's final combat bombing mission over Germany. Cpl. Langguth, who is a photo interpreter in the intelligence section of the 458th Bombardment Group, is viewing the group's bomb bursts on an important rail junction at Bad Reichenhall, Near Hitler's Bertechsgarden.
Cpl Langguth's wife, Mrs. Marion Langguth, lives at 2504 Union Ave., Altoona, PA. His parents, Mr. and Mrs. Charles L. Langguth, live at 1507 Sixth Ave., Altoona, PA. Prior to his induction in the Army [on] April 7, 1943, Cpl. Langguth was an assistant manager for Walgreen Drug Co. in Altoona. He has been overseas since January 18, 1944.
The 458th Bombardment Group, which is a part of Major General William E. Kepner's Second Air Division, has completed 240 bombing missions over European targets.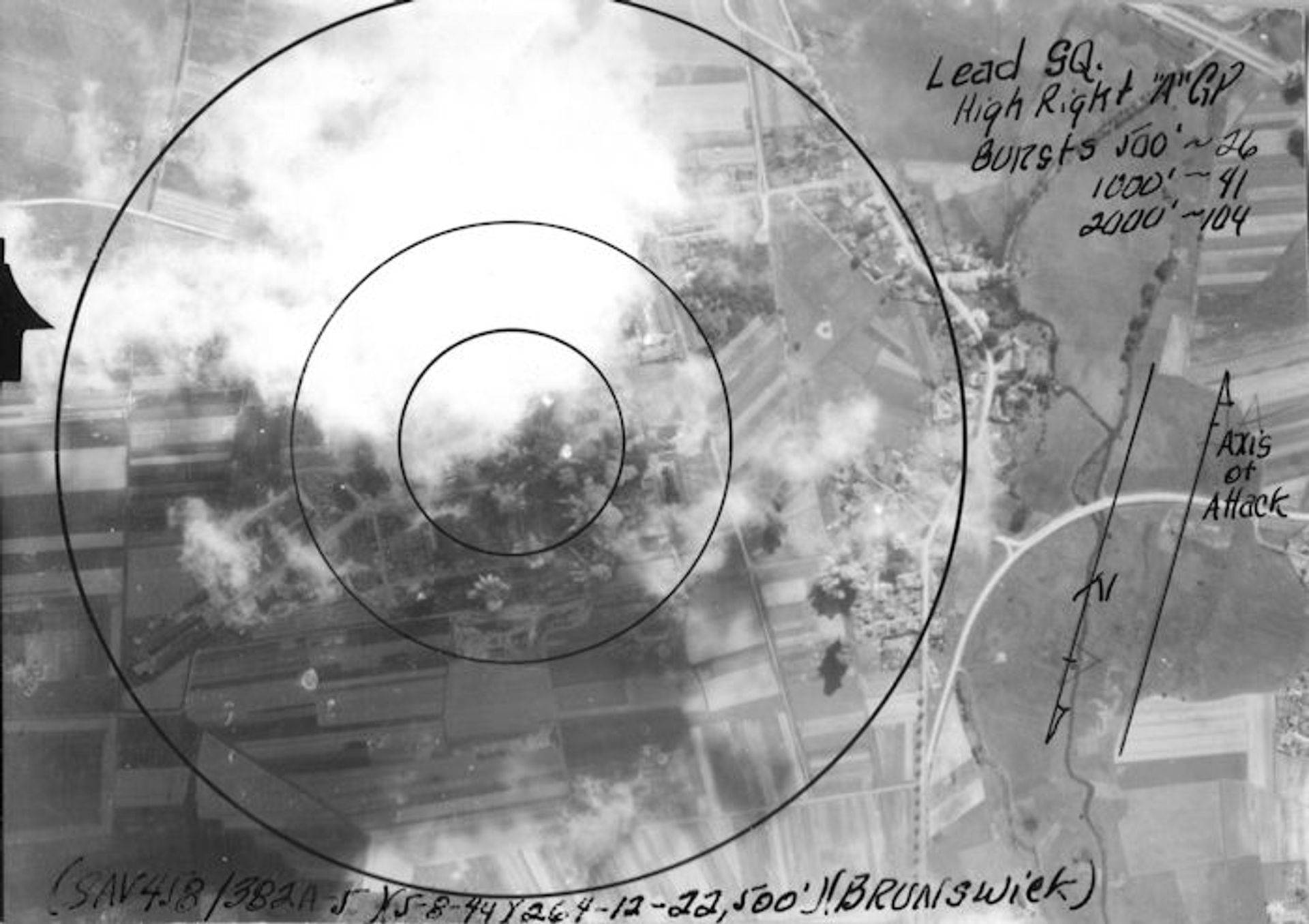 The photo interpretation staff consisting of Capt. Waldo Butler, and Lt. L. B. Waldron and Sgt. Donald L. Byrn, are on hand at the Photo Laboratory as soon as the cameras are removed from the planes. The first phase of their work begins with a close scrutiny of the negative over the light table to ascertain where the bombs hit. When this information is obtained, Capt. Butler immediately phones 2nd Bombardment Division imparting this information on a flash report.
Prints are then obtained from the frames of negatives showing the bomb impacts and annotated to show the assigned aiming points. The bomb bursts are counted to ascertain the number of bursts within a 500', 1000' and 2000' area within the MPI [see examples below]. Copies of the prints scaled to show this information are forwarded to the division, the wing, group bombardier, group operations and additional copies posted on prominent bulletin boards on the field giving all the group personnel tan opportunity to see the results of the mission.
A complete study is then made of all prints and a bomb plot is constructed, accounting for every bomb carried over the target.
The interpreters hours are varied depending on the time of arrival, but usually they are to be found working into the early morning hours, and to paraphrase a statement made by Capt. Butler, "Let's hit the sack and get a well-deserved rest."
"The Photo Lab is On the Ball"
The following illustrations are the brain child of Lt. Jones and his staff at the Photo Lab.  Our combat boys were neglecting to obtain K-20 shots and there were many malfunctions due to improper knowledge of the cameras.  So, in order to forcibly bring this to the attention of the gunners, an extensive campaign was started.  The boys in the Photo Lab went to work and are still working on this campaign.  Weekly, a new poster will be put out dealing with some phase of aerial cameras, and it is hoped that by this method the results will be much better in the future.  These attractive, eye-catching posters are prominently displayed in all the buildings on the base, so whether it be the mess hall [or] HQ building, one is always sure to be attracted to the bulletin boards where they are on display.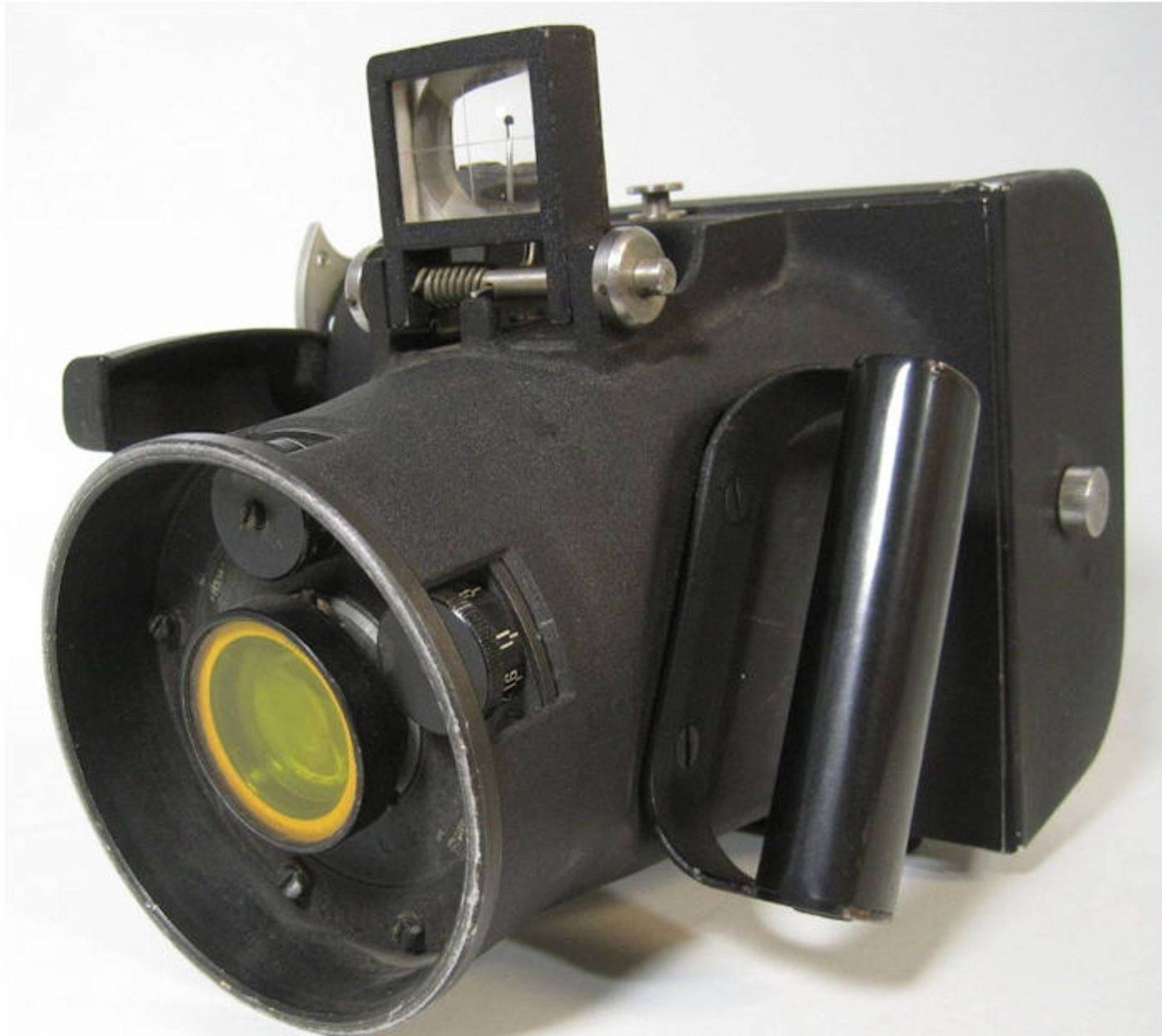 The K-20 is an aerial photography camera used during World War II. Designed by Fairchild Camera and Instrument, approximately 15,000 were manufactured under license for military contract by Folmer Graflex Corporation in Rochester, NY between 1941-1945.
The K-20 uses a 5.25″ x 20 to 5.25″ x 200 foot roll film, with an image size of 4 x 5 inches. Lenses were 6 3/8″ f/4.5 with an adjustable diaphragm and were non interchangeable, these were made by Kodak, Ilex, or Bausch & Lomb, as available at the time of order.
The camera featured the use of a vacuum to keep the film flat.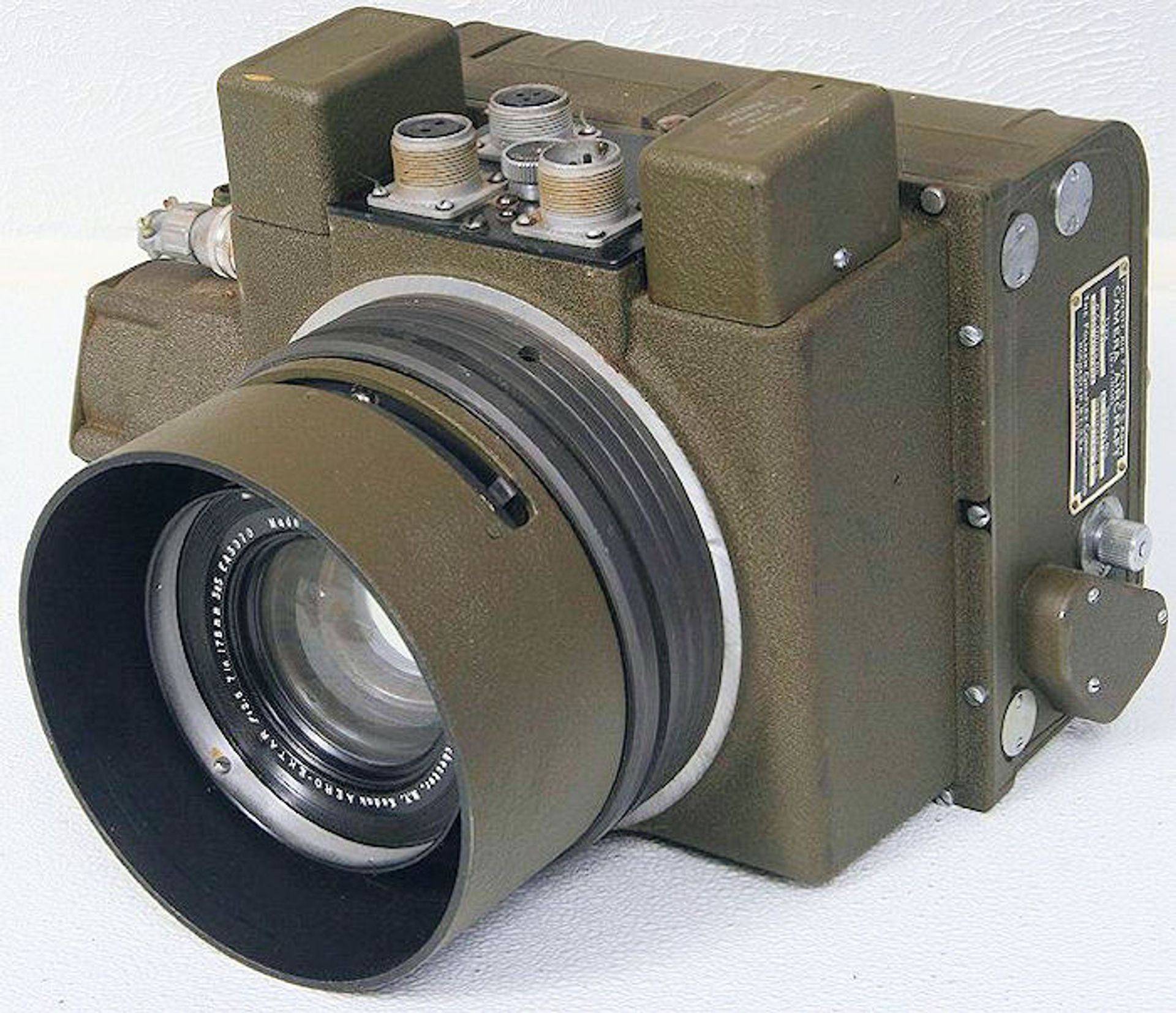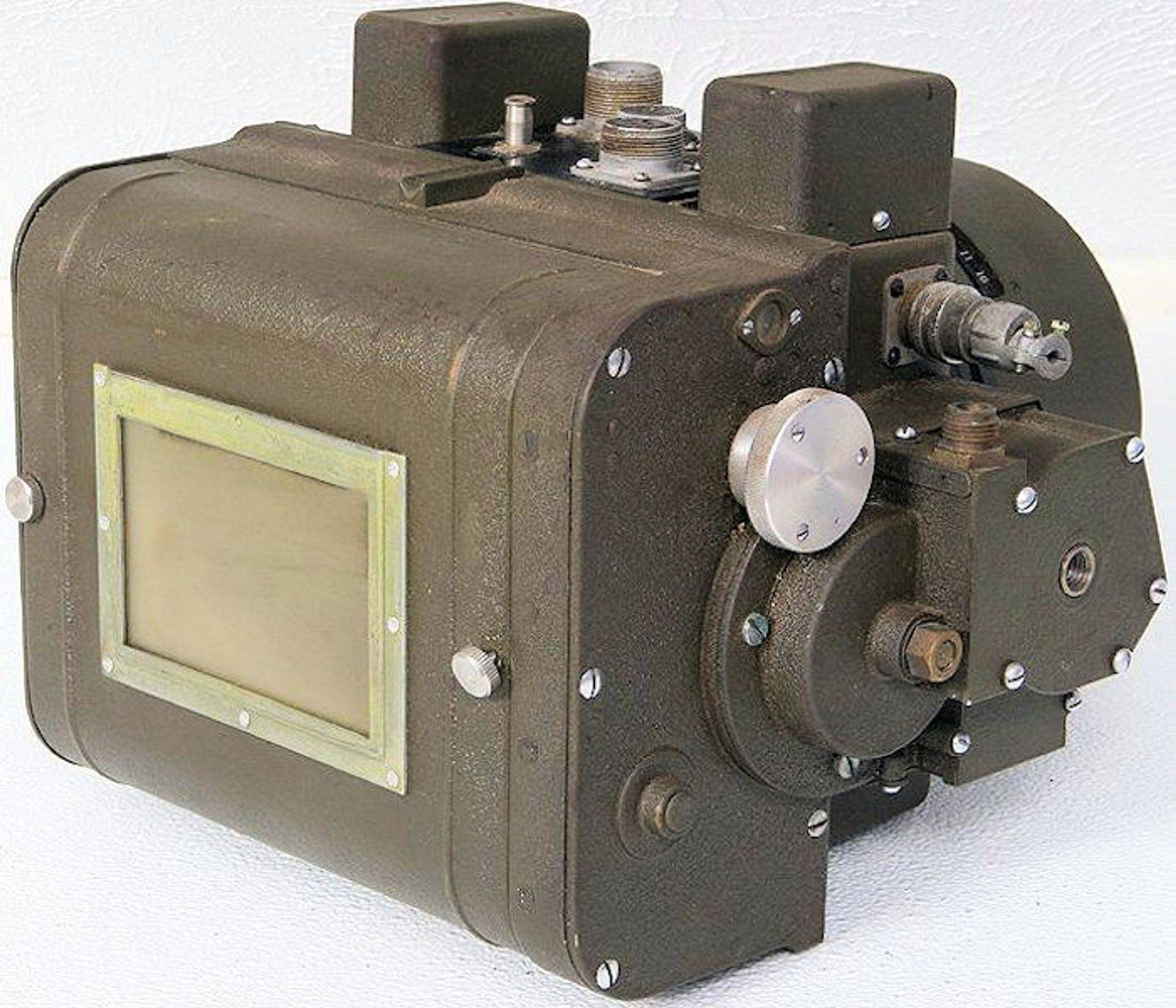 Similar to the handheld K-20, the K-21 could be mounted in the aircraft and connected with the intervalometer to automatically take pictures when the bombs were released.  Click for diagram.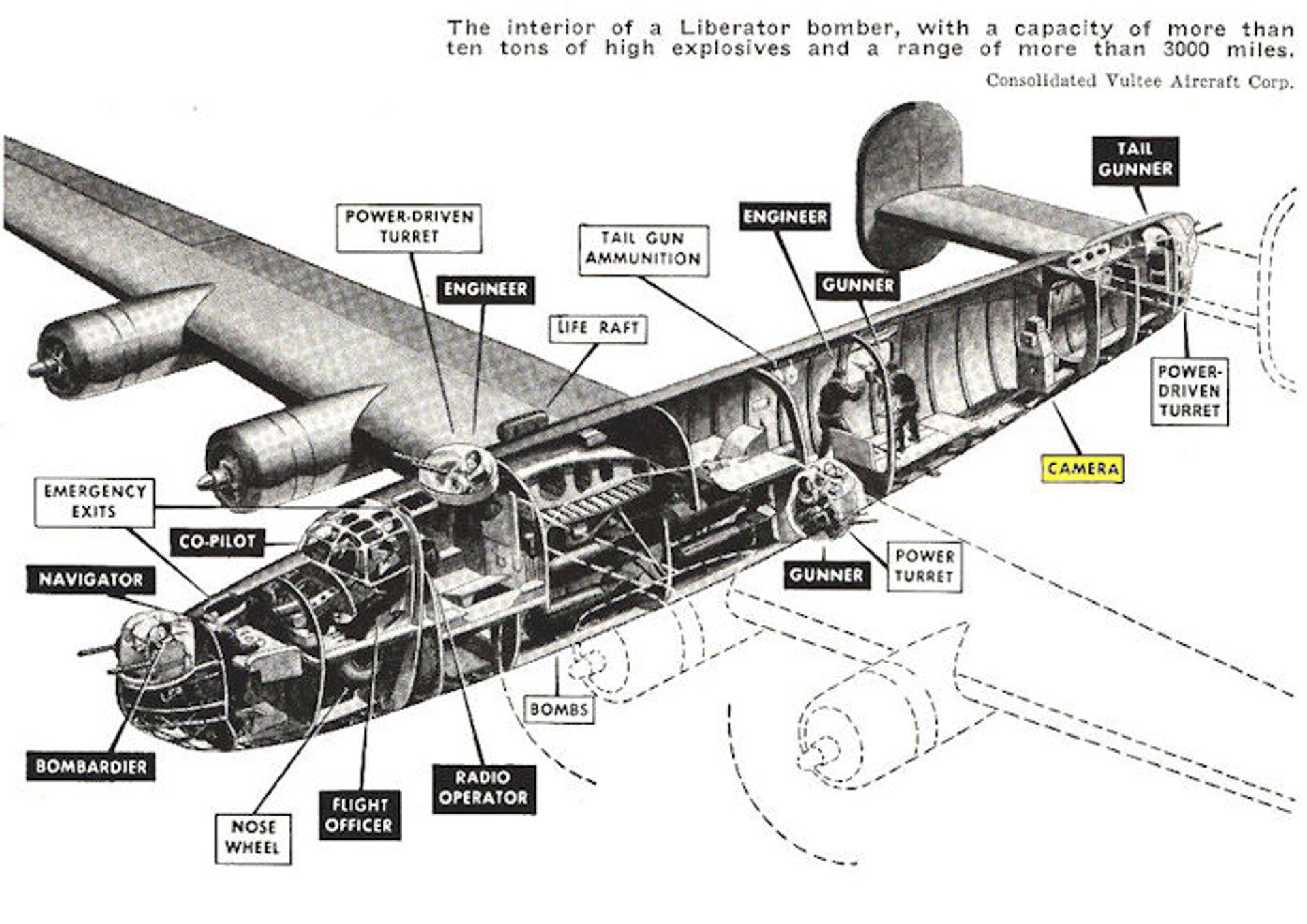 | Rank | Name | Serial # | Job Title | Home | Date | Comments |
| --- | --- | --- | --- | --- | --- | --- |
| Sgt | Arthur L Allen, Jr | 12216326 | Photo Technician, Aerial | Rochester, NY | 01-May-45 | 2AD Roster - 754th Bomb Sq (H) |
| S/Sgt | Robert L Baker | 11096329 | Photo Technician, Aerial | Providence, RI | 01-May-45 | 2AD Roster - 752nd Bomb Sq (H) |
| Capt | Waldo D Butler | 564962 | Aerial Photo Interpreter | | 05-May-45 | Appointed Public Relations Officer |
| S/Sgt | Donald L Byrn | 13070565 | Draftsman | Little Rock, AR | 01-May-45 | Reclassifed Radio Operator-Gunner |
| Sgt | George W Clark | 35536664 | Photo Technician, Aerial | Cleveland Heights, OH | 01-May-45 | 2AD Roster - 753rd Bomb Sq (H) |
| Pvt | Arthur Fast | 32883796 | | Bronx, NY | 01-May-45 | 2AD Roster - 755th Bomb Sq (H) |
| Sgt | David S Fruchtbaum | 13094463 | | Philadelphia, PA | 01-May-45 | 2AD Roster - 753rd Bomb Sq (H) |
| Cpl | Alton A Haynie | 15331974 | Photo Technician, Aerial | Paducah, KY | 07-Jun-45 | Ferry Crew 5 of 18 - Pilot Ferriell |
| S/Sgt | Herman H Hetzel | 19092471 | Photo Lab Chief | Guthrie, OK | 01-May-45 | 2AD Roster - 753rd Bomb Sq (H) |
| Pfc | Robert J Hughes | 32447437 | Camera Technician | Amsterdam, NY | 01-May-45 | 2AD Roster - 755th Bomb Sq (H) |
| Sgt | Gene W Hunt | 36594034 | Camera Technician | Pontiac, MI | 01-May-45 | Ferry Crew 2 of 18 - Pilot Hiner |
| Capt | Gordon S Jones | 861609 | Aerial Photo Officer | | 01-Jun-45 | Photo Section |
| Cpl | Joseph G Langguth | 33757974 | Clerk Typist | Altoona, PA | 01-May-45 | Ferry Crew 3 of 18 - Pilot Minor |
| S/Sgt | Salvatore G Livigno | 32443712 | Photo Technician, Aerial | Brooklyn, NY | 01-May-45 | 2AD Roster - 755th Bomb Sq (H) |
| Sgt | John Petrella | 32423399 | | Brooklyn, NY | 01-May-45 | 2AD Roster - 755th Bomb Sq (H) |
| S/Sgt | Arnold Sadow | 20118356 | | Dorchester, MA | 01-May-45 | 2AD Roster - 752nd Bomb Sq (H) |
| S/Sgt | Kenneth E Scott | 35597452 | Camera Technician | Akron, OH | 01-May-45 | 2AD Roster - 753rd Bomb Sq (H) |
| S/Sgt | Eugene C Steed | 39027980 | Machinist | Sandy, UT | 01-May-45 | 2AD Roster - 755th Bomb Sq (H) |
| Pfc | Leonard I Swanbom | 37341690 | | Denver, CO | 01-May-45 | 2AD Roster - 754th Bomb Sq (H) |
| T/Sgt | Ivan P Tolley | 39679329 | | Delphos, KS | 01-May-45 | 2AD Roster - 753rd Bomb Sq (H) |
| Pfc | Francis W Townsend | 32433121 | | Brooklyn, NY | 01-May-45 | 2AD Roster - 755th Bomb Sq (H) |
| S/Sgt | Leonidas Veins | 11044262 | | Attleboro, MA | 01-May-45 | 2AD Roster - 755th Bomb Sq (H) |
| 2Lt | Lebbaeus B Waldron | 863420 | Photo Officer | Florida | 18-Jun-45 | Transferred to 489BG |
Names in BOLD are not pictured in the poster
Back Row: Unknown, Unknown, Eugene Steed, Ivan Tolley, Kenneth Scott, Unknown, Herman Hetzel
Middle Row: Robert Baker, Francis Townsend, Sal livigno, Gordon Jones, John Petrella, Unknown, Gene Hunt, David Fruchtbaum
Front Row: Robert Hughes, Leonard Swanbom, Arnold Sadow, G. Warden Clark, Arthur Fast, Arthur Allen, Leonidas Viens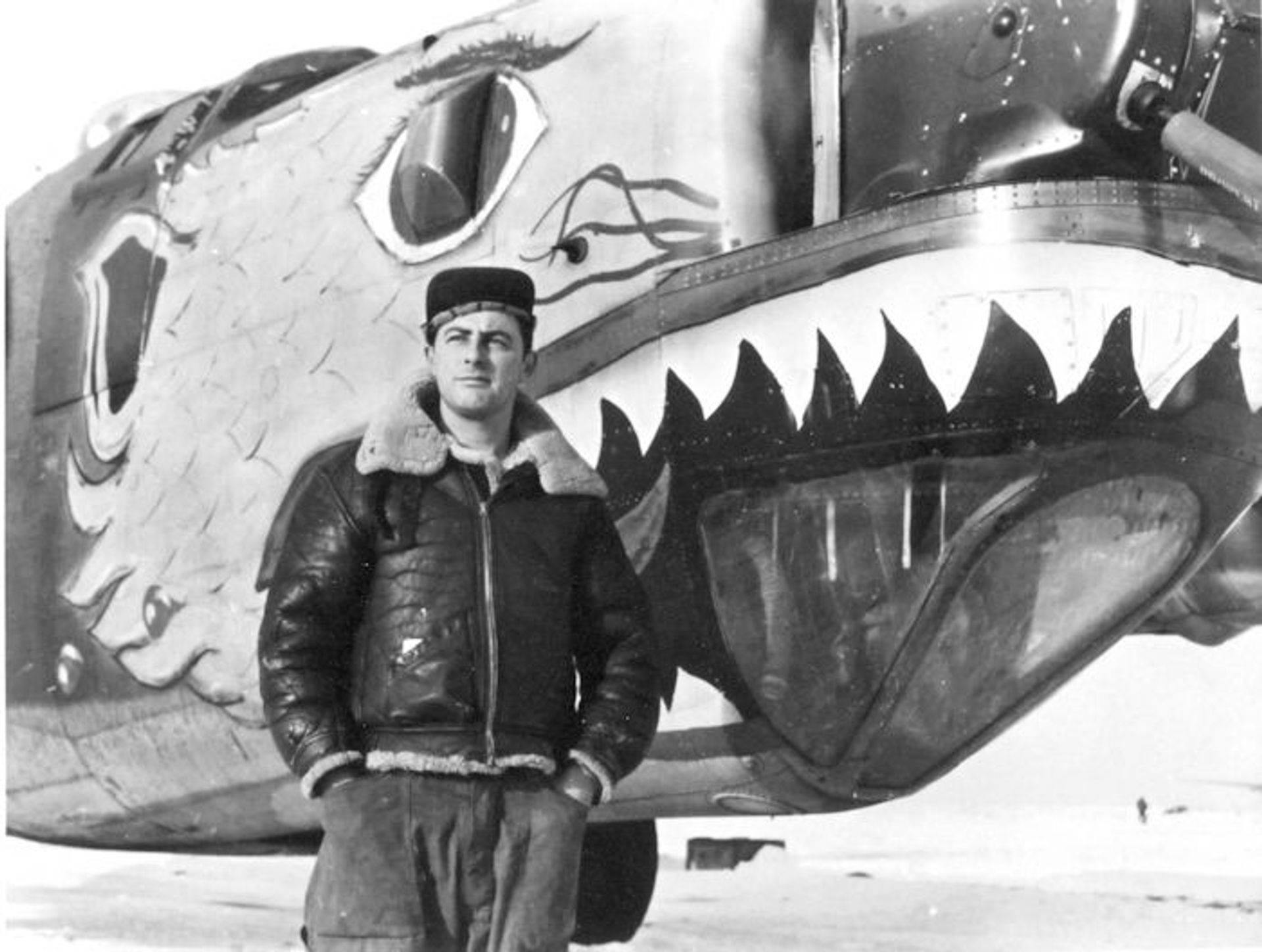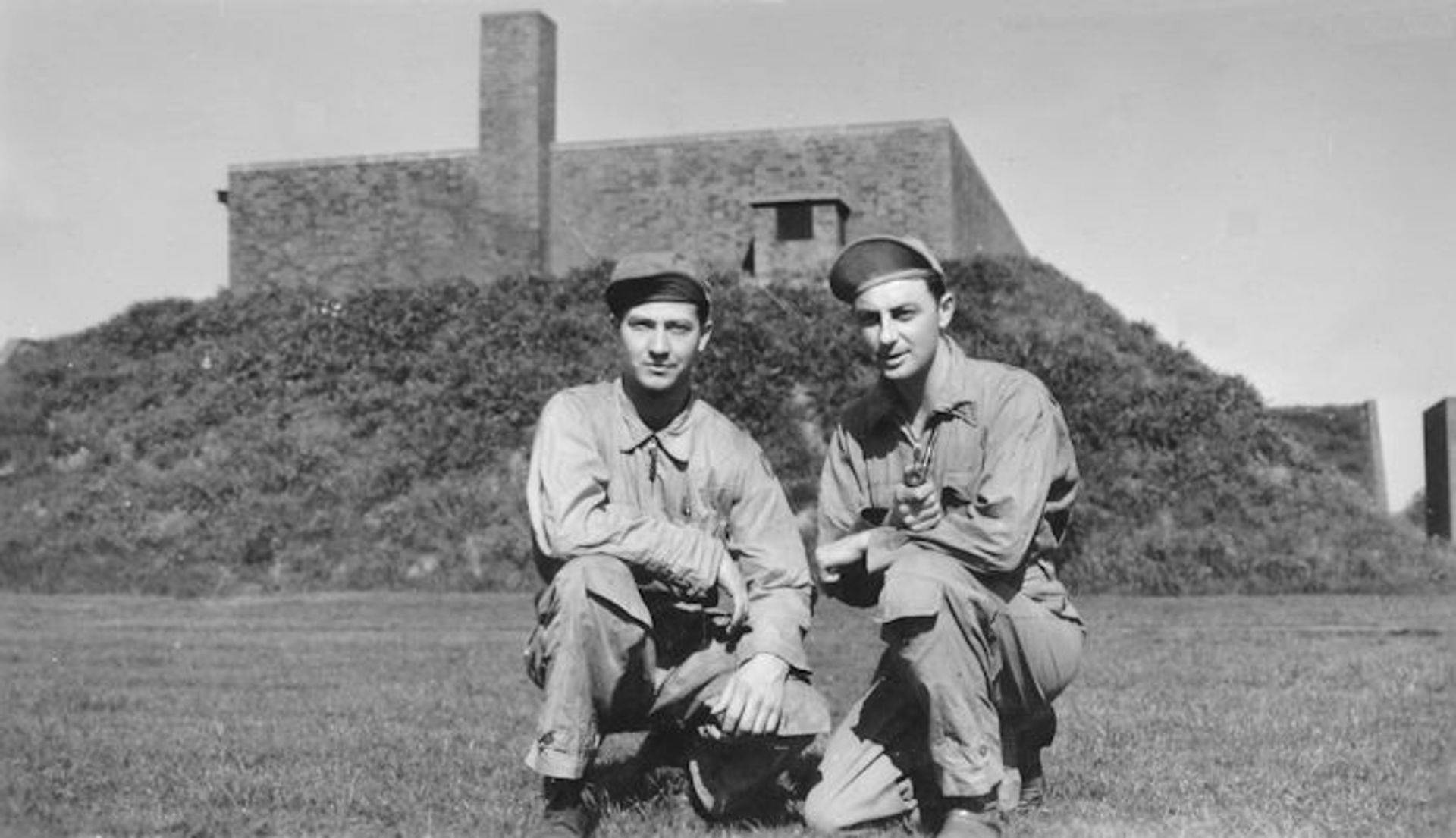 Sgt James A. Harper, gunner on Lt Charles Brown crew and Herman Hetzel
(From the collection of James Archie Harper, courtesy of the James & Harper Families)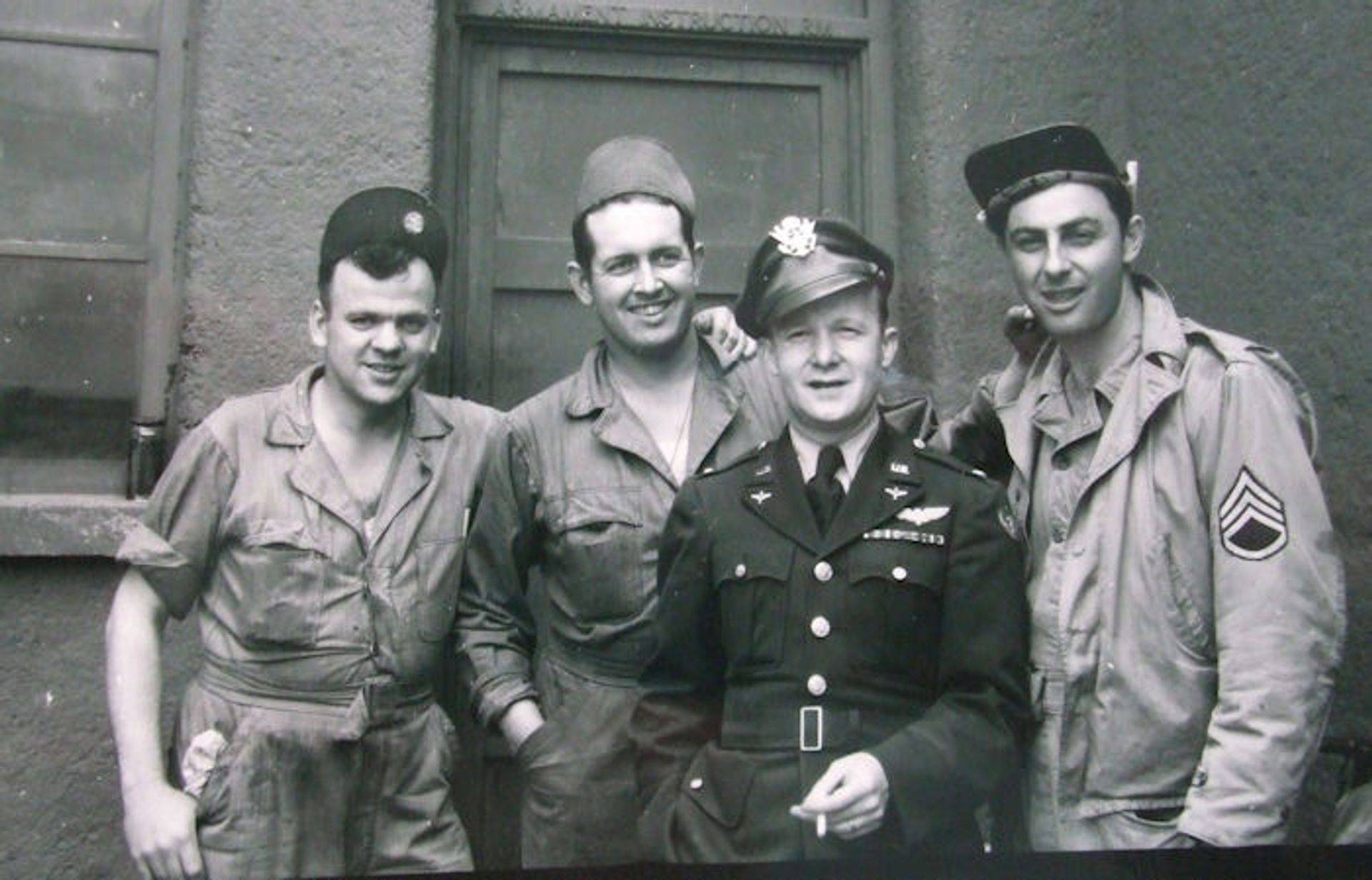 G. Warden Clark, Sal Livigno, Unknown Bombardier, Herman Hetzel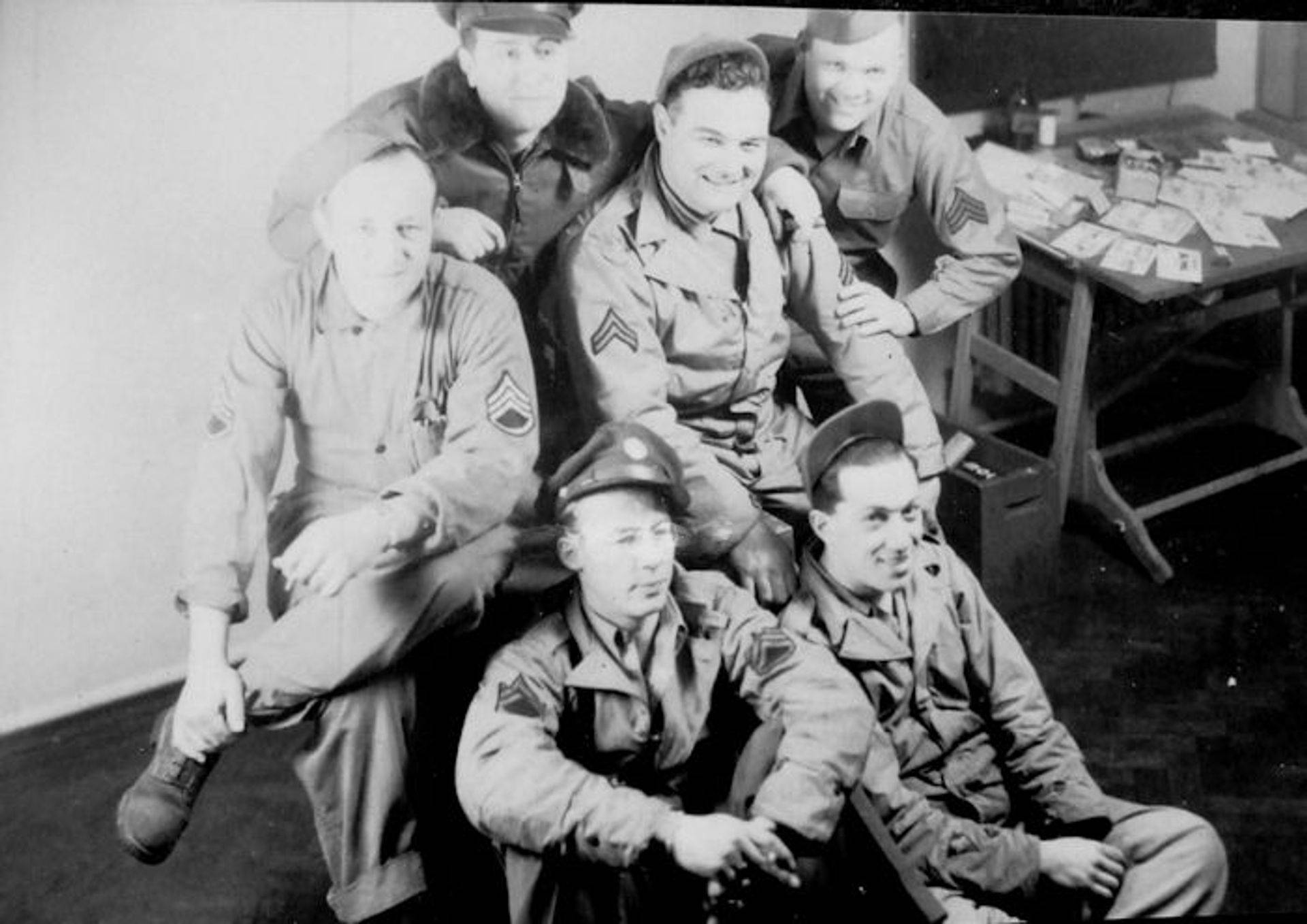 Photo Lab Techs
(Courtesy: Brendan Wood)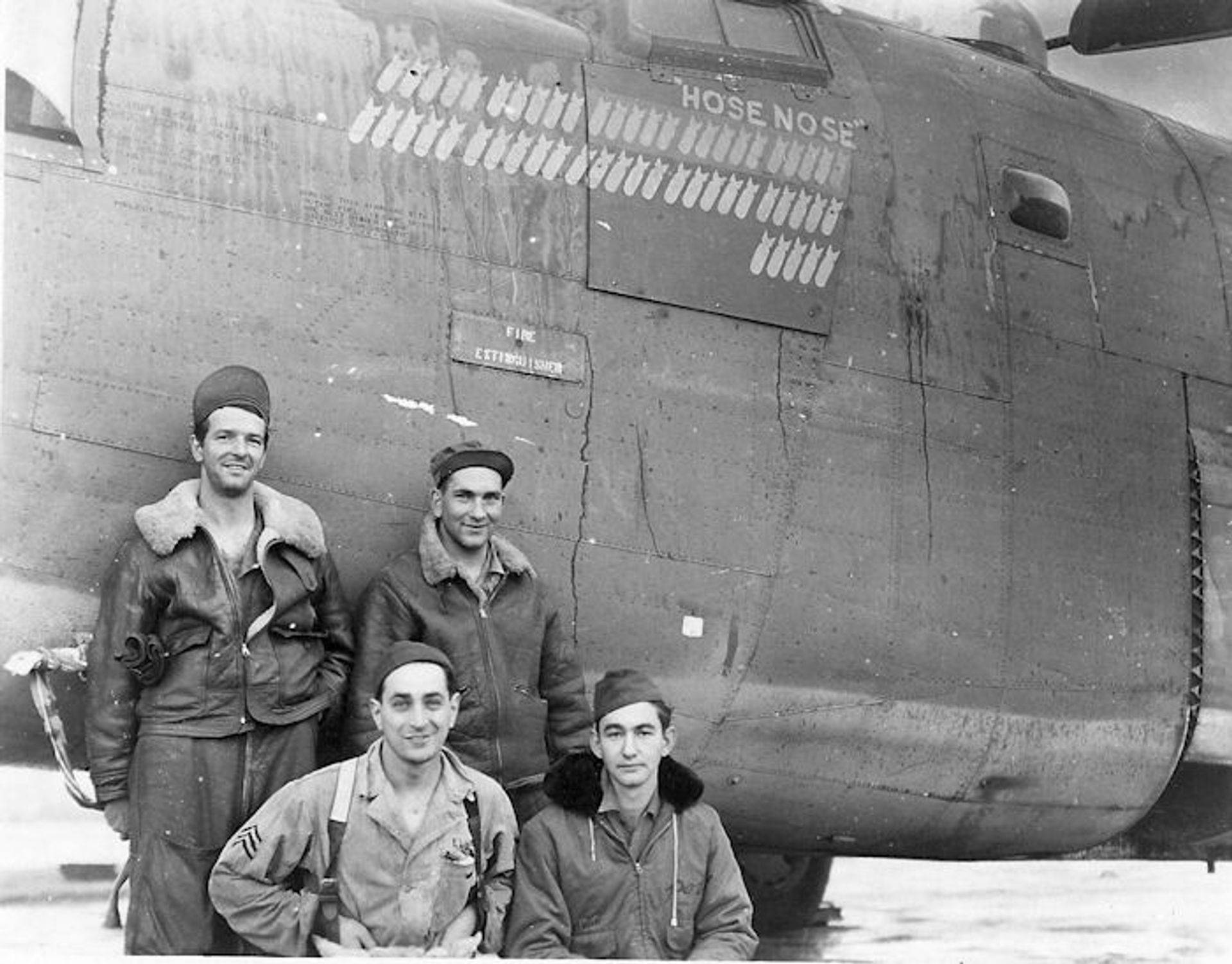 Alton Haynie (lower right) with B-24J-100-CO 42-100429 CONSOLIDATED MESS, a 44BG Liberator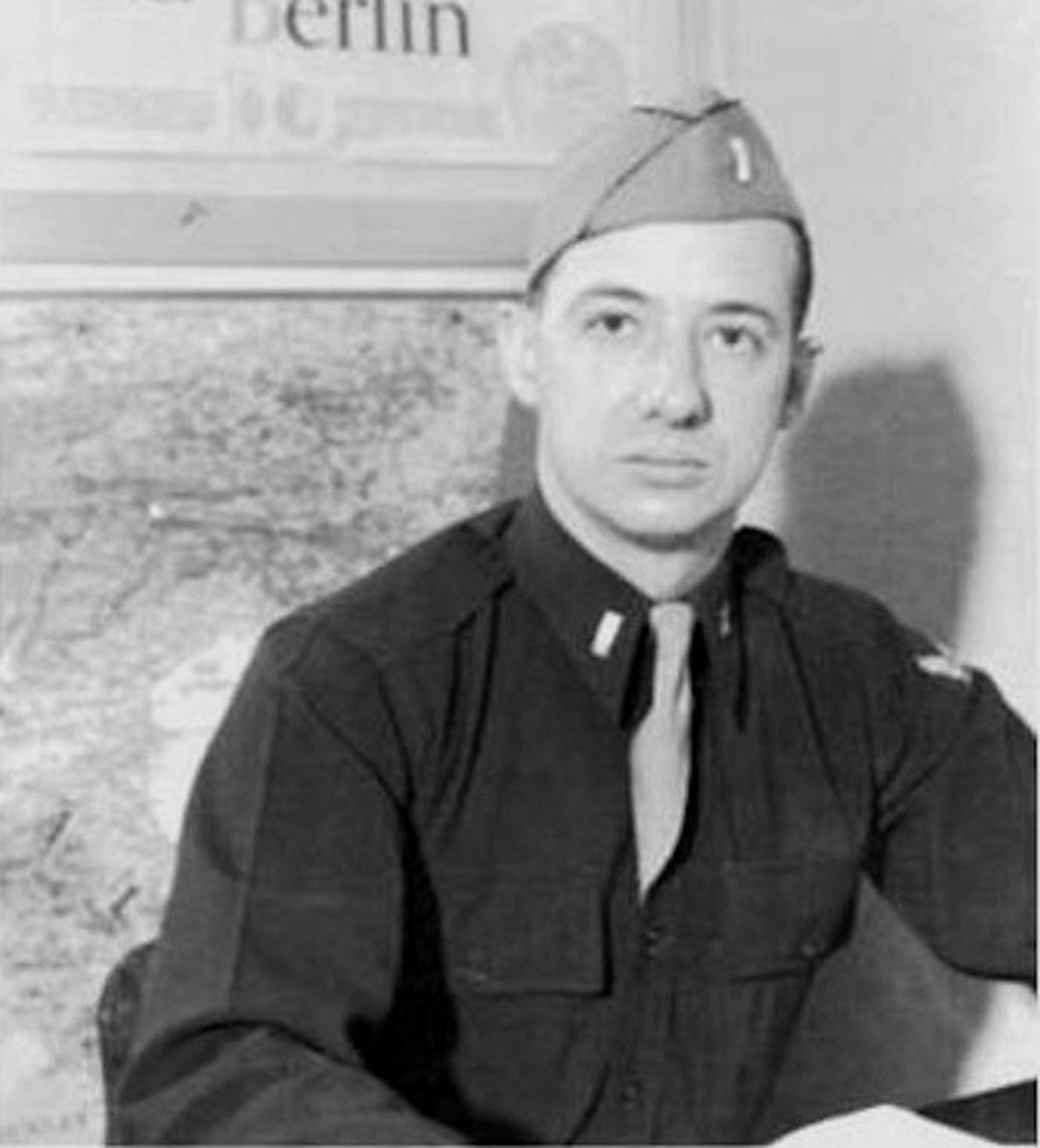 Captain Waldo D. Butler
Capt. Butler had been with the group since September 1943 as an Intelligence Officer. In December, as the group was moving overseas, he became the Station & Group Photo/Public Relations Officer.  He remained in that position until January 1945 when he was relieved of that duty.  It is not clear what his job was with the group after January, but in May 1945 he was reappointed Public Relations Officer.
(Photo: Anthony Recchia)