Crew 74 – Assigned 755th Squadron – October 21, 1943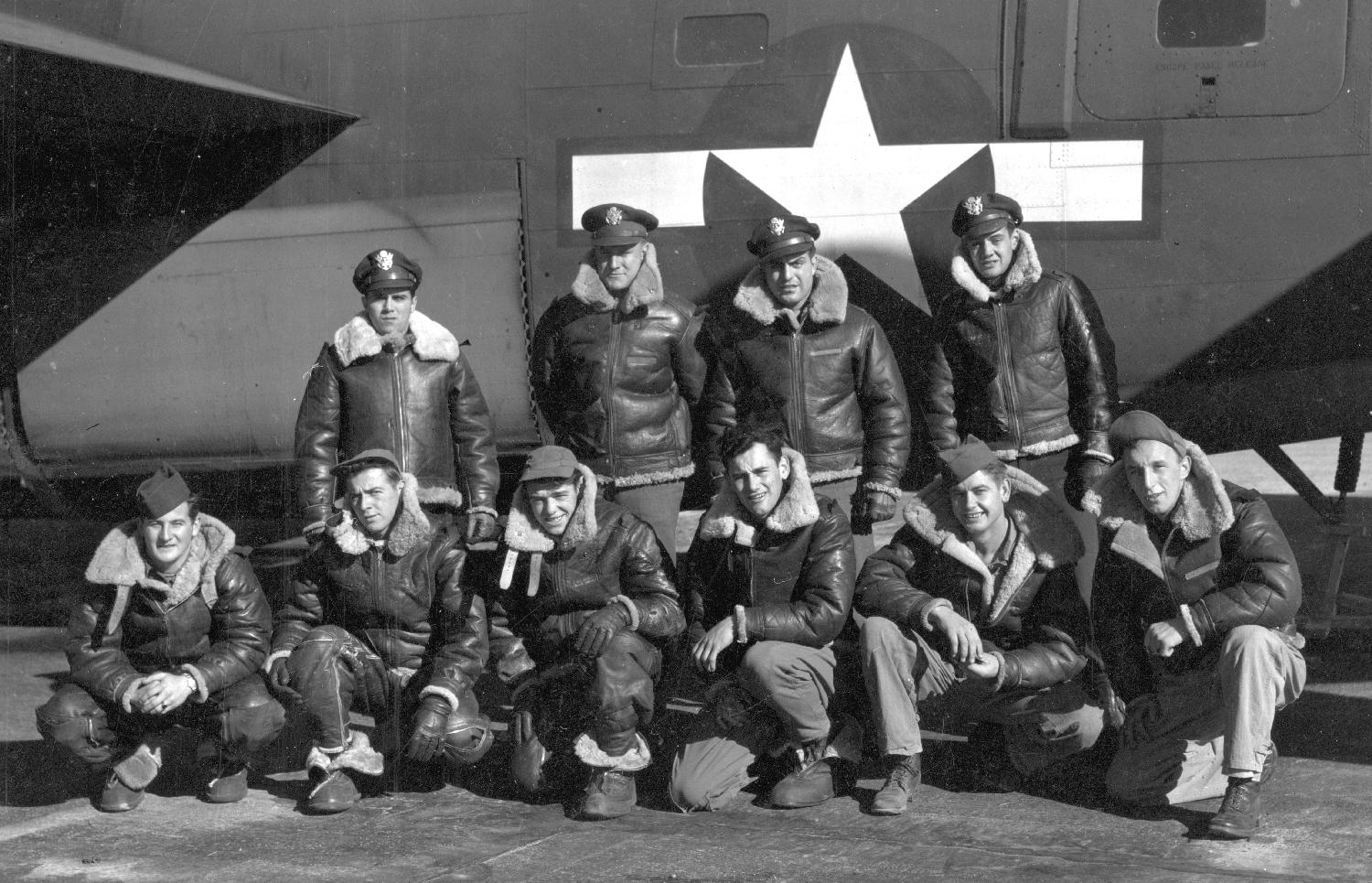 Standing:
 Sam Scorza – N, Curt Vogel – P, A.J. Testa – B, Al Hilborn – CP
Kneeling:
Joe Brown – TT/E, Ray Potts – BTG, Bernie Doyle – RO, Donald Murphy – WG, Chester Carlstrum – TG, Al Walczak – WG
| Rank | Name | Serial # | Pos | Date | Status | Comments |
| --- | --- | --- | --- | --- | --- | --- |
| 1Lt | Curt M Vogel | 0745982 | Pilot | 01-Jul-44 | CT | Trsf to 12RD AAF 591 - Tour complete |
| 1Lt | Allen C Hilborn | 0693778 | Co-pilot | 01-Jul-44 | CT | Transferred to 482nd BG |
| 1Lt | Samuel D Scorza | 0694736 | Navigator | 03-Jul-44 | CT | Trsf to 12RD AAF 591 - Tour complete |
| 1Lt | Alex J Testa | 01106529 | Bombardier | Jul-44 | CT | Trsf to 12RD AAF 591 - Tour complete |
| T/Sgt | Joseph R Brown | 12192583 | Flight Engineer | Aug-44 | CT | Left for 8th AFRD at AAF 594 |
| T/Sgt | Bernard J Doyle | 12208796 | Radio Operator | Aug-44 | CT | Left for 8th AFRD at AAF 594 |
| S/Sgt | Ray J Potts | 39325760 | Ball Turret Gunner | Aug-44 | CT | Left for 8th AFRD at AAF 594 |
| Pvt | Donald P Murphy | 12174043 | Airplane & Engine Mech | 15-Apr-45 | RFS | Trsf 814th Air Engineering Sqdn |
| S/Sgt | Albert W Walczak | 13088554 | Waist Gunner | 08-Jun-44 | CT | Reld from 60SC |
| S/Sgt | Chester R Carlstrum | 19186336 | Tail Turret Gunner | 27-May-44 | KIA | Bailed out of Martin's plane |
Lt Curt Vogel's Crew 74 was one of the last crews to be assigned to the 458th in Tonopah.  They left the States for ETO on January 13, 1944.  Their ship, #342 Rough Riders, developed a fuel leak that at Waller Field, Trinidad.  A few days later in Natal, the leak was serious enough that it held them up for 7 days in order to get it repaired.  They finally arrived at Horsham St Faith on February 9, 1944.
S/Sgt Donald Murphy was replaced shortly after arriving in England with S/Sgt Harry Goldstein.  The crew flew their first mission on March 5, 1944.  Not slated to fly the next day on the USAAF first daylight raid on Berlin, Sgt Goldstein volunteered to fly with a crew in the 754th Squadron and was killed in action when their plane was shot down over Berlin.  Taking his place on the crew was S/Sgt Lovell T. West, who remained with the crew for the remainder of their combat tour.
S/Sgt Chester Carlstrum, the crew's tail gunner, was also rated as a flight engineer, a position that he desperately wanted.  On May 27, 1944, he got his wish, when along with five veteran gunners from other 755th Crews, he volunteered to fly with Lt Lester Martin on a mission to Neunkirchen, Germany. This was Martin's first mission.  During assembly, another 755th crew on their second mission, collided with Lt Martin's plane, mangling their right wing, which momentarily sent their plane into a spin.  Martin gave the bail out order and Carlstrum, standing behind the pilots, jettisoned the bomb load from the release handle on the pilot's pedestal, and followed the bombs out through the bomb bay.  Possibly due to the loss of the 6,000 pound bomb load, Lt Martin regained control and was able to land the plane back at Horsham.  One other crew member, S/Sgt Wilbert Abshire, bailed out from the tail section.  Neither man was ever found, as they were about 10 miles off the coast of England over the North Sea when the collision took place.  The other aircraft was lost with all of the ten-man crew. (See Stories-May 27, 1944 for more on this incident.)
Most of the crew completed their combat tour on June 5, 1944.  S/Sgt Lovell West flew two missions with Lt Nelson Stewart and crew on D-day, and Lt Samuel Scorza flew with pilot Larry Riesen and a new crew on the second mission of D-Day, completing his combat tour on June 7, 1944.  After a 7-day leave, most crew members received orders for return to the States. Co-pilot Allen Hilborn was assigned to the 482BG at Alconbury, flying B-17's to train Radar crews.
Lt Sam Scorza's mission diary is featured on this website under A Navigator's Diary
Lt Curt Vogel's memoir is also featured on this website under the Stories page – 1Lt Curt M. Vogel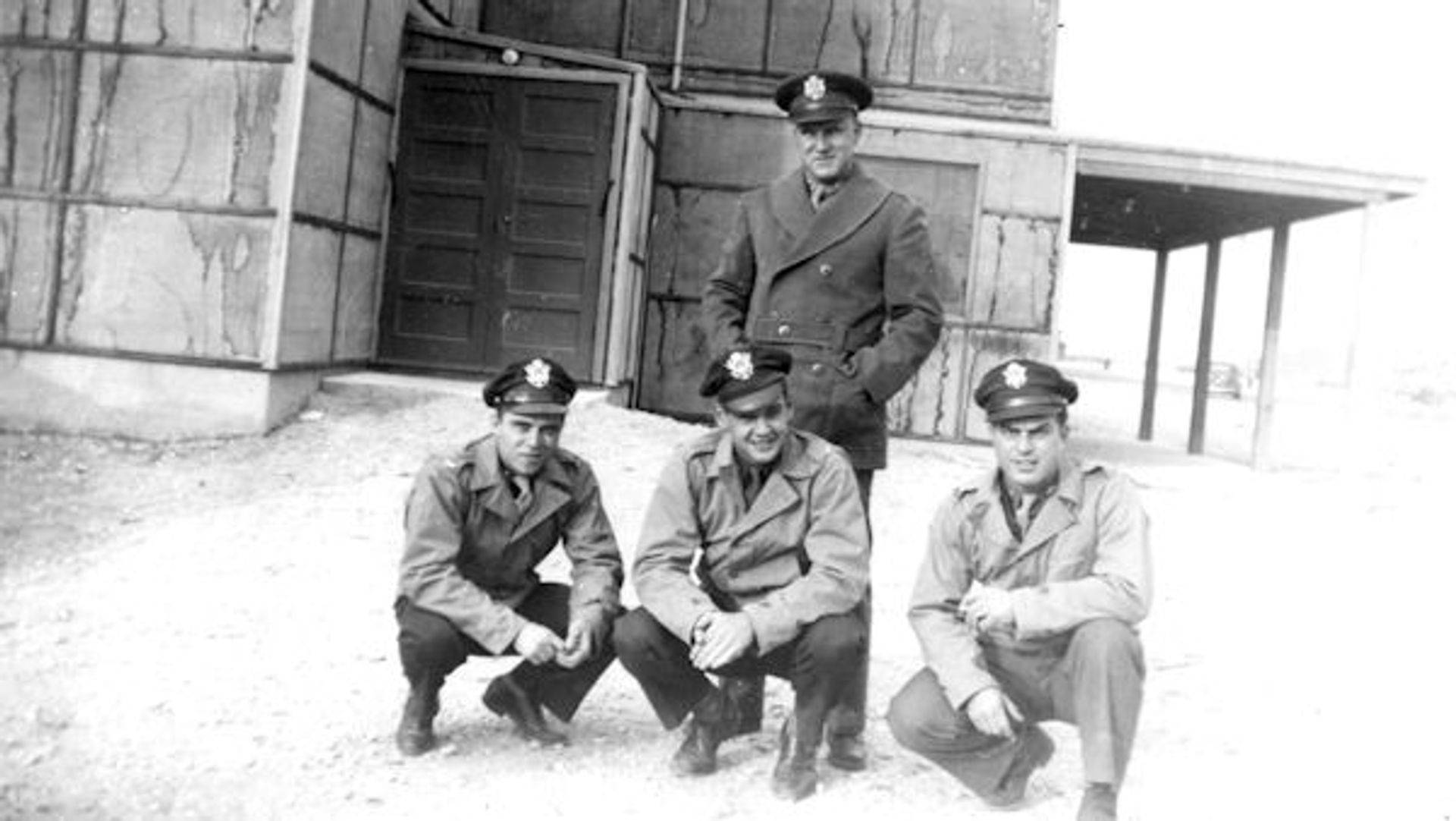 Curt Vogel (standing), Sam Scorza, Al Hilborn, A.J. Testa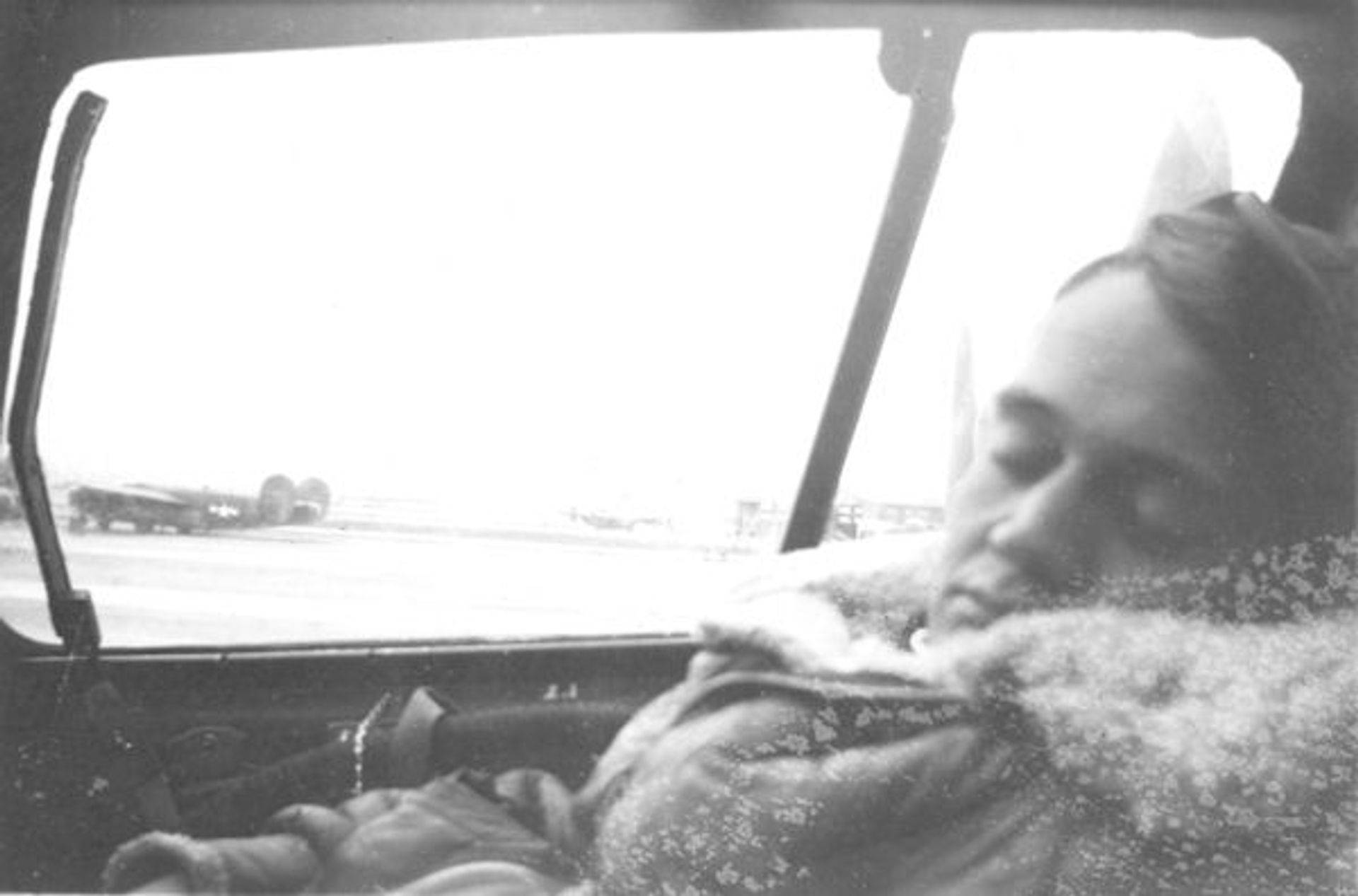 Al Hilborn asleep in the co-pilot's seat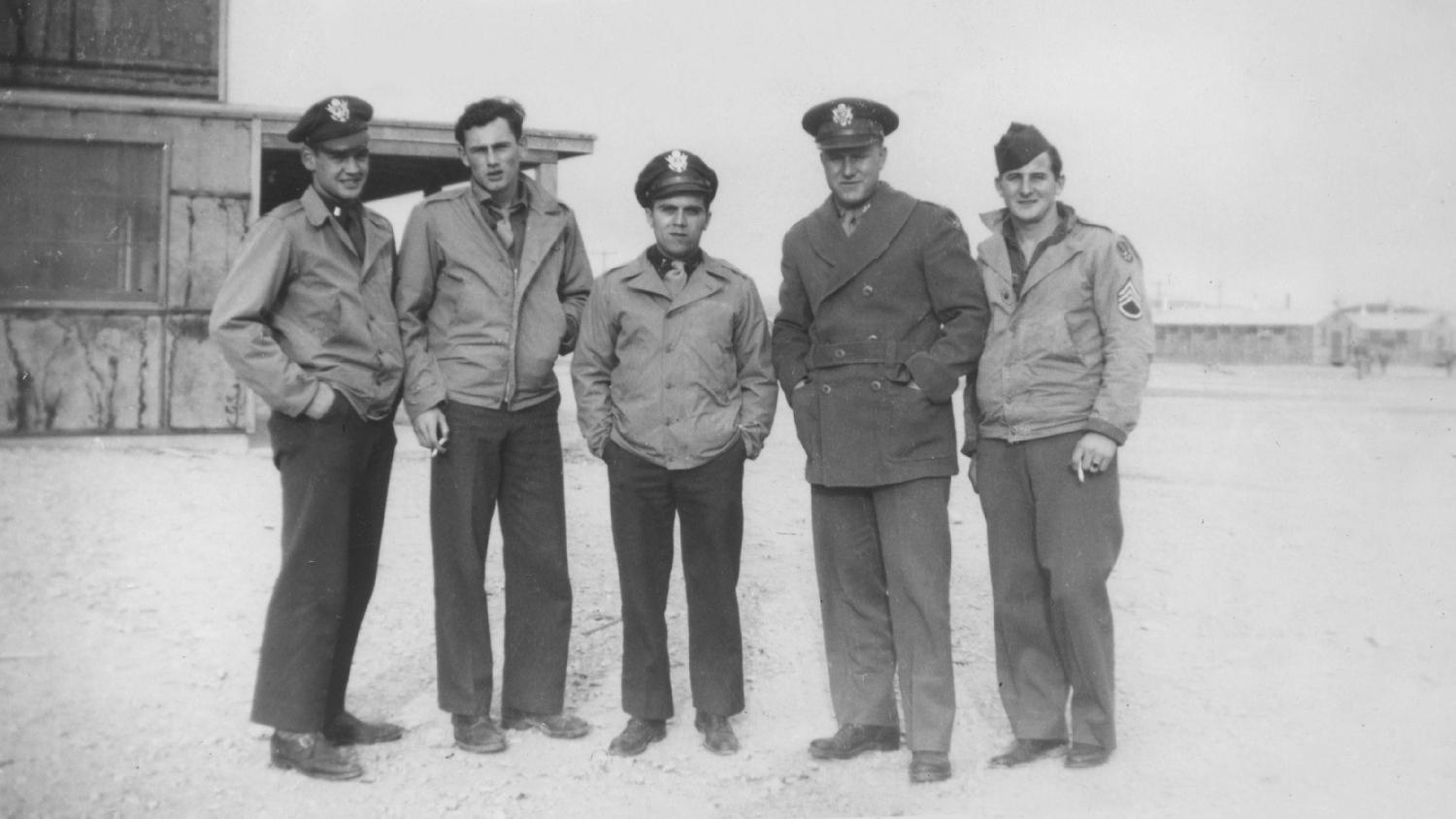 Al Hilborn, Donald Murphy, Sam Scorza, Curt Vogel and Joe Brown
Ships Log: Sam Scorza, the crew's navigator, kept a log of their stops on the way to England.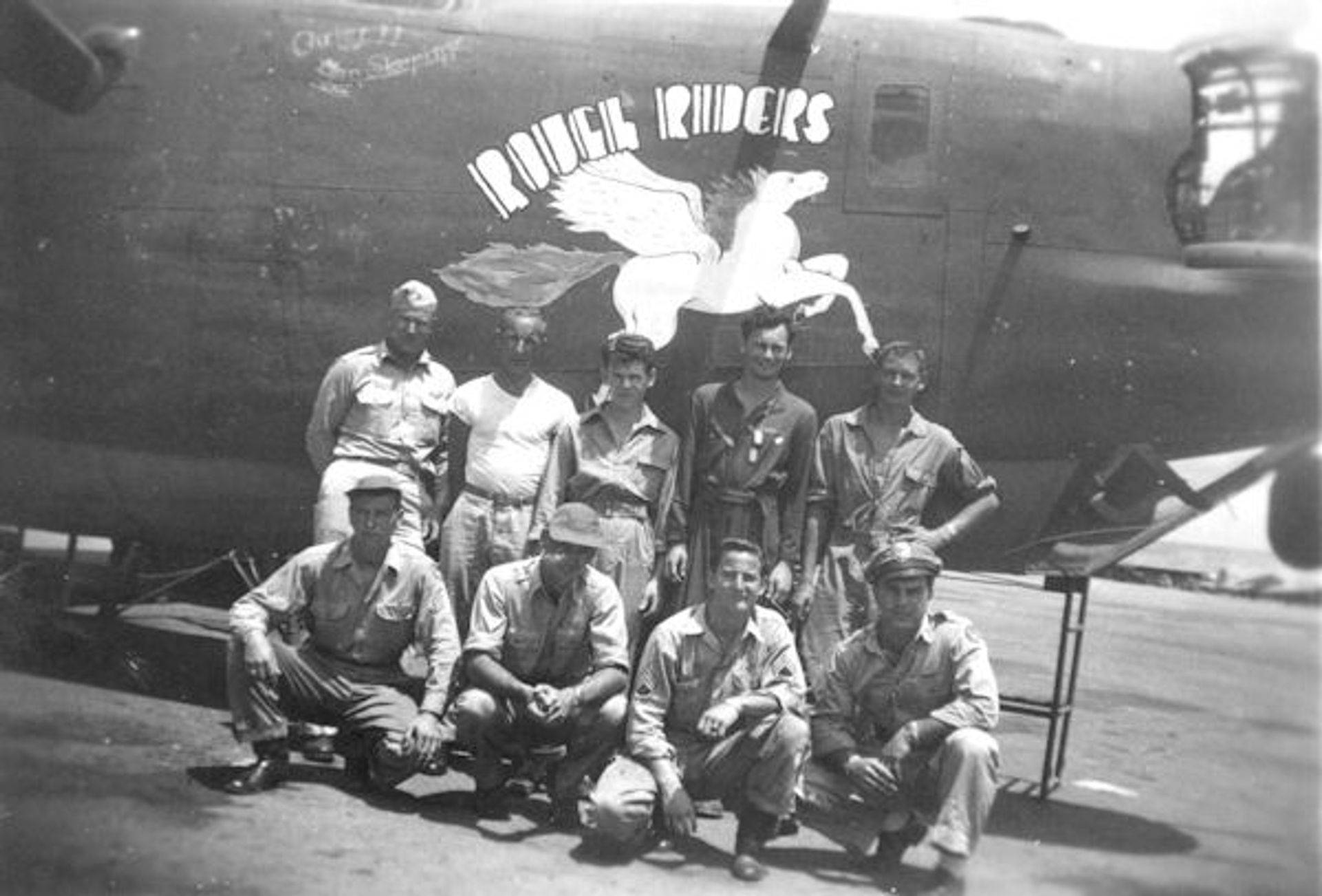 Standing:

 Curt Vogel, Al Walczak, Bernie Doyle, Don Murphy, Chester Carlstrum
Kneeling:

 Ray Potts, Al Hilborn, Joe Brown, A.J. Testa
February 1944 – Dakar, Africa
Standing:
 Don Murphy, Curt Vogel, Al Hilborn, Ray Potts
Kneeling:
Joe Brown, Sam Scorza, Bernie Doyle, A.J. Testa, Local resident
| Date | Target | 458th Msn | Pilot Msn | Serial | RCL | Sqdn | A/C Msn | A/C Name | Comments |
| --- | --- | --- | --- | --- | --- | --- | --- | --- | --- |
| 25-Feb-44 | DUTCH COAST | D2 | -- | 41-29298 | G | J3 | D2 | OLE SATAN | Diversion Mission |
| 05-Mar-44 | BORDEAUX/MERIGNAC | 3 | 1 | 41-29342 | S | J3 | 1 | ROUGH RIDERS | |
| 06-Mar-44 | BERLIN/ERKNER | 4 | NTO | 41-29342 | S | J3 | -- | ROUGH RIDERS | ON FORM PLANS |
| 08-Mar-44 | BERLIN/ERKNER | 5 | 2 | 41-29342 | S | J3 | 2 | ROUGH RIDERS | |
| 15-Mar-44 | BRUNSWICK | 7 | 3 | 41-29342 | S | J3 | 3 | ROUGH RIDERS | |
| 21-Mar-44 | WATTEN, near ST. OMER | 10 | 4 | 42-52441 | I | J3 | 7 | LAST CARD LOUIE | |
| 23-Mar-44 | OSNABRUCK | 12 | 5 | 42-52441 | I | J3 | 9 | LAST CARD LOUIE | |
| 24-Mar-44 | ST. DIZIER | 13 | 6 | 41-28671 | K | J4 | 9 | UNKNOWN 001 | |
| 26-Mar-44 | BONNIERES | 14 | 7 | 41-28733 | P | J4 | 7 | RHAPSODY IN JUNK | |
| 05-Apr-44 | ST. POL-SIRACOURT | 16 | 8 | 42-52432 | P | J3 | 14 | BACHELOR'S PARADISE | |
| 08-Apr-44 | BRUNSWICK/WAGGUM | 17 | 9 | 42-100357 | D | Z5 | 7 | VALE OREGAN | |
| 10-Apr-44 | BOURGES A/F | 19 | 10 | 42-52335 | R | Z5 | 16 | ADMIRABLE LITTLE CHARACTER | |
| 11-Apr-44 | OSCHERSLEBEN | 20 | 11 | 41-28706 | F | J4 | 7 | DREAM BOAT/SPARE PARTS | |
| 13-Apr-44 | LECHFELD A/F | 21 | 12 | 41-28719 | Q | J3 | 12 | PADDLEFOOT | |
| 19-Apr-44 | PADERBORN A/F | 23 | 13 | 41-29342 | S | J3 | 6 | ROUGH RIDERS | |
| 20-Apr-44 | SIRACOURT | 24 | 14 | 41-29342 | S | J3 | 7 | ROUGH RIDERS | |
| 22-Apr-44 | HAMM M/Y | 25 | 15 | 41-29342 | S | J3 | 8 | ROUGH RIDERS | |
| 04-May-44 | BRUNSWICK/WAGGUM | 34 | 16 | 41-29342 | S | J3 | 16 | ROUGH RIDERS | |
| 05-May-44 | SOTTEVAST | 35 | NTO | 41-29342 | S | J3 | -- | ROUGH RIDERS | REASON UNK |
| 07-May-44 | OSNABRUCK | 36 | 17 | 41-29342 | S | J3 | 17 | ROUGH RIDERS | |
| 08-May-44 | BRUNSWICK | 37 | 18 | 41-29342 | S | J3 | 18 | ROUGH RIDERS | |
| 09-May-44 | ST. TROND | 38 | 19 | 41-29342 | S | J3 | 19 | ROUGH RIDERS | |
| 10-May-44 | DIEPHOLZ | REC | -- | 41-29342 | S | J3 | -- | ROUGH RIDERS | RECALL BEFORE EC |
| 12-May-44 | BOHLEN | 40 | 20 | 41-29342 | S | J3 | 20 | ROUGH RIDERS | ABORT - SORTIE CREDIT |
| 13-May-44 | TUTOW A/F | 41 | 21 | 42-95159 | B | J3 | 1 | ROUGH RIDERS II | |
| 19-May-44 | BRUNSWICK | 42 | 22 | 42-95159 | P | J3 | 2 | ROUGH RIDERS II | |
| 21-May-44 | SIRACOURT | 44 | 23 | 42-95159 | P | J3 | 4 | ROUGH RIDERS II | |
| 23-May-44 | BOURGES | 45 | 24 | 42-95159 | P | J3 | 5 | ROUGH RIDERS II | |
| 24-May-44 | VILLEROCHE, near MELUN | 46 | 25 | 42-95159 | P | J3 | 6 | ROUGH RIDERS II | |
| 29-May-44 | TUTOW A/F | 50 | 26 | 42-50320 | W | J3 | 17 | UNKNOWN 018 | |
| 31-May-44 | BERTRIX | 52 | 27 | 42-50320 | W | J3 | 19 | UNKNOWN 018 | |
| 02-Jun-44 | STELLA/PLAGE | 53 | 28 | 42-50320 | W | J3 | 20 | UNKNOWN 018 | |
| 04-Jun-44 | BOURGES A/F | 54 | 29 | 42-50320 | W | J3 | 21 | UNKNOWN 018 | Landing Acc Nose wheel up |
| 05-Jun-44 | STELLA/PLAGE | 55 | 30 | 42-95316 | N | J3 | 12 | PRINCESS PAT | |
B-24H-15-CF 41-29342  J3 S  

Rough Riders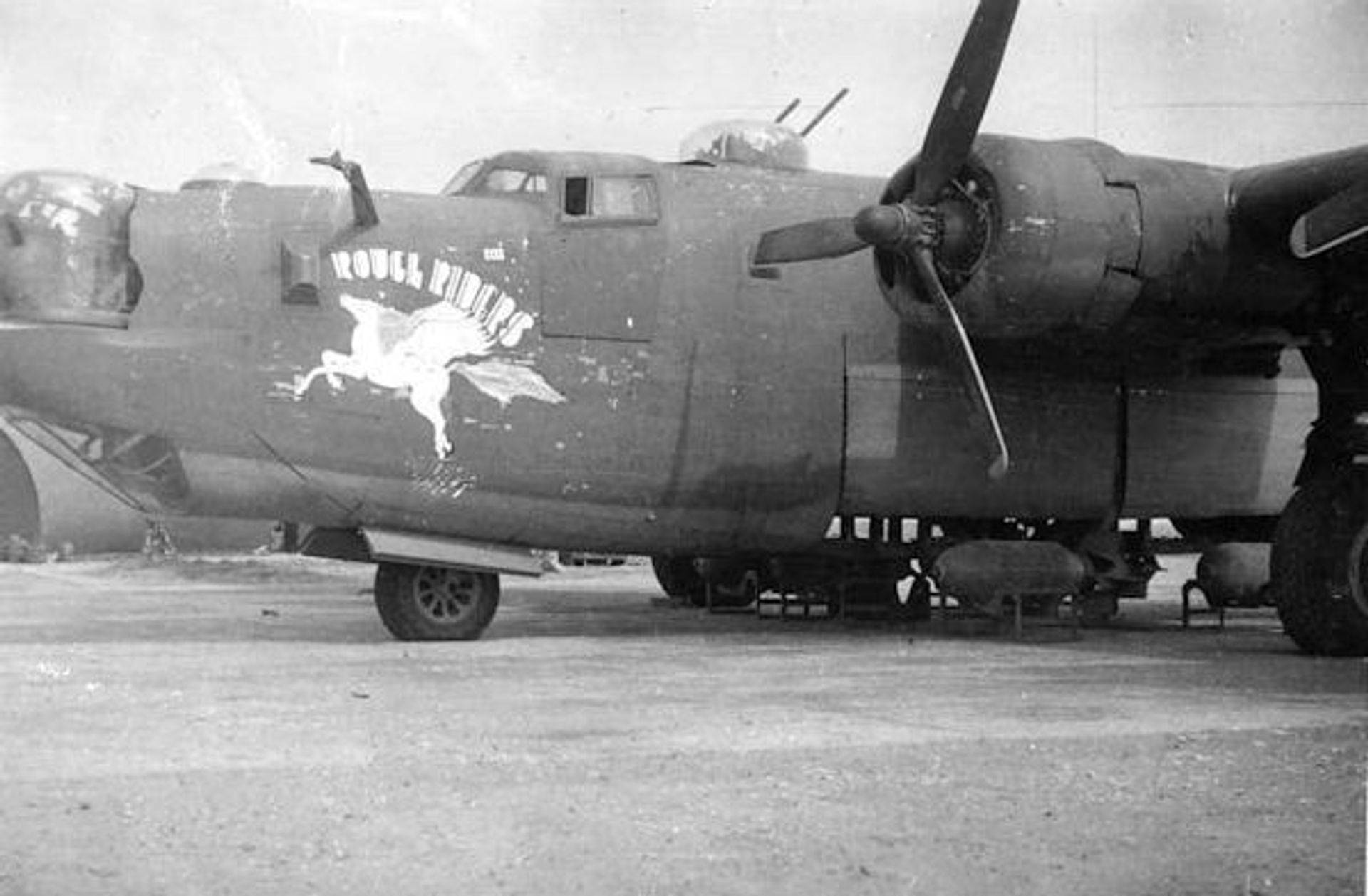 With four missions – around mid-March 1944
(Photo: Greg Birnie)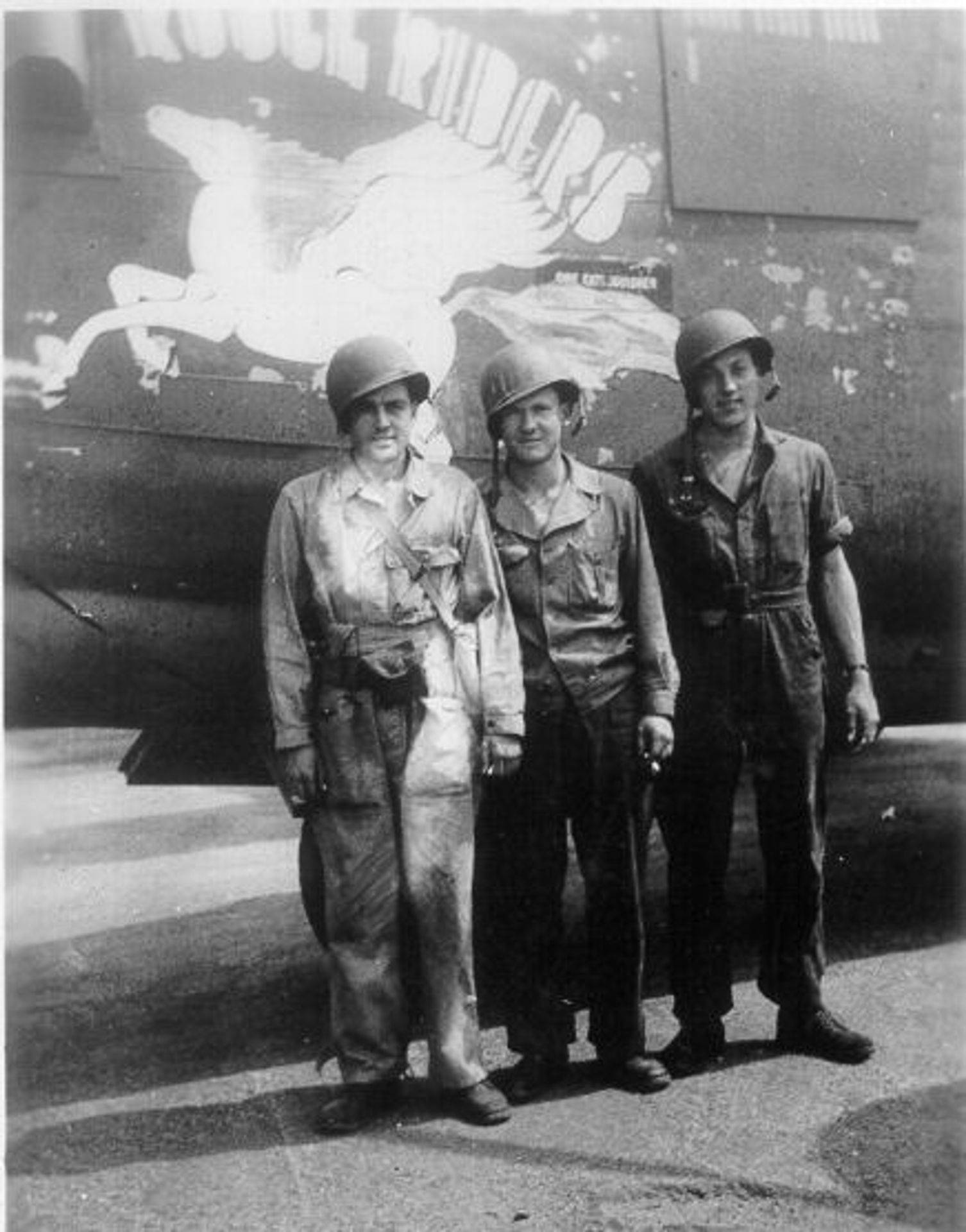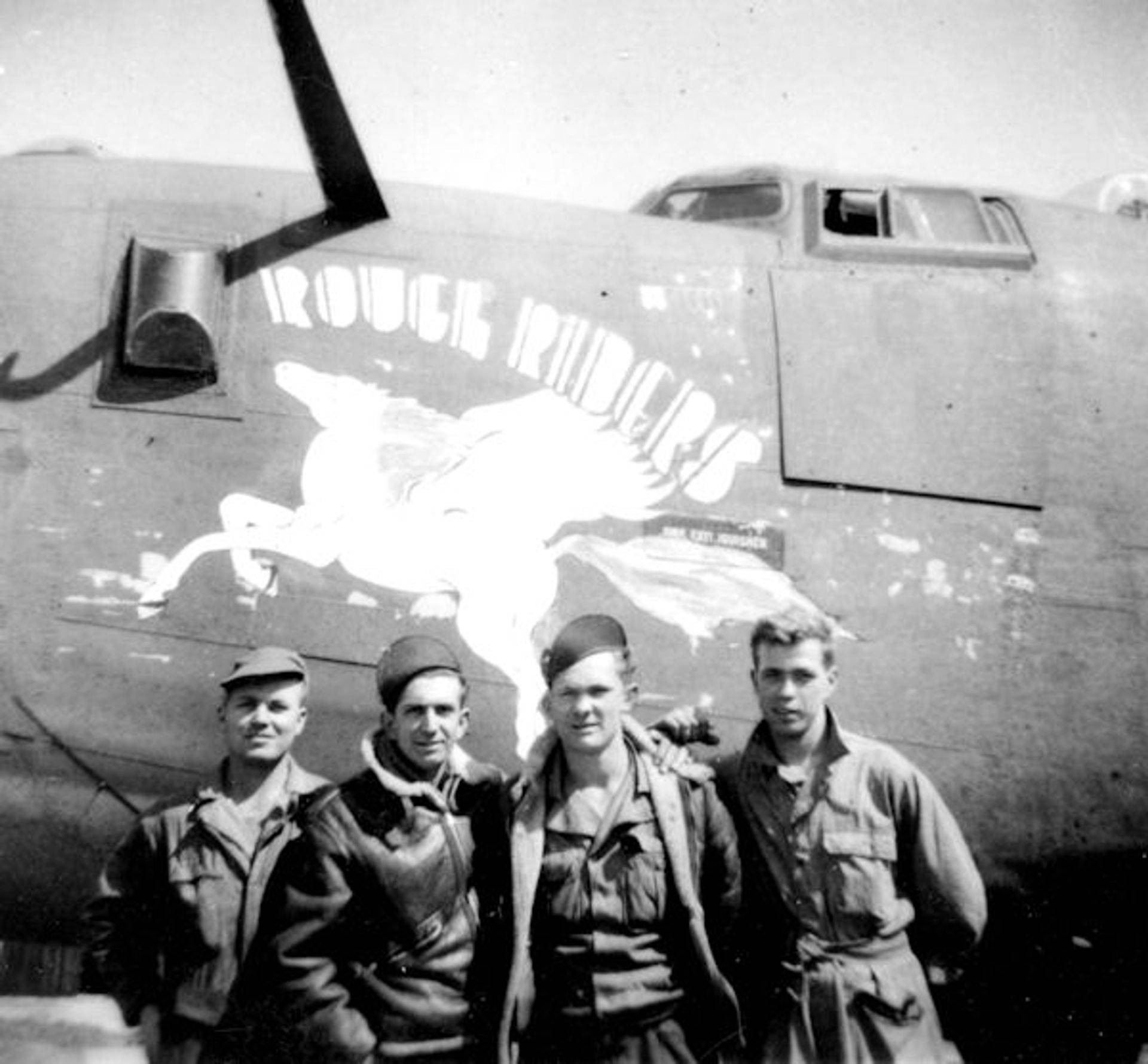 755th Ground Crew
Crew Chief Sgt. Linwood Yarbrough (2nd from right in both pictures)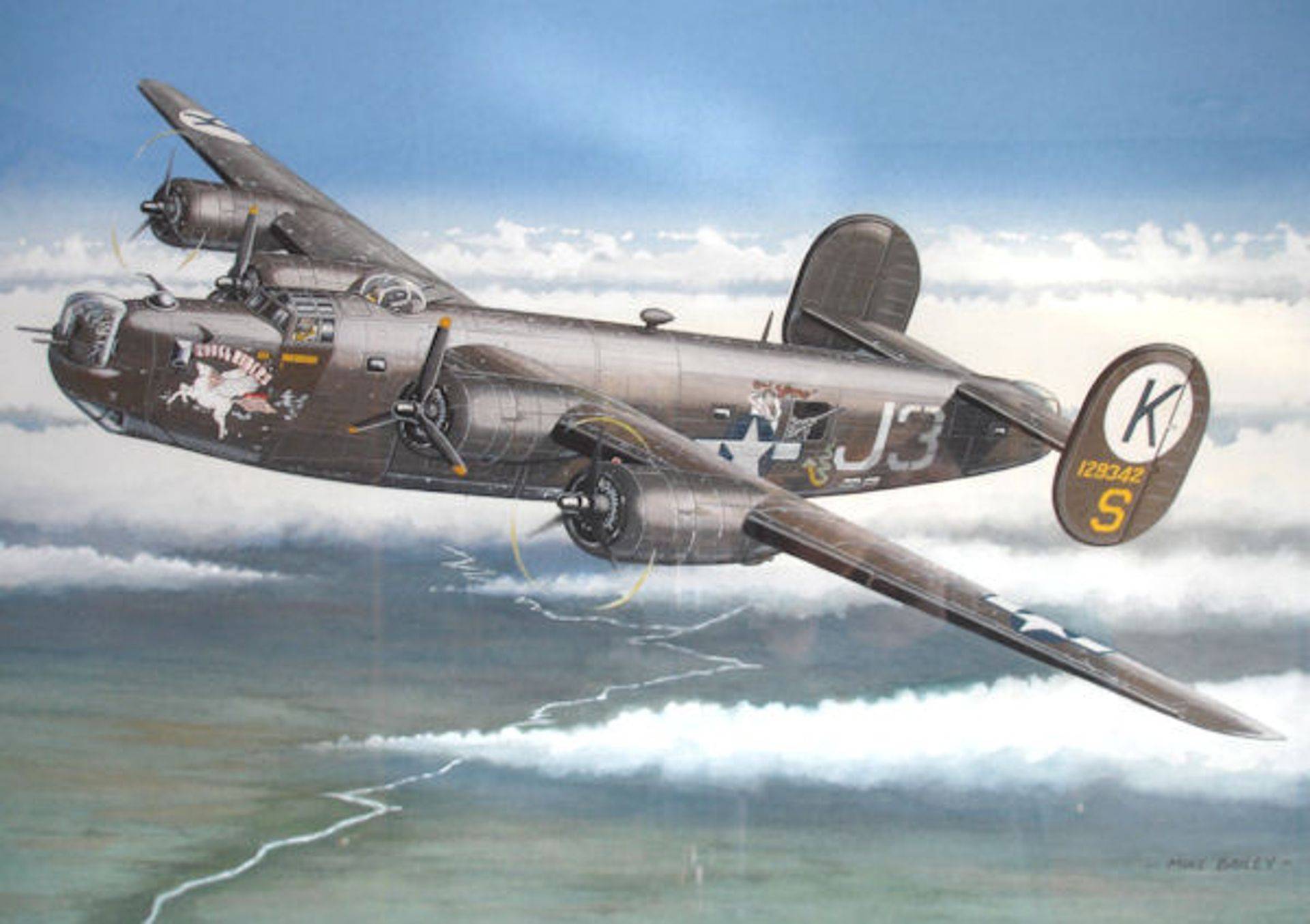 May 12, 1944 – Abort and landed at Manston with 2 engines out and a third losing power
June 5, 1944 – Most of the crew completes their combat tour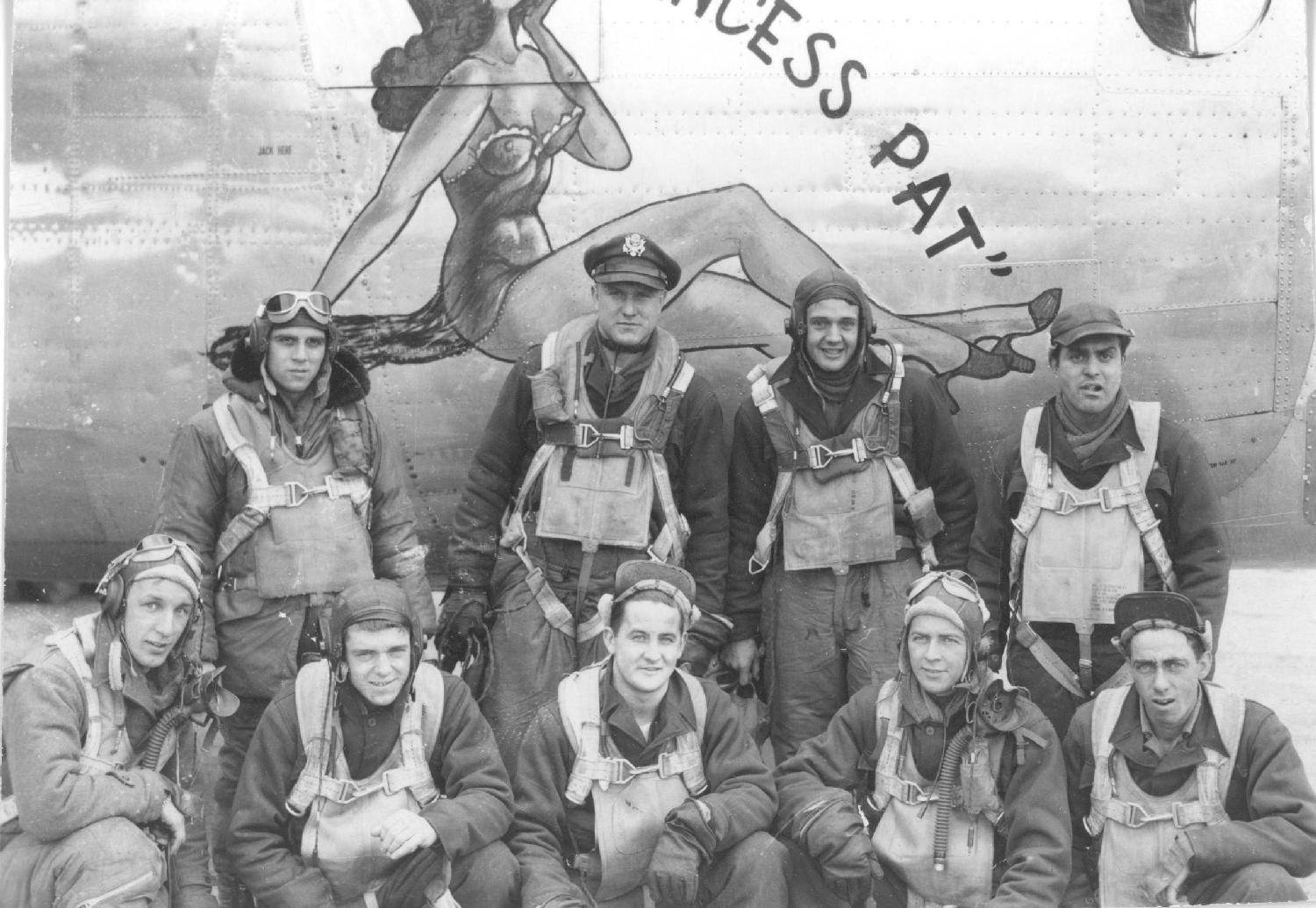 Standing:
 Sam Scorza, Curt Vogel, Al Hilborn, A.J. Testa
Kneeling:
Al Walczak, Bernie Doyle, Joe Brown, Ray Potts, Lovell West
S/Sgt Chester R. Carlstrum – KIA May 27, 1944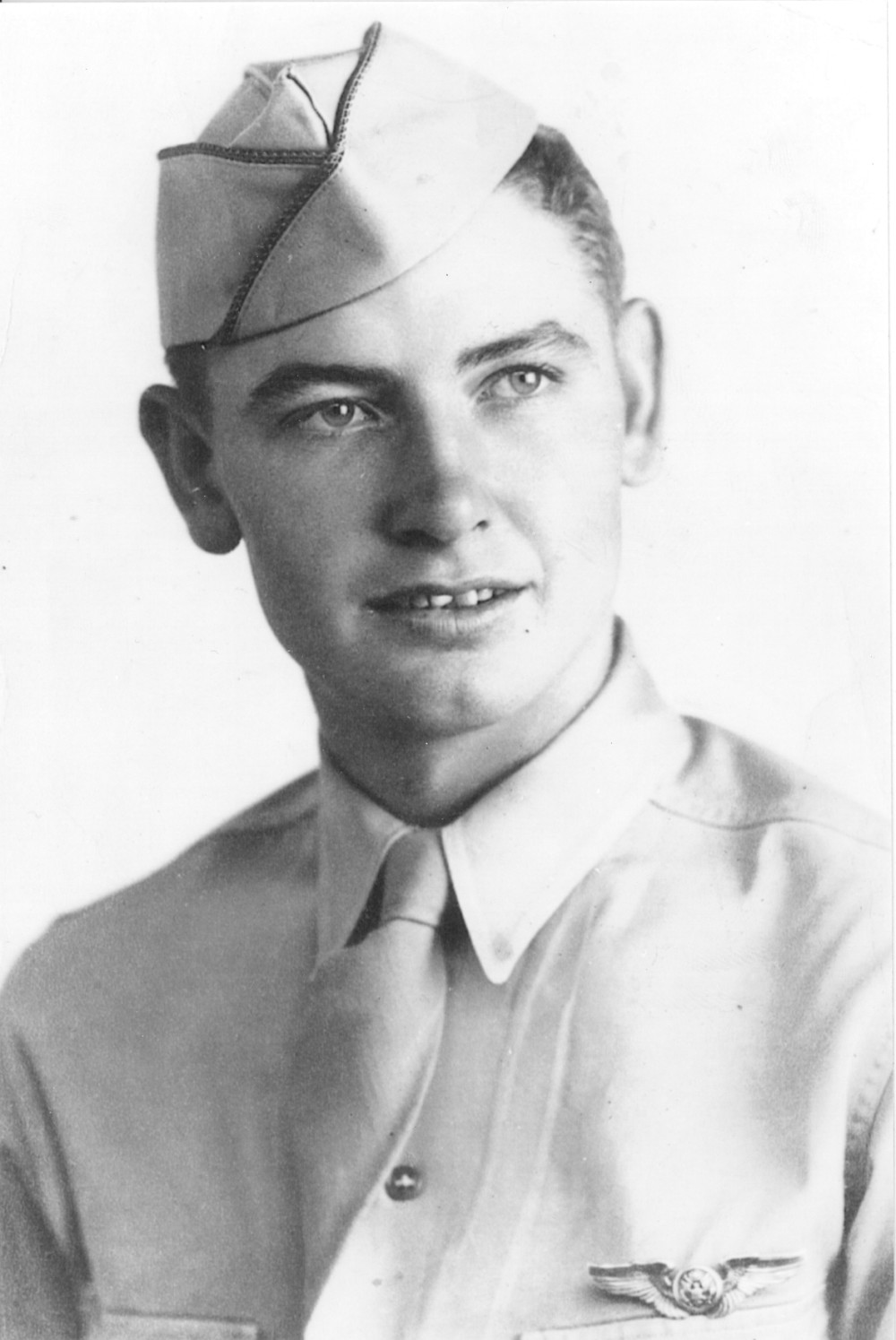 Distinguished Flying Cross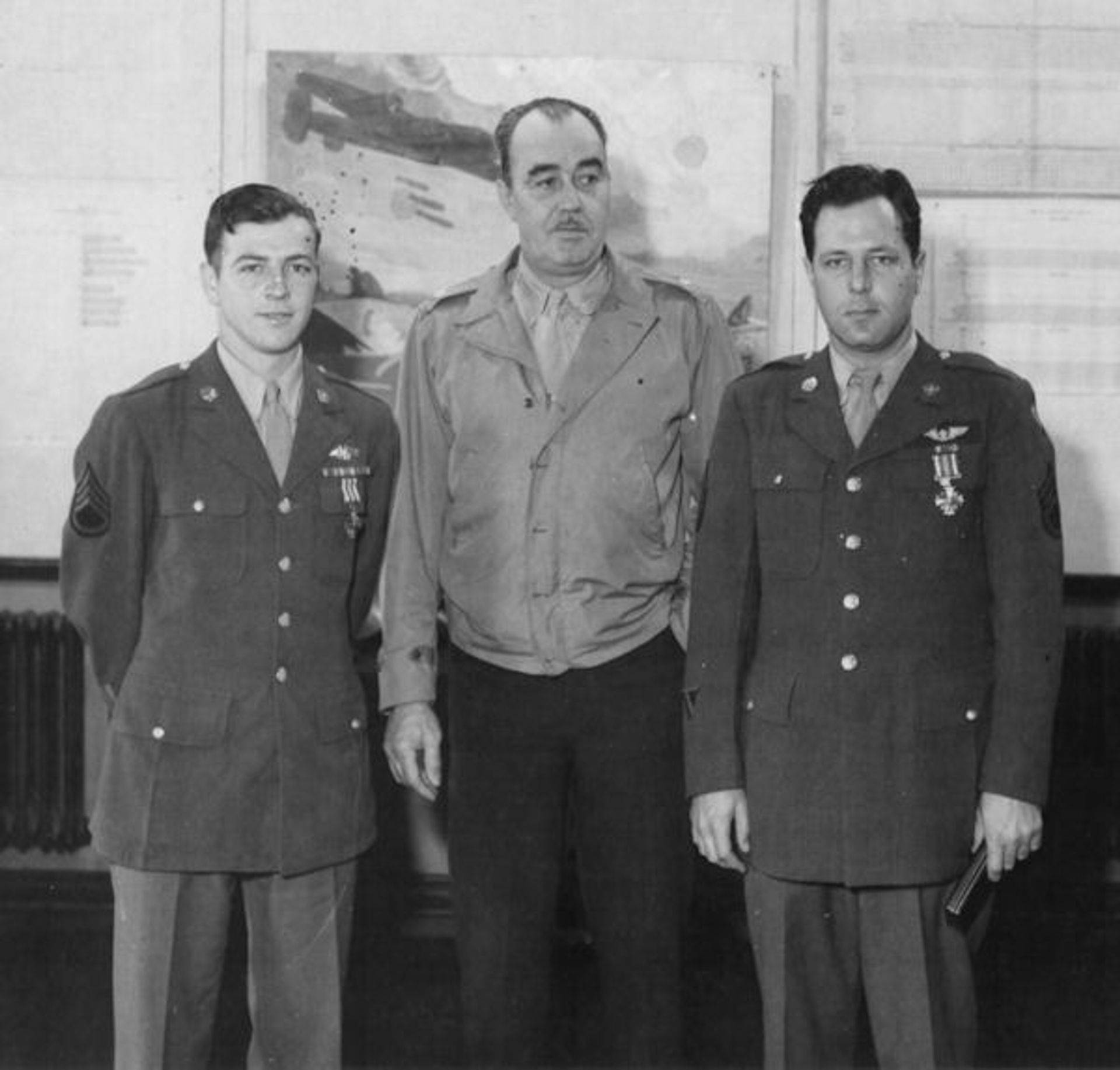 Sgt Ray Potts, Brig Gen Walter Peck, Sgt Vincent Wilde (Lt Wells Crew)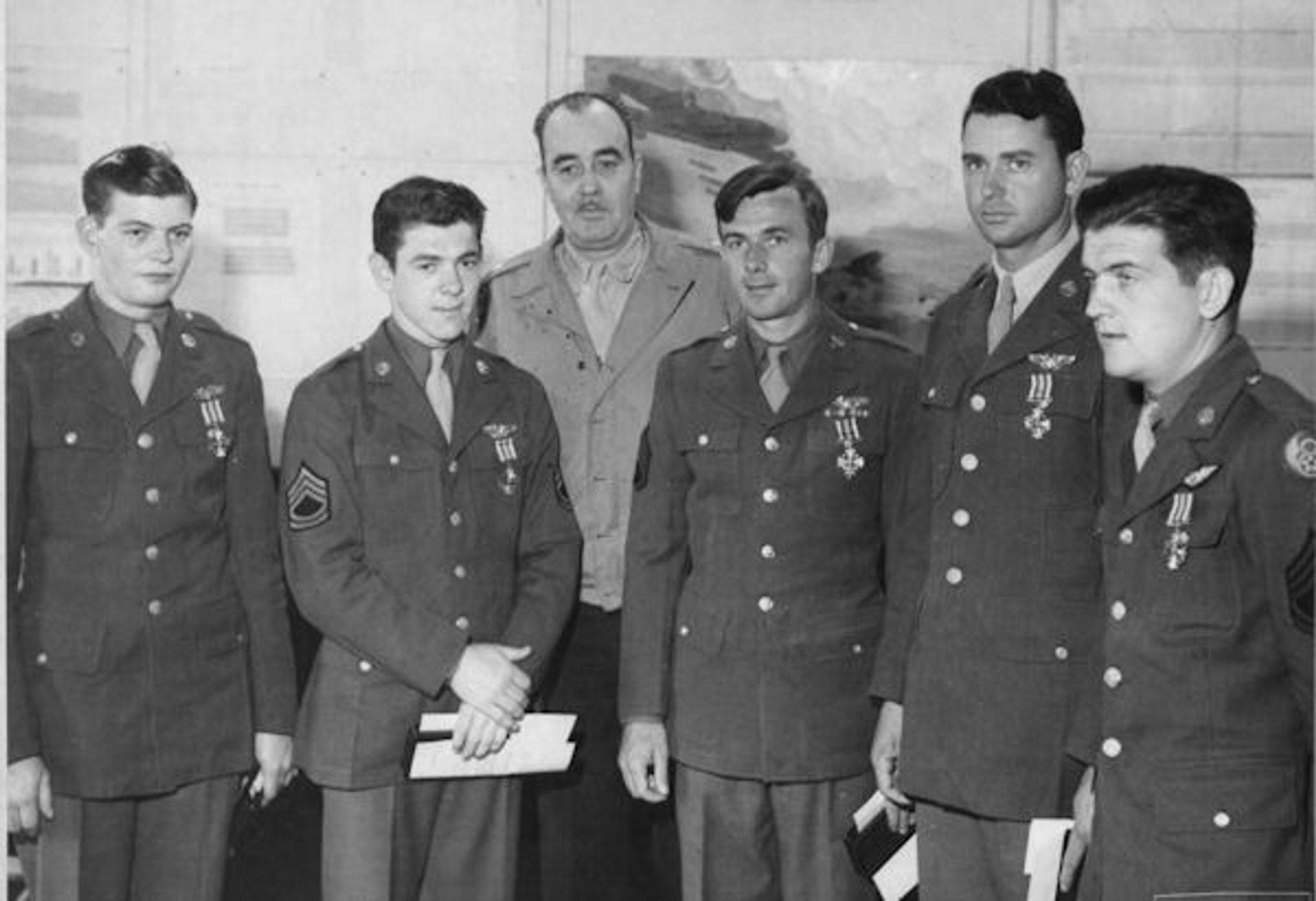 Sgt Bernie Doyle (2nd from left) and gunners from other 755th crews receive the DFC from Brig Gen Peck