Crew 24 – Assigned 753rd Squadron – October 14, 1944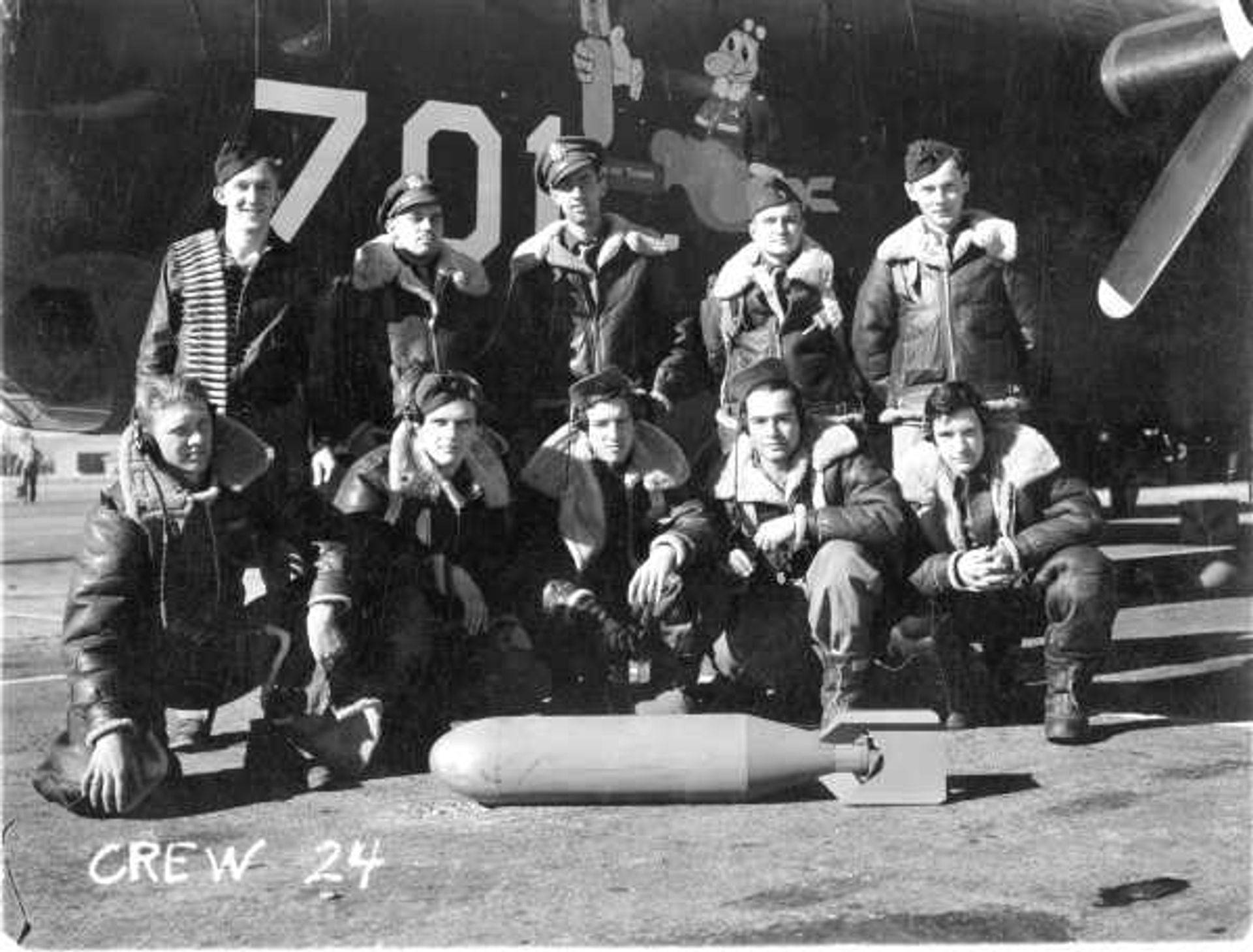 Standing:
 William Bradford – G, Saylor Zimmerman – N, George Schuman – P, Charles Jordan – CP, Louis Nicolai – B
Kneeling: Ellis Reeves – TT/E, Edward Kobs – G, Richard McCormick – BTG, Harold Newell – LWG, Martin Byrnes – RO
(Photo: Harold Armstrong)
Shot down April 18, 1944 – MACR 4059
| Rank | Name | Serial # | Pos | Date | Status | Comments |
| --- | --- | --- | --- | --- | --- | --- |
| 2Lt | George W Schuman | 0745952 | Pilot | 18-Apr-44 | KIA | Wood County, WI |
| 2Lt | Charles Jordan | 0811092 | Co-pilot | 18-Apr-44 | POW | Stalag Luft III |
| 2Lt | Saylor L Zimmerman | 0812032 | Navigator | 18-Apr-44 | POW | Stalag Luft III |
| 2Lt | Louis Nicolai | 0749733 | Bombardier | 18-Apr-44 | KIA | Lackawanna County, PA |
| Sgt | Martin J Byrnes | 12186397 | Radio Operator | 18-Apr-44 | KIA | Bronx County, NY |
| S/Sgt | Ellis E Reeves | 14142633 | Flight Engineer | 18-Apr-44 | KIA | Fulton County, GA |
| Sgt | Richard McCormick | 32491510 | Ball Turret Gunner | 18-Apr-44 | WIA/POW | Stalag Luft I |
| Sgt | Preston M Waldrep, Jr | 14072172 | Top Turret Gunner | 18-Apr-44 | KIA | Ardennes American Cemetery |
| Sgt | Harold L Newell | 12171344 | Nose Turret Gunner | 18-Apr-44 | KIA | Ardennes American Cemetery |
| Sgt | Raymond C Hammer | 16065811 | Tail Turret Gunner | 18-Apr-44 | KIA | Arlington Natl Cemetery |
Crew 24 was an original crew that trained in Tonopah and moved to the ETO with the group in January 1944.  Sgt. William T. Bradford was re-assigned to the 60th Station Complement Unit at some point prior to combat.  His name appears several more times in group records with a reduced rank and the MOS of 601 (AAA Weapons Crewman).  He was transferred for infantry training in February 1945.  Sgt. Edward D. Kobs was transferred to Crew 23, pilot 1Lt Frederick M. DeNeffe prior to the group moving to England.  He evidently flew at least five missions and received the Air Medal on March 31, 1944 when he was removed from flying status.  In June 1944, group records show Pvt. Edward D. Kobs' MOS was 055 (Clerk-General) – later changed to MOS 521 (Airman Basic).  It is not known if he flew any further combat missions.
Replacing these two men on the crew were Sgt Preston M. Waldrep, Jr and Sgt Raymond C. Hammer.  Their names appear on movement orders with this crew in December 1943 and January 1944.  It is not known where they might have been assigned prior to this.
Sgt Newell was wounded on the group's first mission in March and had spent time recovering in hospital.   Sgt's Raymond Hammer and Harold Newell were each credited with an enemy fighter destroyed on the April 9th mission to Tutow, Germany.
On the April 18th mission to Brandenburg, Germany, nearing the target the group entered a cloud bank and Shuman's aircraft hit turbulent air that threw them into a spin and out of formation.  Alone they were easy prey for German fighters. (See accounts below)
MACR 4059
Lt. Schuman was flying in his proper place in the group formation when it entered thick cloud a few miles north of Brandenburg, Germany at 1455 hours. The formation became scattered in the cloud. Lt. Schuman's plane was not seen again.
Click image for MACR (Page 1)
| Date | Target | 458th Msn | Pilot Msn | Serial | RCL | Sqdn | A/C Msn | A/C Name | Comments |
| --- | --- | --- | --- | --- | --- | --- | --- | --- | --- |
| 24-Feb-44 | DUTCH COAST | D1 | -- | 41-28671 | -- | J4 | D1 | UNKNOWN 001 | Diversion Mission |
| 25-Feb-44 | DUTCH COAST | D2 | -- | 41-28671 | -- | J4 | D2 | UNKNOWN 001 | Diversion Mission |
| 02-Mar-44 | FRANKFURT | 1 | 1 | 41-28671 | K | J4 | 1 | UNKNOWN 001 | SGT NEWELL WOUNDED |
| 05-Mar-44 | BORDEAUX/MERIGNAC | 3 | 2 | 41-28671 | K | J4 | 2 | UNKNOWN 001 | |
| 08-Mar-44 | BERLIN/ERKNER | 5 | 3 | 41-28671 | K | J4 | 3 | UNKNOWN 001 | |
| 18-Mar-44 | FRIEDRICHSHAFEN | 9 | 4 | 41-28721 | L | J4 | 4 | DOWNWIND LEG | |
| 21-Mar-44 | WATTEN | 10 | 5 | 41-28671 | K | J4 | 7 | UNKNOWN 001 | |
| 22-Mar-44 | BERLIN | 11 | 6 | 41-28671 | K | J4 | 8 | UNKNOWN 001 | |
| 05-Apr-44 | ST. POL-SIRACOURT | 16 | 7 | 41-28671 | K | J4 | 11 | UNKNOWN 001 | |
| 08-Apr-44 | BRUNSWICK/WAGGUM | 17 | 8 | 42-100431 | B | J4 | 8 | BOMB-AH-DEAR | CHAMBERLAIN Cmd P |
| 09-Apr-44 | TUTOW A/F | 18 | 9 | 42-100408 | D | J4 | 8 | BEASTFACE | |
| 11-Apr-44 | OSCHERSLEBEN | 20 | 10 | 41-28735 | S | J4 | 9 | UNKNOWN 005 | |
| 12-Apr-44 | OSCHERSLEBEN | REC | NTO | 41-29276 | T | J4 | -- | The ROTTEN SOCK | NO TAKE OFF - RECALL |
| 18-Apr-44 | BRANDENBURG | 22 | 11 | 42-52382 | A | 7V | 18 | WURF'LESS | SHOT DOWN FIGHTERS |
2Lt Saylor L. Zimmerman – Navigator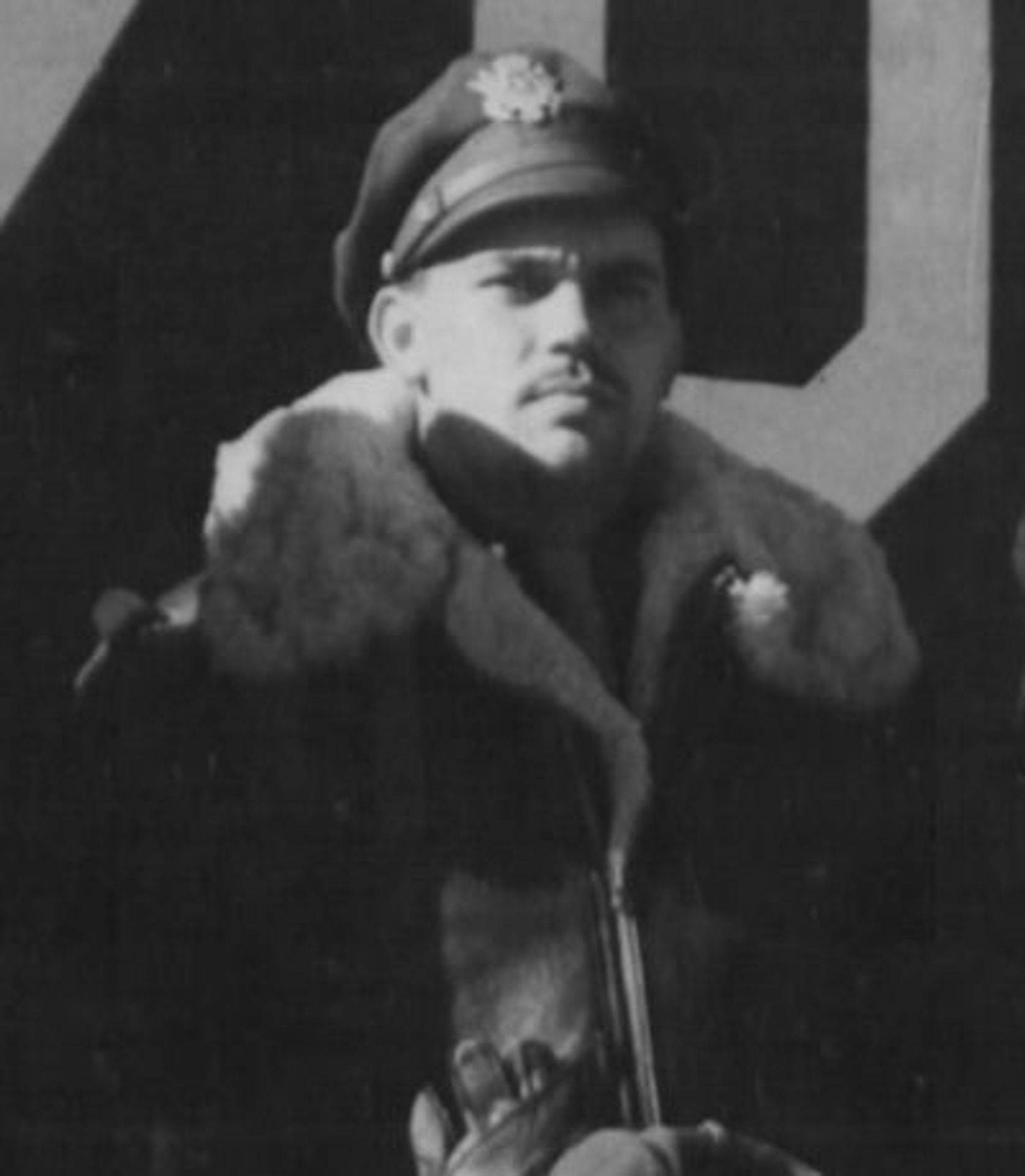 "We were on what I think was our thirteenth mission. Our target was near Berlin and when we reached there a cloud bank had built up in front of our target from the ground to about 40,000 ft.  The target was still visible and the mission leader incorrectly judged that we could drop our bombs on the target before we entered the cloud bank.  Before we could drop our bombs, we entered the clouds and were thrown into a spin from the prop-wash of another group that passed over in front of us.  We went into the spin at about 25,000 ft. and I seriously thought that we would never come out of it.  However, because of Lt. Schuman's expertness [sic] as a pilot, he brought us out of the spin at about 15,000 ft.  We were all alone and we immediately started to look for another group of planes that we could join for protection.  We could find none, so we went down on the deck (SOP) after Ass't. Eng. H.L. Newell had kicked the bombs out with a screwdriver.  The spin had jammed them up so that they would not release in any of the usual or emergency ways.  Also the spin had put out of operation all except the two guns in the top turret and the two guns in the ball turret.  The shells for the other guns had spilled out of their cases and become damaged so that all other guns were jammed.  We could not use the guns in the ball turret because we were flying so close to the ground.
"We headed for England and after flying about two hours we were about 30 km. from the North Sea at Oldenburg, which is near Bremen when two German FW 190s picked us up.  The first pass they made at us they sort of sized us up and probably discovered we had only two guns in operation.  On the second pass they knocked out our No. 1 Engine but we continued to fly at an IAS of 230 mph. 
"On the third pass they evidently put a shell of some sort up into the cockpit which killed Lt. Schuman, flash-blinded Lt. Charles F. Jordan, the co-pilot, and knocked me out with a piece of the shrapnel in the head.  I was unconscious off and on for some five or six weeks, so the rest of this is as I remember it as related to me by Jordan, who was not injured except for the momentary blindness from the flash of the shell and a few minor burns and cuts.  We crashed into the ground with no one at the controls.  Jordan had his safety belt fastened but Schuman did not.  I was still in the nose with Lt. Louis Nicolai, the bombardier, when we hit, but I bounced through the side of the ship and landed some 40 yards away.  When the ship came to stop, Jordan unfastened his safety belt and stepped through the hole that I had left when I passed through the side of the ship.  He saw my arm move and since I was the only body he saw that moved, he came over and helped me get into a ditch for the ammunition was exploding all around us.  After this was over we got out of the ditch, but got back in again when one of our own P-47s started to strafe the wreckage of our plane.
"German civilians started to arrive on the scene and were acting quite hostile, but luckily some Luftwaffe soldiers arrived and took us into custody.  As they were taking us to a car, I saw two German soldiers taking Lt. Schuman's body from the wreckage.  Jordan also saw this and we both agreed later that he was dead then and had been killed before we crashed.  I was partially conscious for five or six weeks and that is the one scene of the crash that I do remember with clarity.  Jordan and I thought we were the only two to come out of the crash alive, but when we arrived at a first aid station we saw Sgt. Richard S. McCormick, the ball turret gunner, laying on a table.  We did not know at that time if he was alive, but I have heard from him since my return to the States.  The three of us are convinced that all other crew members are dead." 
Statement made by Lt. Saylor Zimmerman on 6 December 1945.
2Lt Charles Jordan – Co-pilot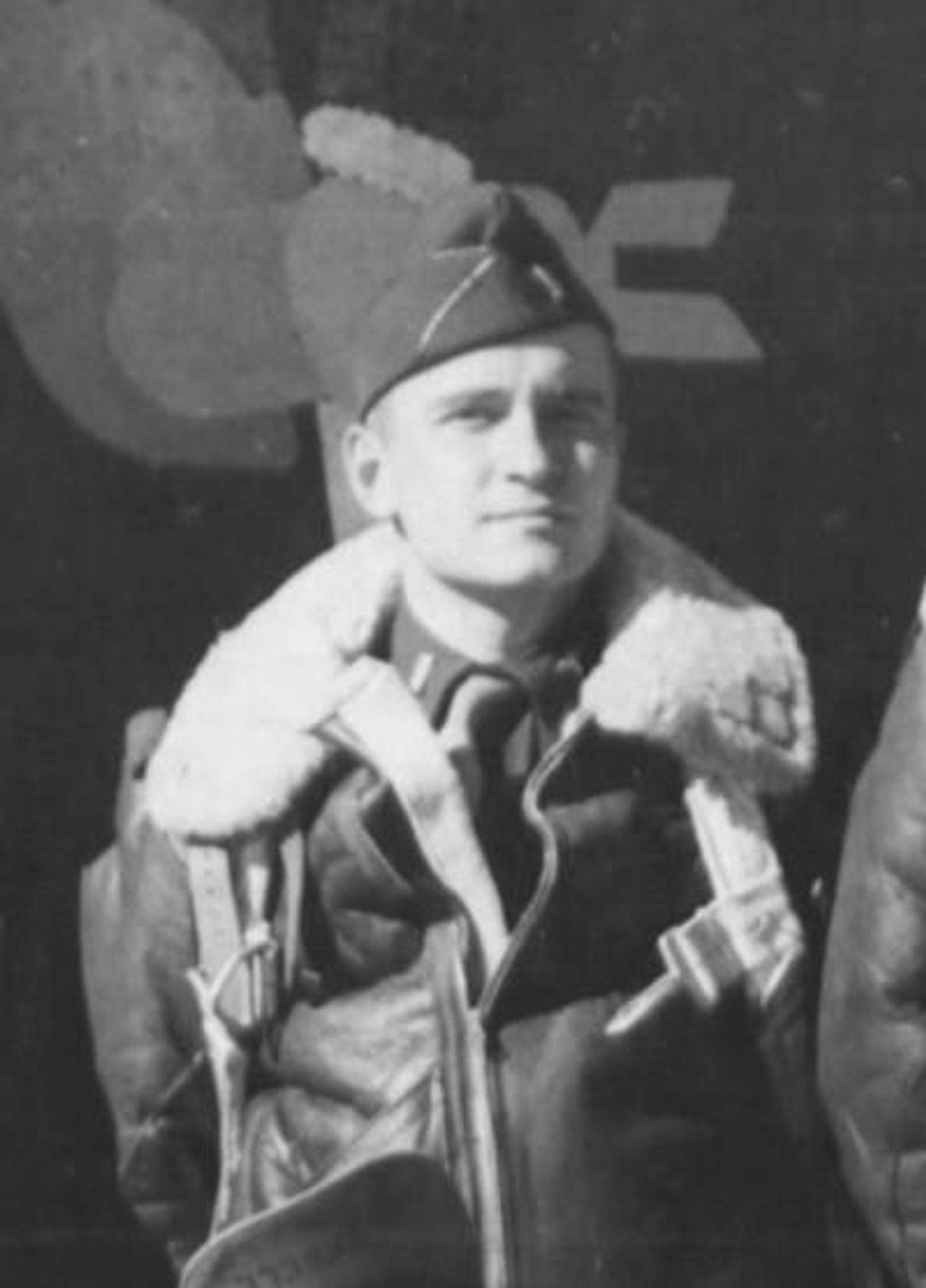 In a letter written in December 1945 to Army investigators, Charles Jordan describes the crew's crash and what happened to the other members of his crew:
After being separated from [the] formation, we were attempting to return to Base from the target area near Berlin, by flying alone on the deck at about 50 to 100 feet off the ground.  Hit by fighter near Oldenburg, Germany, our plane crashed at approximately 200 miles per hour, without anyone having [the] opportunity to parachute from ship.  Plane was completely demolished and burning.  German Luftwaffe guards [arrived] on scene about six minutes after crash and took Lt. Zimmerman and myself off to first aid station and then to jail.
At interrogation camp in Frankfurt area, German officers informed us of serious condition of Lt. Schuman and Staff Sgt. Richard B. McCormick who had been taken to a hospital.  Lt. Schuman was not expected to live, but Sgt. McCormick might recover.  The exact nature of the injuries was not disclosed.  According to the German Officer all other crew members were killed.  Lt. Zimmerman and I heard nothing more of Lt. Schuman while in Germany, but in February 1945 we learned that Sgt. McCormick had been sent to a POW Camp at Barth.
Following is a list of the crew members other than myself, and their fate to the best of my knowledge:
1st Lt. George W. Schuman – Pilot – Seriously injured in crash and taken to German hospital – reported as killed thru International Red Cross
2nd Lt. L. Saylor Zimmerman, Jr. – Navigator – Prisoner of War – Liberated Moosburg, Germany, April 29, 1945
2nd Lt. Louis Nicolai – Bombardier – Killed in crash
S/Sgt. Martin J. Byrnes – Radio – Killed in crash
T/Sgt. Ellis E. Reeves – Engineer – Killed in crash
S/Sgt Richard B. McCormick – Gunner – Seriously injured in crash, hospitalized, Prisoner of War, Liberated at Barth, Germany, May 1, 1945
S/Sgt. Preston M. Waldrep, Jr. – Gunner – Killed in crash
S/Sgt. Harold L. Newell – Gunner, Asst. Eng.  – Killed in crash
S/Sgt. Raymond C. Hammer – Gunner – Killed in crash
I have previously recorded information concerning this crash at AAF Redistribution Station No. 1 in Atlantic City, NJ in August 1945, and at the AAF Personnel File at Camp Lucky Strike, France, in May 1945.
If I can be of further assistance to you please let me know.
Sincerely yours,
/Signed/
Charles F. Jordan
511 Rossiter Ave
Baltimore 12, Md
Sgt Preston M. Waldrep, Jr.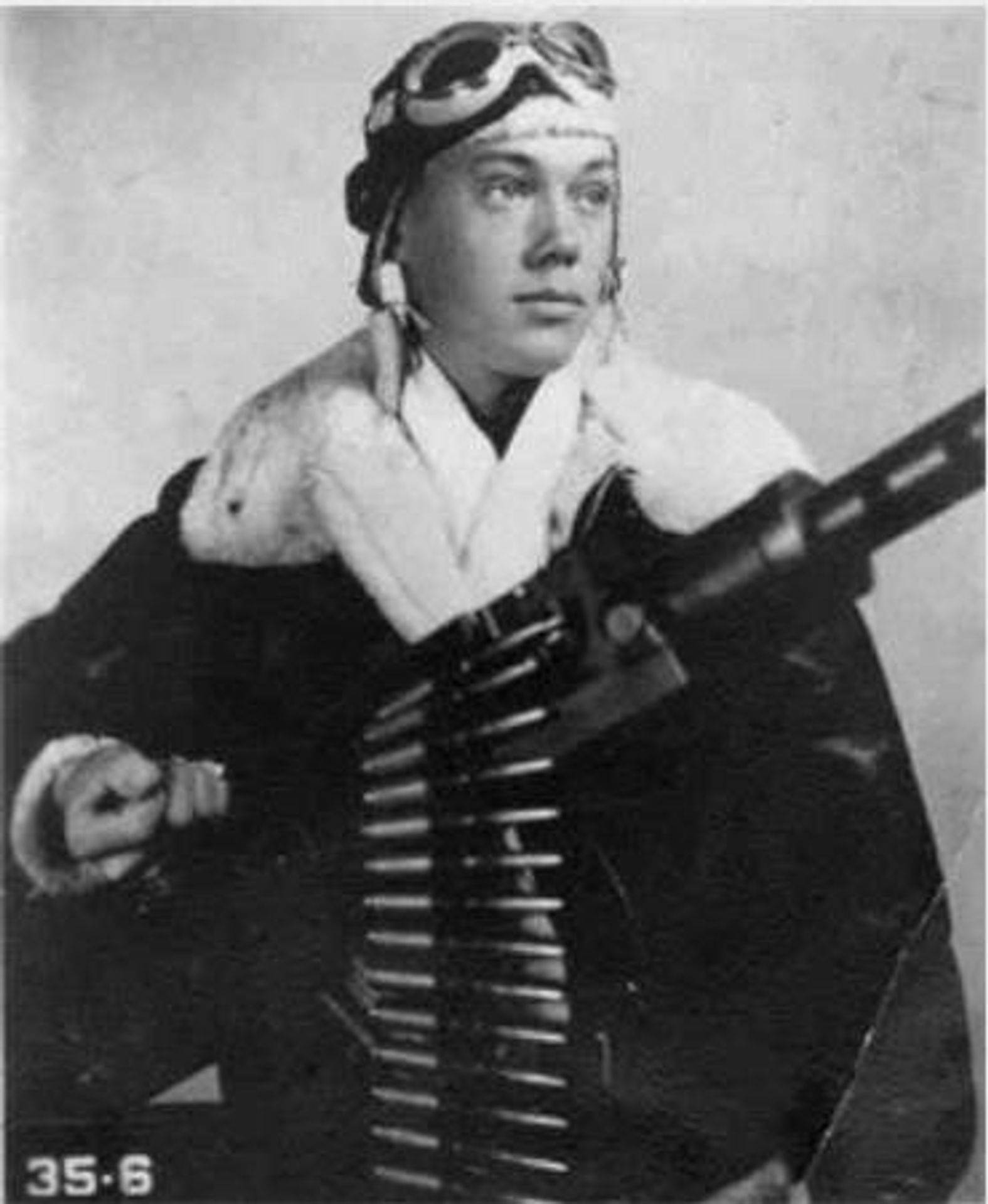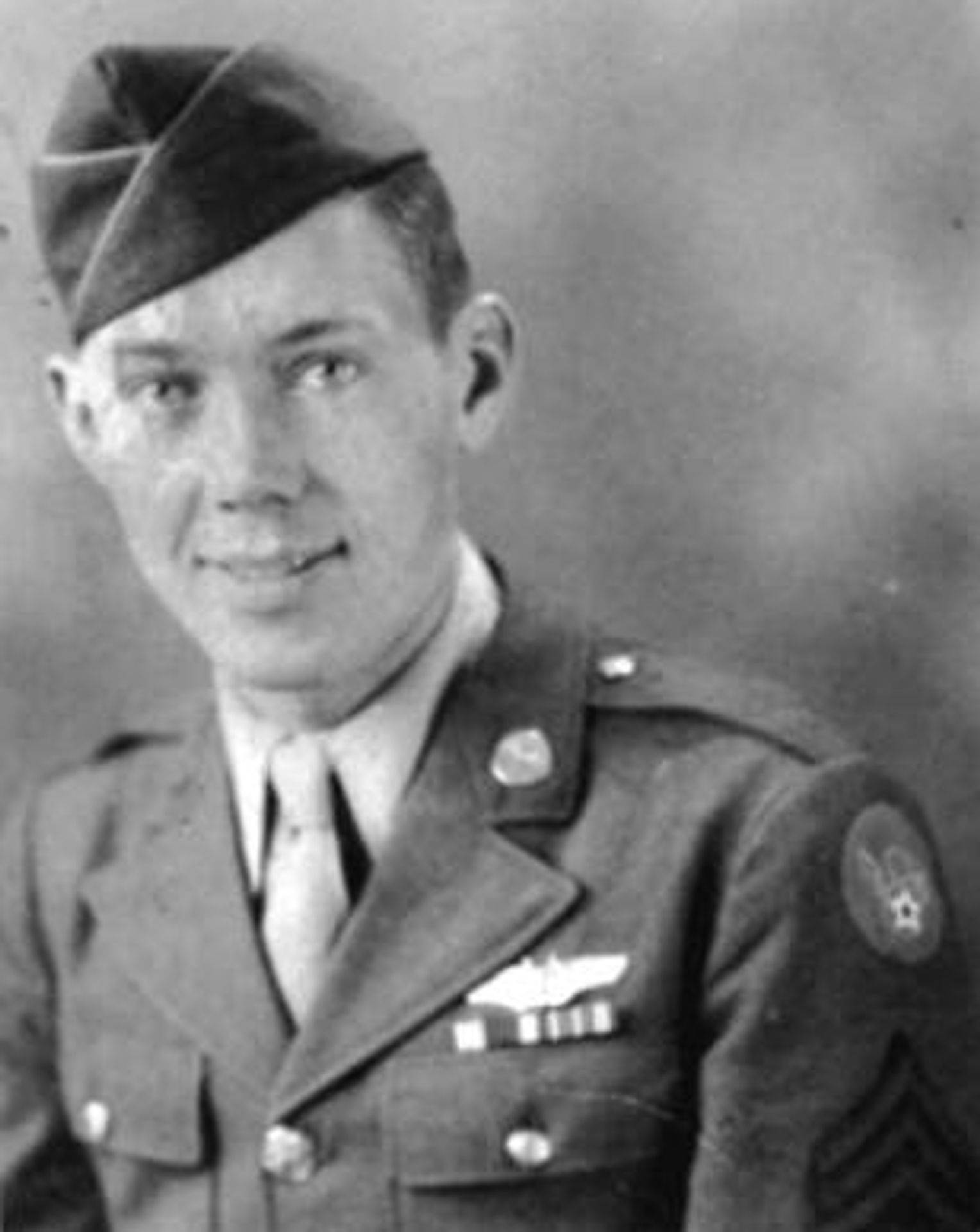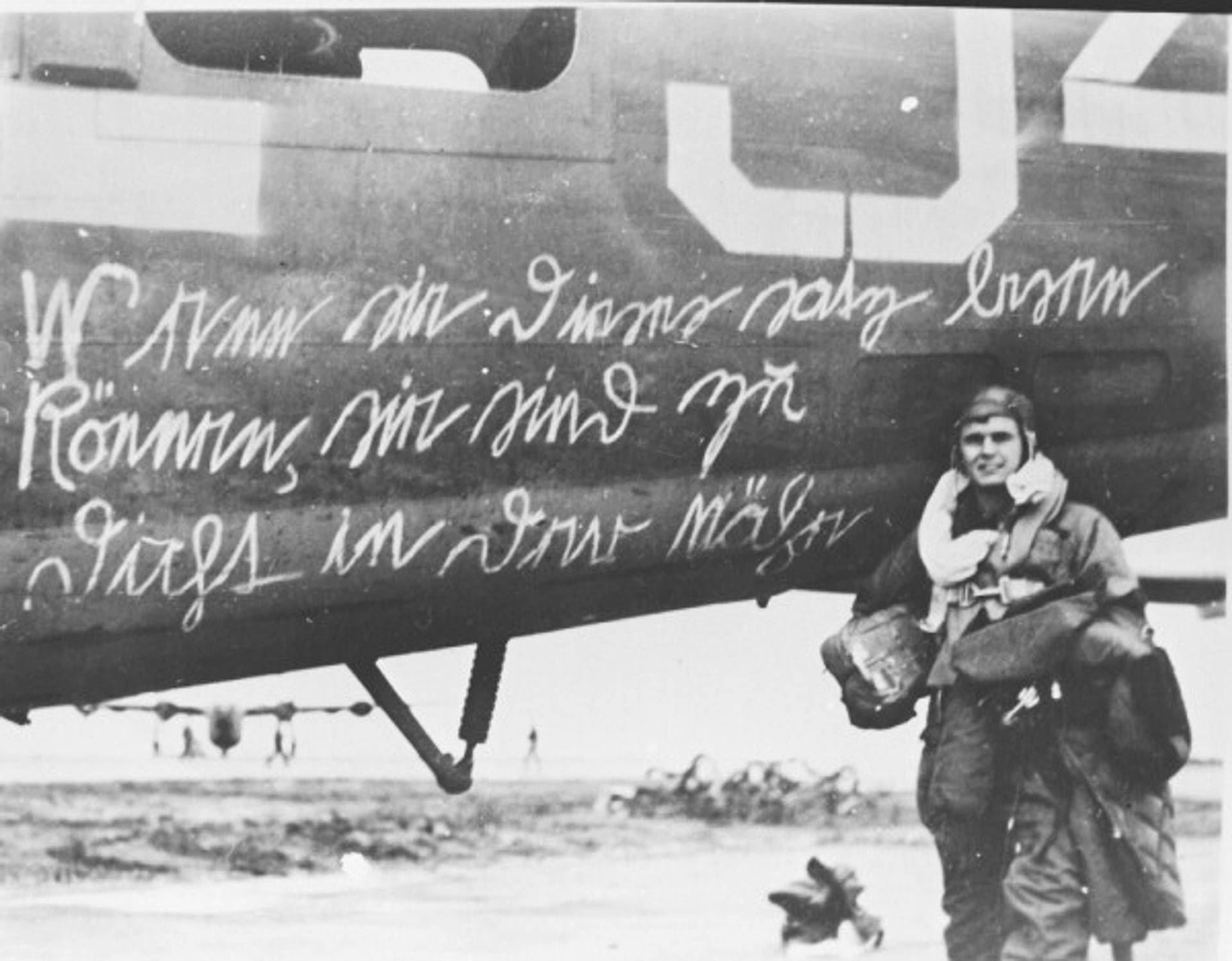 TODAY'S GERMAN LESSON
GENERAL RELEASE
AN EIGHTH AAF LIBERATOR STATION, ENGLAND
SGT. EDWARD D. KOBS OF MINNEAPOLIS, MINN. (RFD 1), WAIST GUNNER ON THE LIBERATOR "LORELEI", HAS INSCRIBED IN GERMAN BELOW HIS GUN POSITION A MESSAGE FOR CURIOUS LUFWAFFE PILOTS.  TRANSLATED IT MEANS "IF YOU CAN READ THIS YOU'RE TOO DAMN CLOSE."  SERGEANT KOBS SPEAKS GERMAN FLUENTLY AND TEACHES A CLASS IN THE LANGUAGE FOR COMBAT CREW MEMBERS IN HIS GROUP.  HE HAS FLOWN ON TWO ATTACKS AGAINST BERLIN WHENCE HIS GRANDPARENTS EMIGRATED TO THE UNITED STATES.  HIS FATHER WAS AN AMERICAN MACHINE GUNNER IN WORLD WAR I.  THE BOMBER "LORELEI" WAS NAMED FOR A MYTHICAL RHINELAND GIRL WHO. ACCORDING OT FOLKLORE, LURED UNWARY RIVER TRAVELERS TO THEIR DEATH.  "I'D ALWAYS WANTED TO SEE BERLIN," SAID KOBS, "BUT HADN'T EXPECTED I'D GET THE OPPORTUNITY SO SOON.  I'D LIKE TO VISIT THAT CITY AGAIN AFTER THE WAR."
Photo courtesy: Mike Bailey
B-24H-15-F0 42-52382  
Wurf'less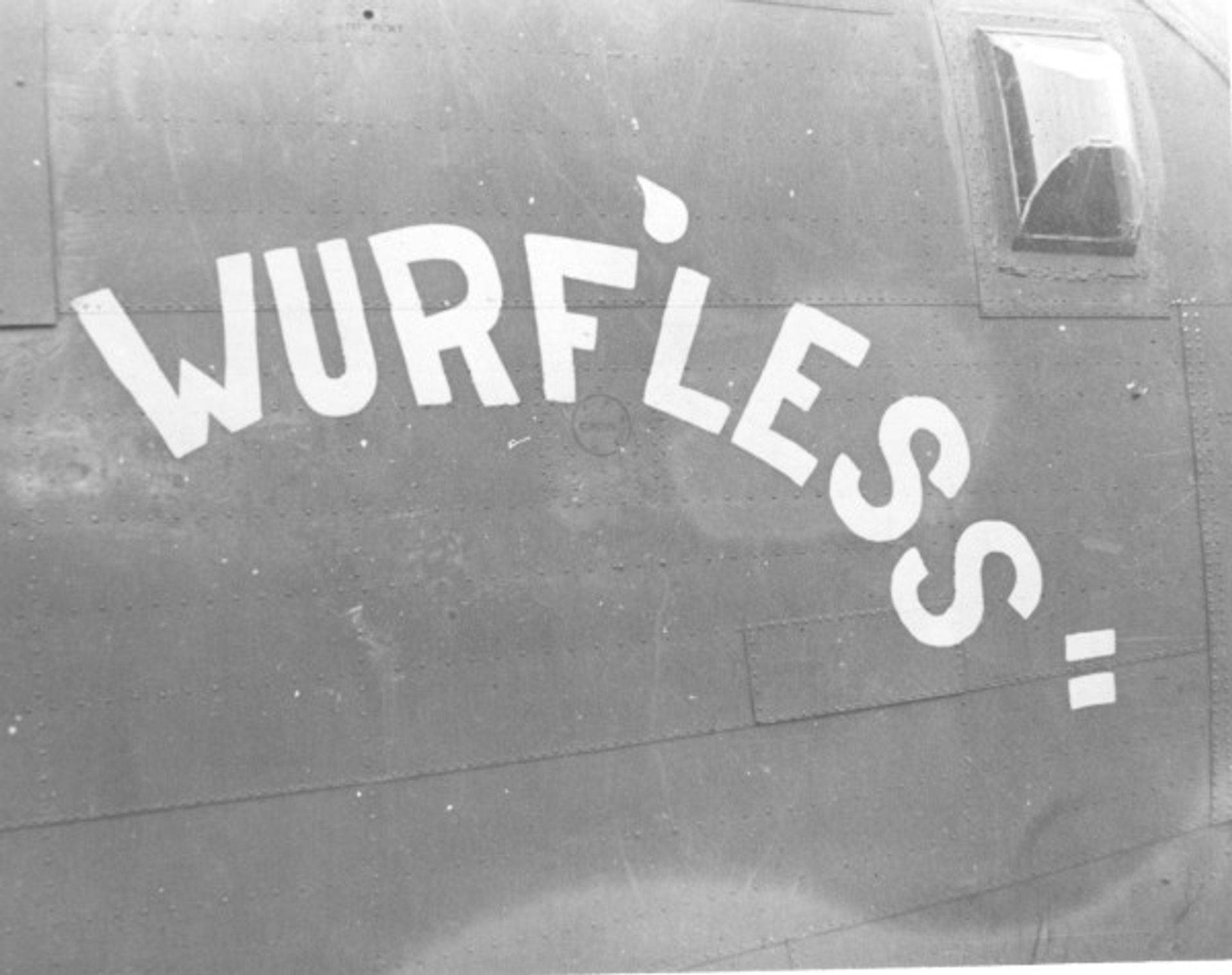 One of two known pictures of Wurf'Less. This was the aircraft of Crew16.