Crew 18 – Assigned 752nd Squadron – October 1943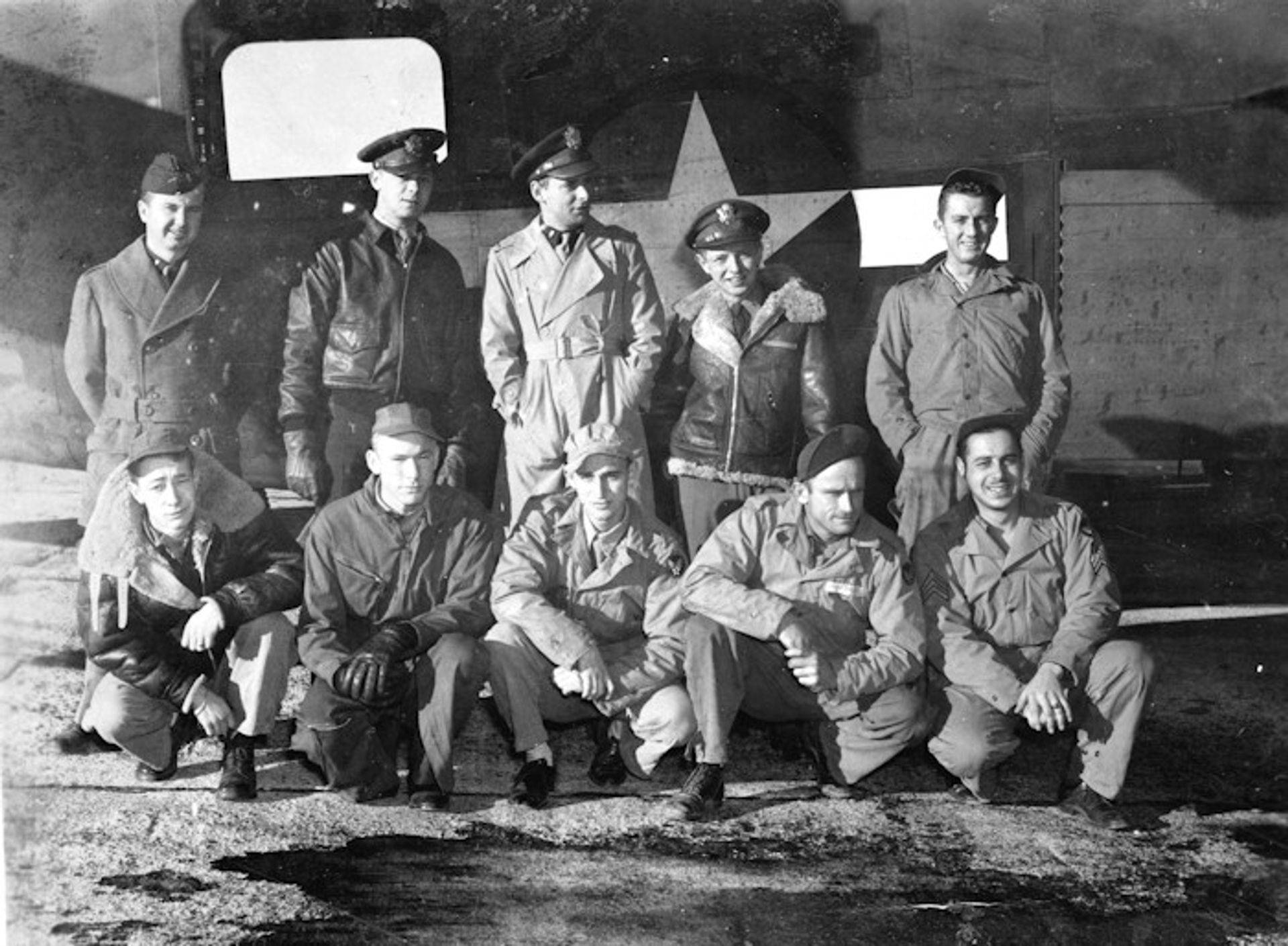 Standing:
 Bernard Wilson -CP, Willard Higdon – N, James Nedrow – P, Arnold Singer – B, Elmer Sutters – E
Kneeling:
Robert Nuber – TG, Finous Baker – NTG, Newell Gibson – RO, Cecil Johnson – BTG, Robert Weisberg – TTG
Interned in Switzerland May 27, 1944 – MACR 5388
| Rank | Name | Serial # | Pos | Date | Status | Comments |
| --- | --- | --- | --- | --- | --- | --- |
| 1Lt | James E Nedrow | 0804717 | Pilot | 27-May-44 | INT | Interned Switzerland |
| 2Lt | Bernard O Wilson | 0805718 | Co-pilot | 27-May-44 | POW | Stalag Luft 3 |
| 2Lt | Willard W Higdon | 0807913 | Navigator | 27-May-44 | INT | Interned Switzerland |
| 2Lt | Arnold B Singer | 0673280 | Bombardier | 27-May-44 | INT | Interned Switzerland |
| T/Sgt | Elmer J Sutters | 33342742 | Flight Engineer | 27-May-44 | INT | Interned Switzerland |
| S/Sgt | Newell R Gibson | 18193539 | Radio Operator | 23-Jul-44 | CT | Attached to 60SC |
| S/Sgt | Finous R Baker | 38368618 | Waist Gunner | 27-May-44 | INT | Interned Switzerland |
| Sgt | Robert H Weisberg | 11115912 | Top Turret Gunner | 23-Jul-44 | CT | Attached to 60SC |
| Sgt | Cecil M Johnson | 18158353 | Ball Turret Gunner, 2/E | Aug-44 | CT | Awards - Distinguished Flying Cross |
| S/Sgt | Robert E Nuber | 32766167 | Tail Turret Gunner | 27-May-44 | INT | Interned Switzerland |
Crew 18 was one of the crews in the 752nd Squadron that seemed to be plagued with bad luck.  They were also the only crew in the 458th that had the unfortunate distinction of being interned in two neutral countries – Spain and Switzerland.  Nedrow's crew left the United States in January 1944 and proceeded to England via the Southern Ferry Route used by bomber crews in the winter months.  Leaving Dakar on Africa's west coast on February 5, 1944, and flying north to Marrakech, the crew experienced fuel problems and were forced to land near Villa Cisneros in the Western (Spanish) Sahara.  Here the crew was "rescued" by Spanish soldiers, their B-24H-10-CF 41-29277 named Dear Mom confiscated, and the crew was interned.  Before abandoning their aircraft they destroyed the Norden bomb sight, the IFF recognition unit, and dumped sand into the gasoline tanks. 
Information gleaned from Dispatch No. 184 from the American Consulate in Spain relates that the crew was kept at Villa Cisneros from February 5th to the 19th when they went by sea on the S.S. "Leon y Castillo" to Las Palmas where they remained until February 27th.  They were then transported from Las Palmas aboard the Spanish S.S. "Ciudad de Alicante" in the care of Spanish Aviation Lieutenant Jesus Perez Herrero, whose orders were to deliver them to the Spanish Aviation Command at Cadiz.  The consulate secretary wrote Washington that, "Lieutenant Perez thinks it quite likely the interned airmen will be taken to Gibraltar from Cadiz."  It is not known exactly when the crew finally arrived at Horsham St. Faith, but Nedrow's first combat mission was flown to Siracourt on April 5, 1944, albeit with some crew changes.
It is not known for certain when the crew changes took place, but records indicate that radio operator S/Sgt Newell R. Gibson, was replaced by S/Sgt Calvin D. Criswell; ball turret gunner S/Sgt Cecil M. Johnson, was replaced by S/Sgt Donald J. Buck; and top turret gunner S/Sgt Robert H. Weisberg was replaced by S/Sgt James I. Rhew.  Criswell had already had his share of bad luck when on the group's first combat mission on March 2, 1944, his crew (#15), pilot 1Lt Kenneth Gorrell, crashed on takeoff.  Seven men were killed, while the pilot, engineer, and Criswell survived.  Buck and Rhew were originally assigned to Crew 12, pilot 2Lt B.G. Beckley.  S/Sgt's Gibson, Johnson, and Weisberg successfully completed their combat tours in July and August 1944.
Nedrow flew a total of 17 missions before the crew once again had a turn of bad luck.  On May 27, 1944, the 458th Bomb Group set out for a target that had not yet been attacked, the marshalling yards of Neunkirchen, Germany.  Taking off on their 21st mission, Nedrow's crew, flying B-24 42-94946 The Cat's (Ass) joined the formation assembling over the North Sea near Cromer.  It was at this time that two 755th Squadron planes collided, the tail assembly breaking completely off of 2Lt Howard J. Lobo's aircraft and the second plane piloted by 2Lt Lester C. Martin losing about six feet of its right wing.  This latter aircraft made it back to Horsham, minus two crewmen who bailed out upon the order to jump.  Their bodies were never recovered from the North Sea.  The pilot regained some measure of control, rescinded his bail out order, and made a safe landing.  All ten men in the other B-24, the newly arrived Lobo crew, perished.  Just prior to reaching the target, Nedrow's #4 engine was feathered and they left the formation.
For reasons unknown, co-pilot 2Lt Bernard O. Wilson bailed out over occupied territory and was taken prisoner.  He spent the remainder of the war in Stalag Luft III.
MACR 5388
1. B-24 the "Cat's Ass" picture on plane went to Switzerland at 1231, no visual damage, vicinity of 4810-0450 (Longchamp, France).
2. Nedrow left formation near Straburg headed for Switzerland.  #4 feathered, had four fighters escorting him.
3. #946 headed for Switzerland at (4808-0418) 1 engine feathered and four P-51s.
4. One B-24 thought to be Nedrow, seen to hand toward Switzerland 1317.  Just before target.
Crew 18 with B-24H-10-CF 41-29277
Dear Mom
 in Trinidad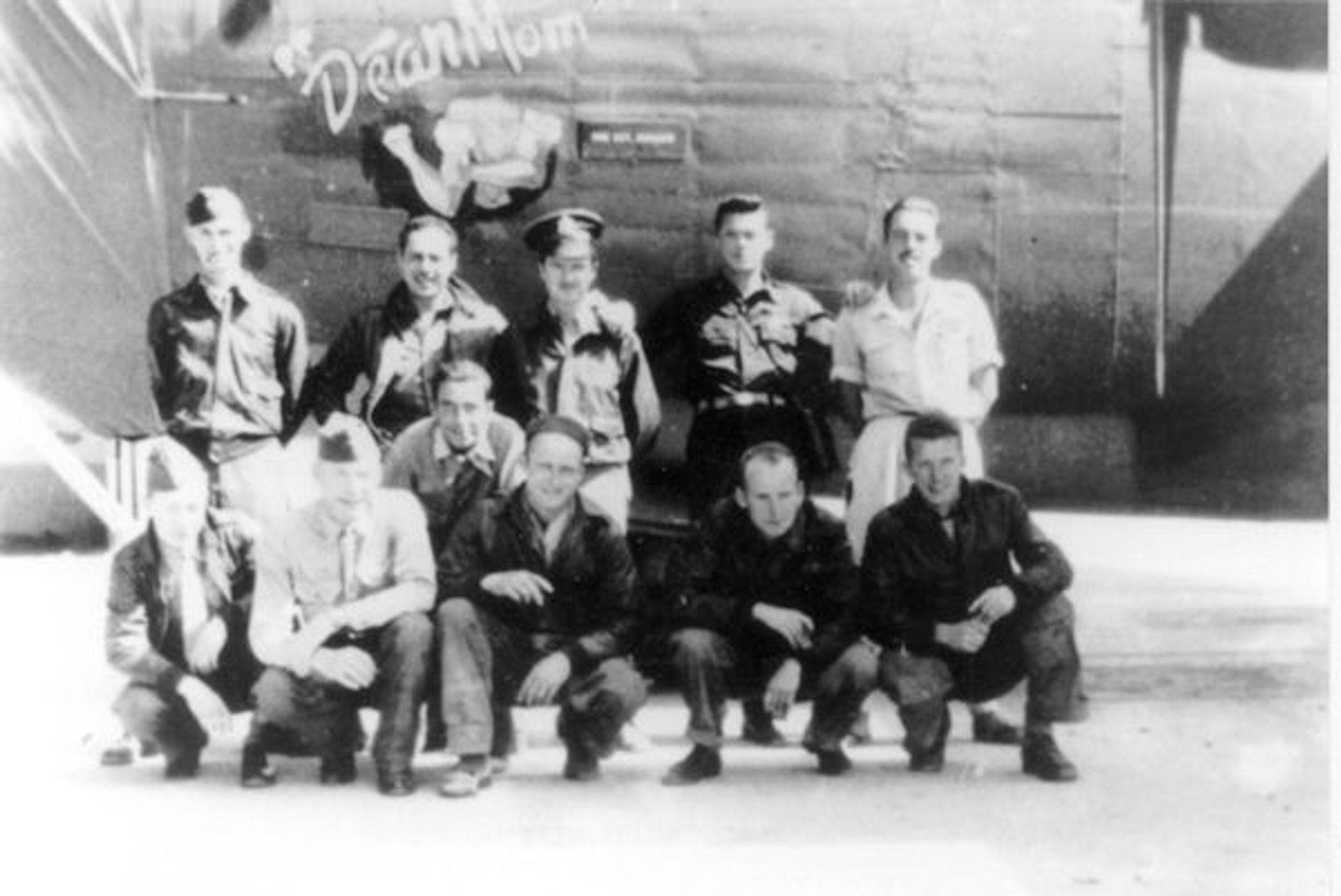 Standing:
Robert Nuber,  Robert Weisberg, James Nedrow, Two unknown civilians (painted nose art)
Kneeling:
Newell Gibson, Finous Baker, Unknown, Cecil Johnson, Bernard Wilson, Elmer Sutters
Not pictured: Willard Higdon, Arnold Singer
B-24H-10-CF 41-29277 
Dear Mom
 in the Western Sahara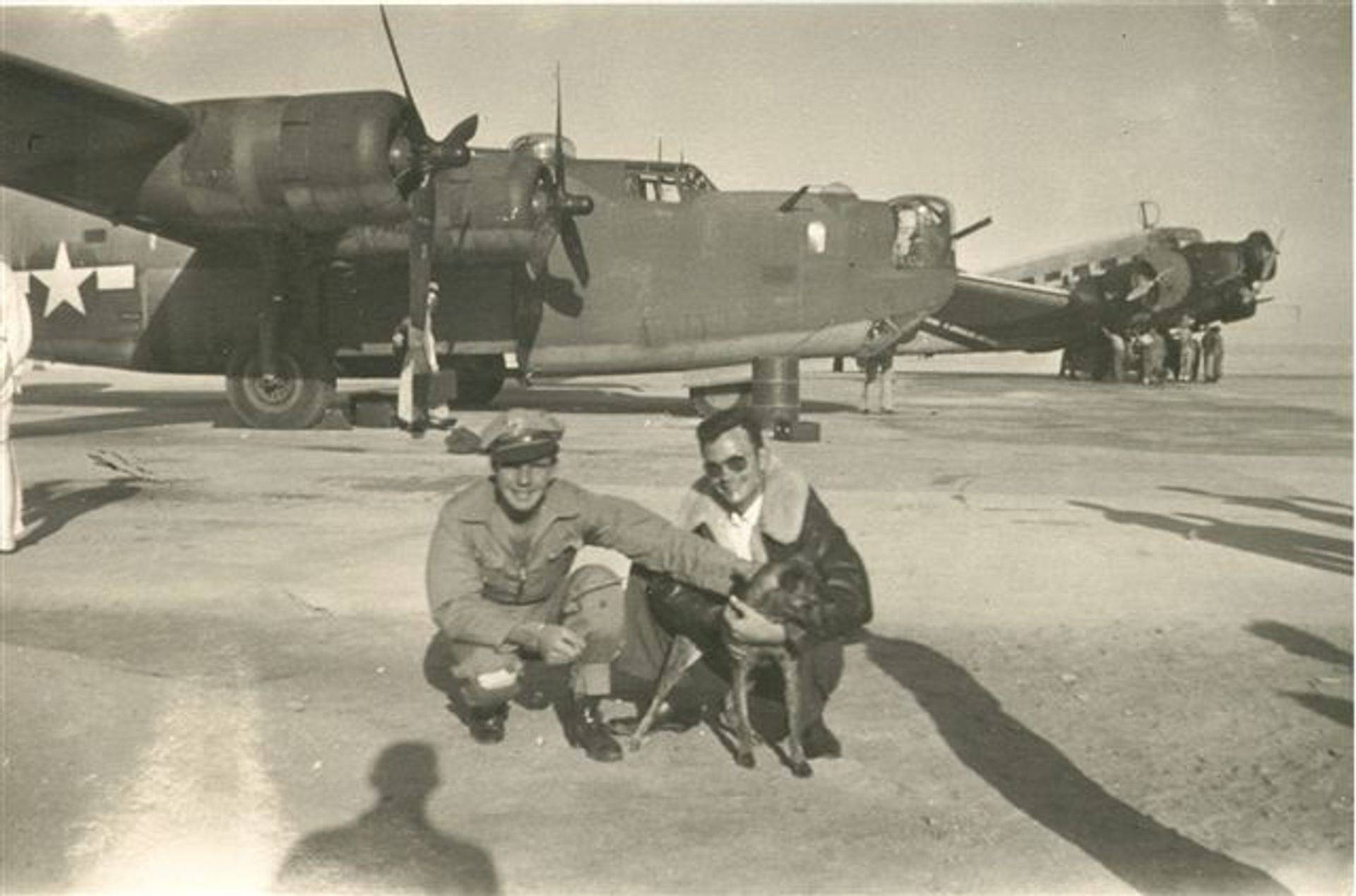 Unidentified American officers. Note German JU-52 in background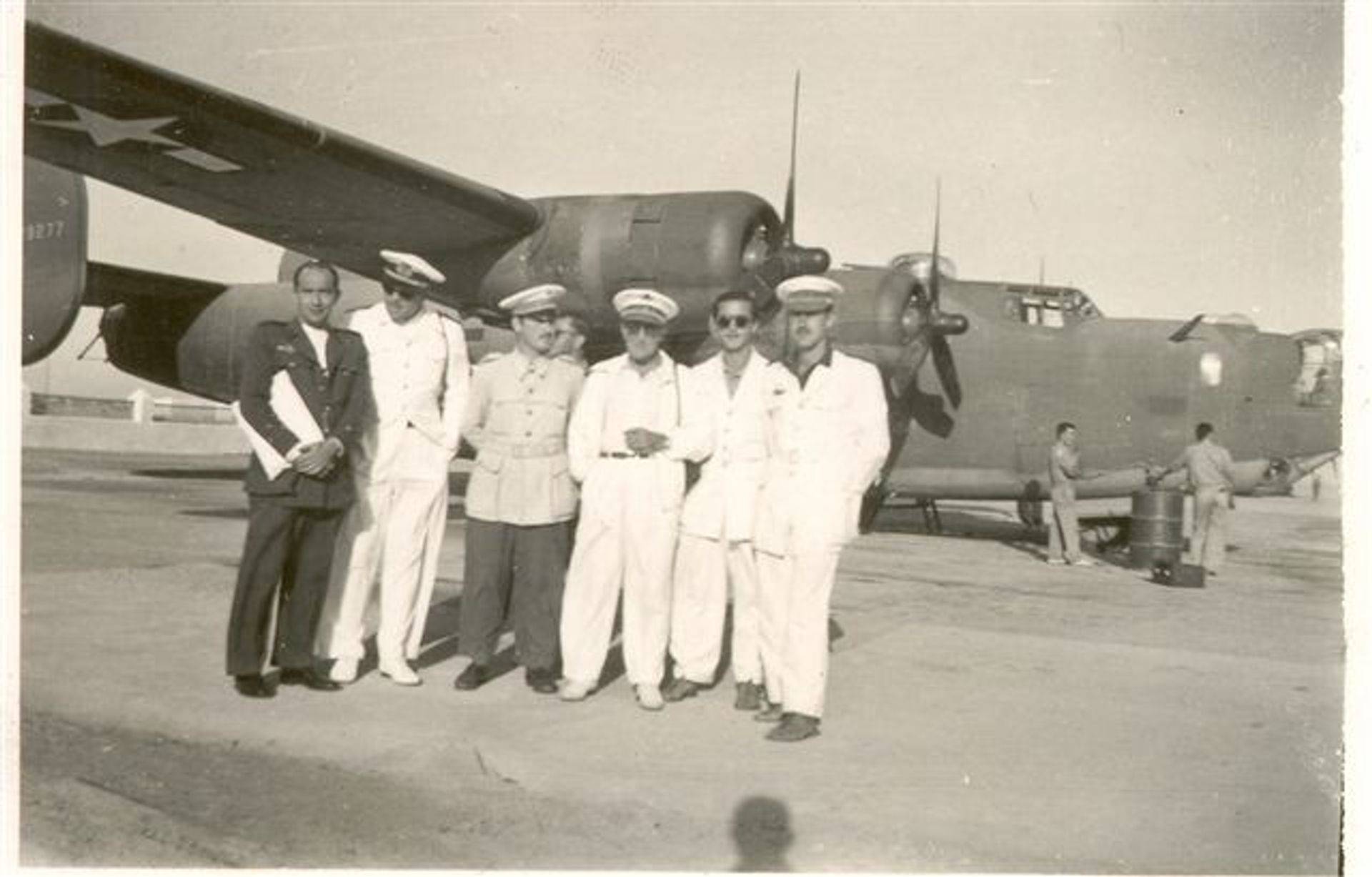 Spanish officers and officials pose in front of the Liberator
Nedrow's abandoned B-24 Dear Mom's story did not end with the departure of the crew.  According to Richard Beardslee, brother of a radio operator in the 459th Bombardment Group, "In the summer of 1944, at the request of the American Air Attache in Madrid, B-24 41-29277 was flown from Western Sahara, non-stop, to Madrid, by an American crew consisting of a pilot, co-pilot, flight engineer, and radio operator, whose B-24H-15-FO had made an emergency landing near Palma, Mojorca on June 25, 1944. These men were members of the 459th BG, based at Giulia Field, near Cerignola, Italy. The Western Sahara – Madrid flight took place in July, or August, 1944. In September, 1944 this flight crew, and the other members of their crew were released from internment in Spain, and returned to Italy.
"At the time of this incident we seem to have had a close relationship with the Spanish. The pilot and co-pilot in my brother's crew had not seen the inside of a B-24 cockpit in at least a month and a half, and therefore were not current for flying one. A USAAF B-24 flight instructor was brought in for their retraining. In one of the photographs, showing the nose turret of the B-24, there is a C-46 in the background.  My brother told me that the reason for this mission was because the Spanish Air Force colonel that had befriended his crew needed to get some points with Madrid. As I remember the story, the Spanish colonel knew of the B-24 in Western Sahara, and that Madrid wanted it brought into Spain. There were not any Spanish Air Force pilots qualified to fly a B-24. The colonel realized that he had, in my brother's crew, a relatively fresh B-24 flight crew who could fly it to Madrid. Strings were pulled, arrangements made with the American Air Attache, and the colonel got his points when the B-24 was delivered to Madrid."
Courtesy: Richard Beardsley
| Date | Target | 458th Msn | Pilot Msn | Serial | RCL | Sqdn | A/C Msn | A/C Name | Comments |
| --- | --- | --- | --- | --- | --- | --- | --- | --- | --- |
| 05-Apr-44 | ST. POL-SIRACOURT | 16 | 1 | 42-52455 | O | 7V | 10 | PLUTOCRAT | |
| 09-Apr-44 | TUTOW A/F | 18 | 2 | 42-109812 | D | 7V | 9 | UNKNOWN 016 | |
| 10-Apr-44 | BOURGES A/F | 19 | 3 | 41-29303 | H | Z5 | 13 | LIBERTY LIB | |
| 11-Apr-44 | OSCHERSLEBEN | 20 | 4 | 42-52455 | O | 7V | 14 | PLUTOCRAT | |
| 12-Apr-44 | OSCHERSLEBEN | REC | -- | 41-29303 | H | Z5 | -- | LIBERTY LIB | RECALL |
| 18-Apr-44 | BRANDENBURG | 22 | 5 | 41-29302 | P | 7V | 11 | NOKKISH | |
| 19-Apr-44 | PADERBORN A/F | 23 | 6 | 41-29340 | N | 7V | 6 | YANKEE BUZZ BOMB | |
| 20-Apr-44 | SIRACOURT | 24 | 7 | 41-29303 | H | Z5 | 17 | LIBERTY LIB | |
| 22-Apr-44 | HAMM M/Y | 25 | 8 | 41-29303 | H | Z5 | 18 | LIBERTY LIB | |
| 25-Apr-44 | MANNHEIM A/F | 27 | 9 | 41-29303 | H | Z5 | 19 | LIBERTY LIB | |
| 26-Apr-44 | PADERBORN A/F | 28 | 10 | 41-29303 | H | Z5 | 20 | LIBERTY LIB | |
| 29-Apr-44 | BERLIN | 31 | NTO | 41-29303 | H | Z5 | -- | LIBERTY LIB | #1 SUPER CHG |
| 01-May-44 | MARQUISE/MIMOYECQUES | 32 | 11 | 41-29303 | H | Z5 | 22 | LIBERTY LIB | |
| 04-May-44 | BRUNSWICK/WAGGUM | 34 | 12 | 41-29303 | H | Z5 | 24 | LIBERTY LIB | |
| 05-May-44 | SOTTEVAST | 35 | 13 | 41-29303 | H | Z5 | 25 | LIBERTY LIB | |
| 07-May-44 | OSNABRUCK | 36 | 14 | 42-50314 | L | 7V | 3 | ETO PLAYHOUSE | |
| 08-May-44 | BRUNSWICK | 37 | 15 | 42-94946 | R | 7V | 2 | THE CAT'S (ASS) | |
| 12-May-44 | BOHLEN | 40 | 16 | 42-94946 | R | 7V | 4 | THE CAT'S (ASS) | |
| 13-May-44 | TUTOW A/F | 41 | 17 | 42-94946 | R | 7V | 5 | THE CAT'S (ASS) | |
| 19-May-44 | BRUNSWICK | 42 | ABT | 42-94946 | R | 7V | -- | THE CAT'S (ASS) | OXY LEAK BALL TURRET |
| 20-May-44 | RHEIMS A/D | 43 | 18 | 42-94946 | R | 7V | 6 | THE CAT'S (ASS) | |
| 21-May-44 | SIRACOURT | 44 | 19 | 42-95219 | W | 7V | 3 | PATCHIE | |
| 23-May-44 | BOURGES | 45 | 20 | 42-95117 | M | 7V | 7 | YOU CAN'T TAKE IT WITH YOU | |
| 27-May-44 | NEUNKIRCHEN | 48 | 21 | 42-94946 | R | 7V | 7 | THE CAT'S (ASS) | SWITZERLAND |
B-24H-20-FO 42-94946  7V R  
The Cats (Ass)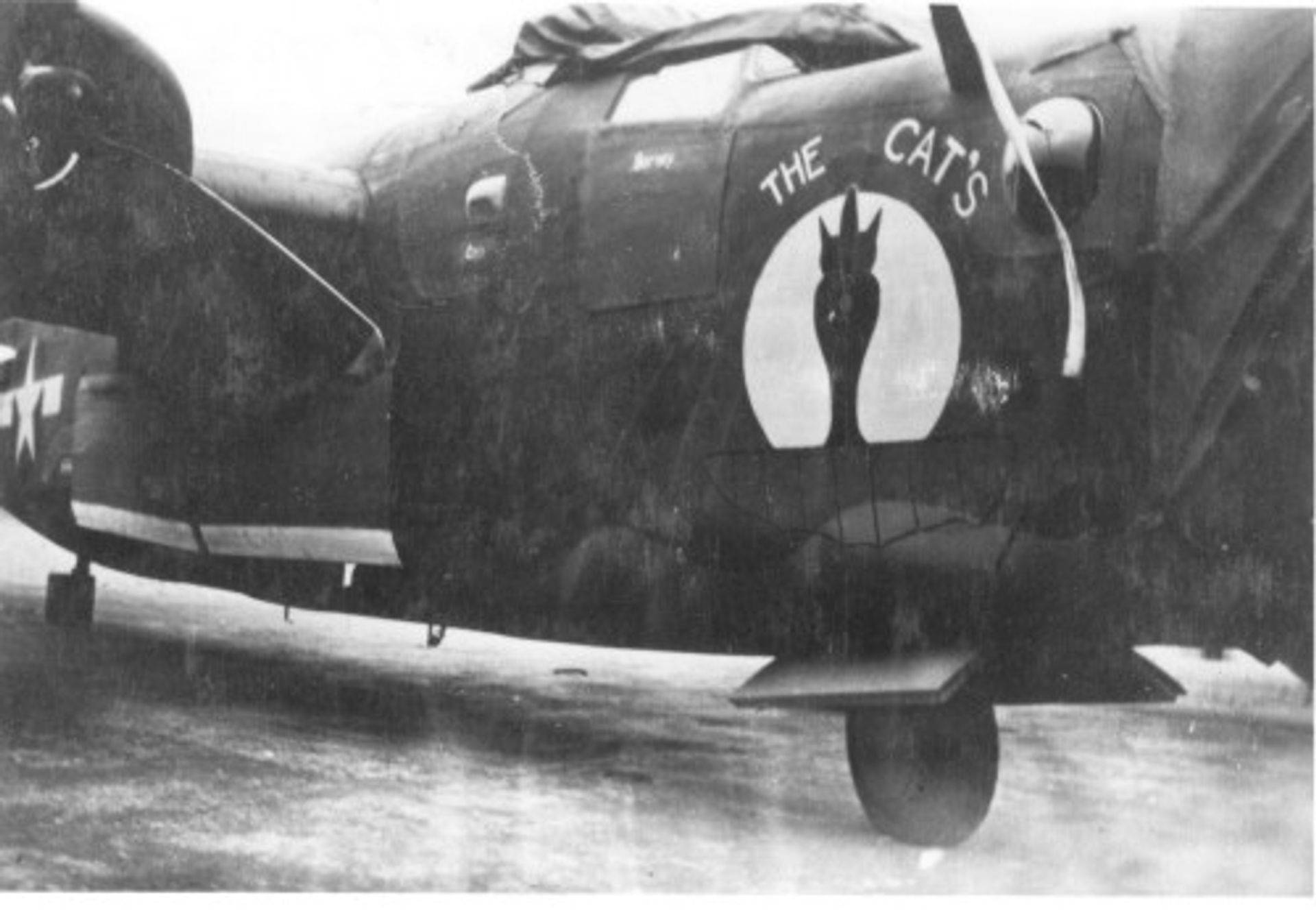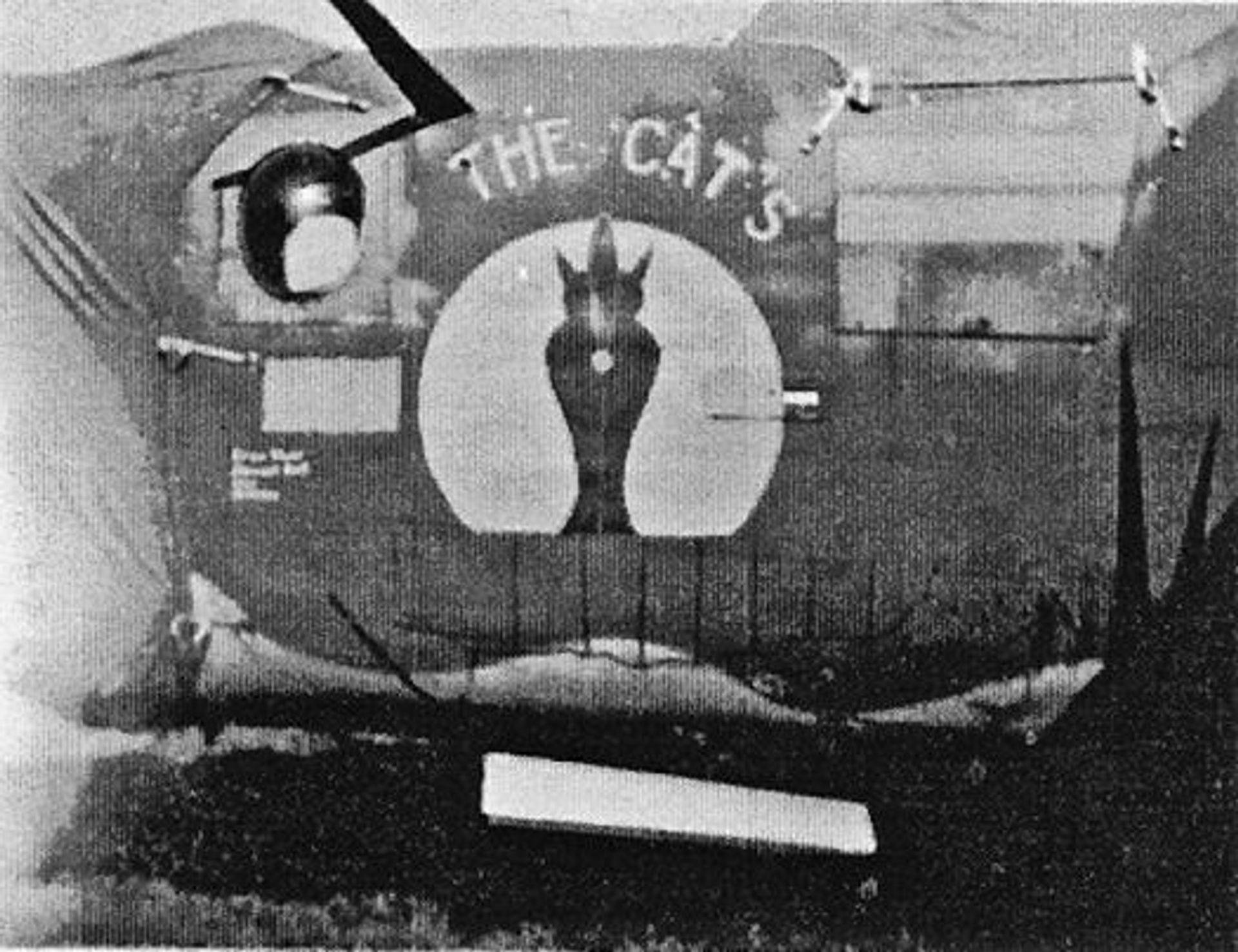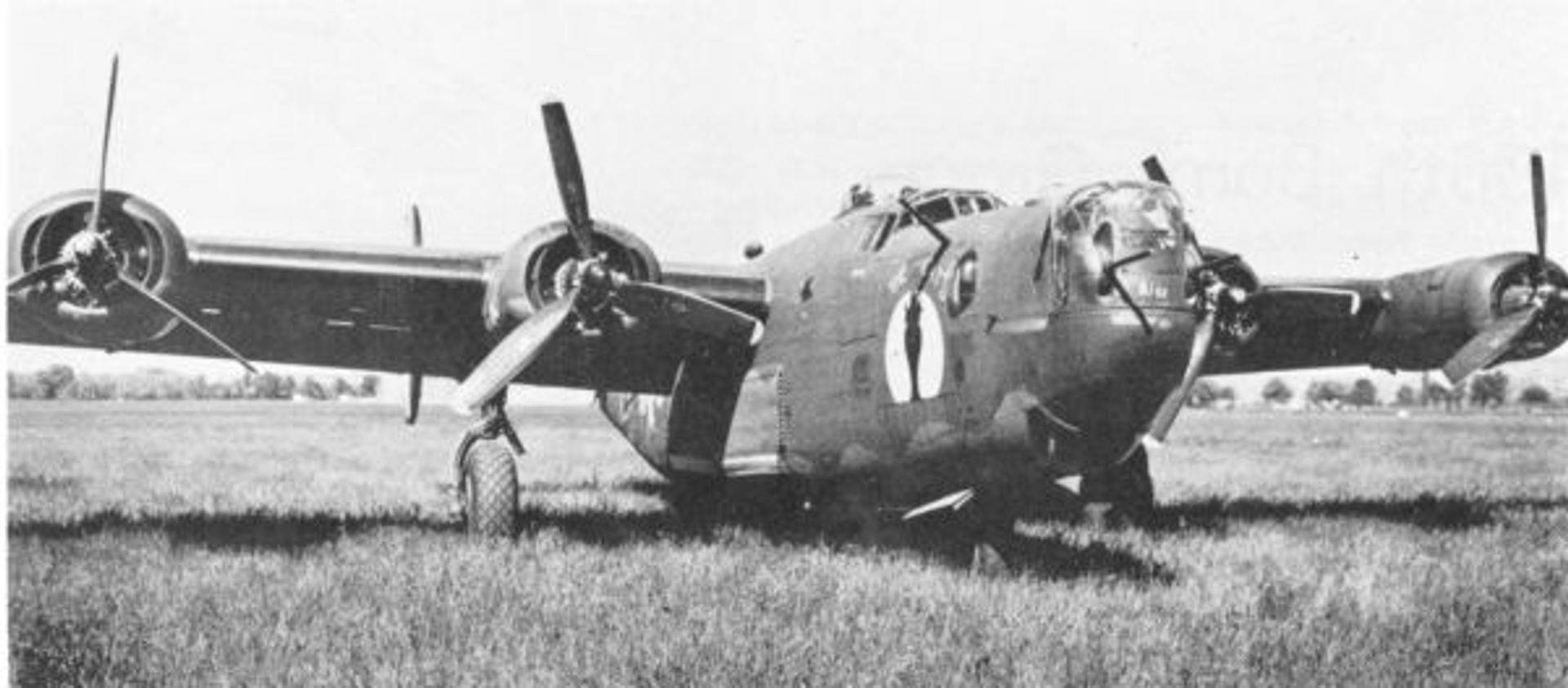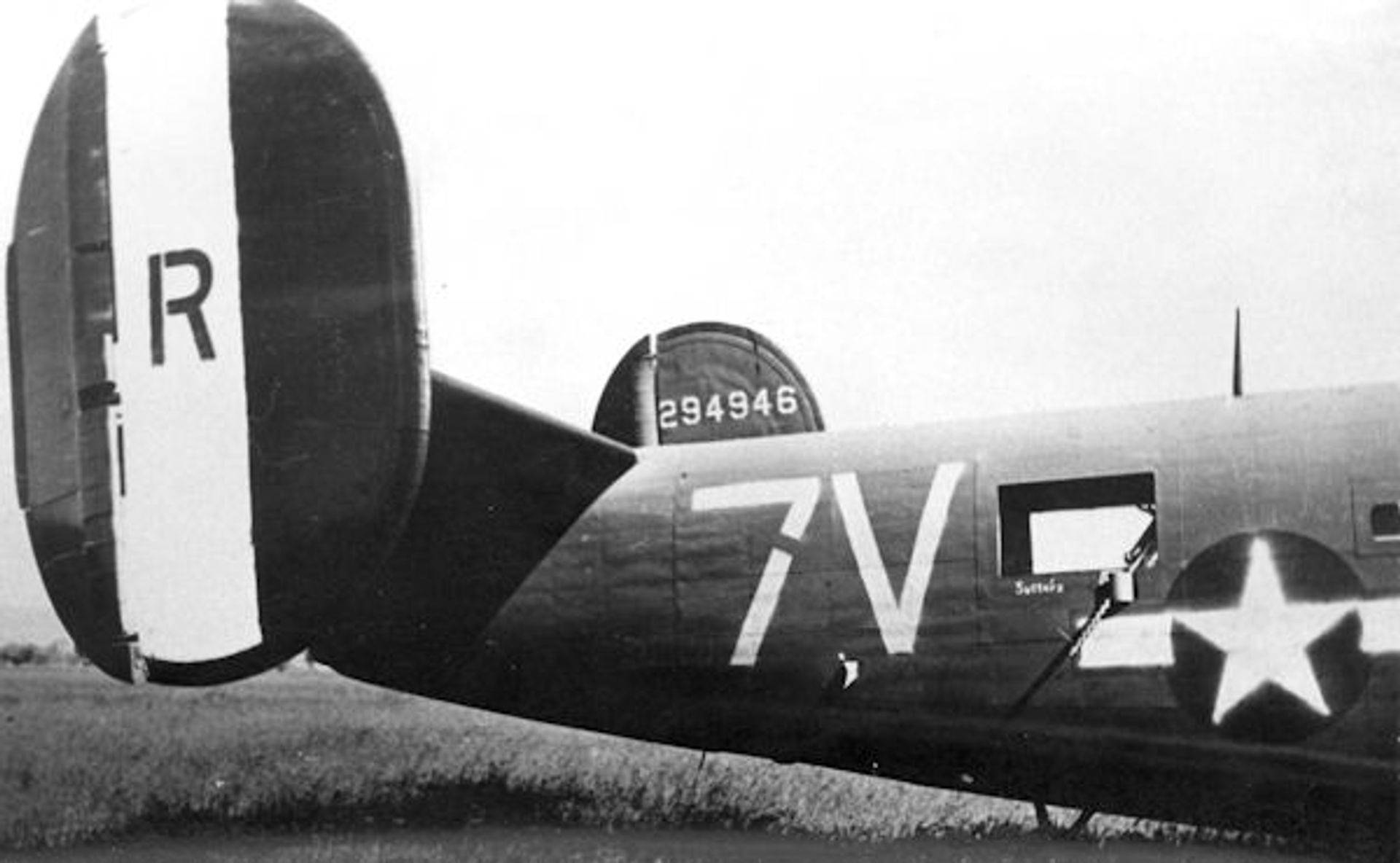 In Switzerland.  Note feathered #4 engine
(Photos: Rob Martyr, George Reynolds, Mike Bailey)