Francis Morris Crew – Assigned 755th Squadron –  July 31, 1944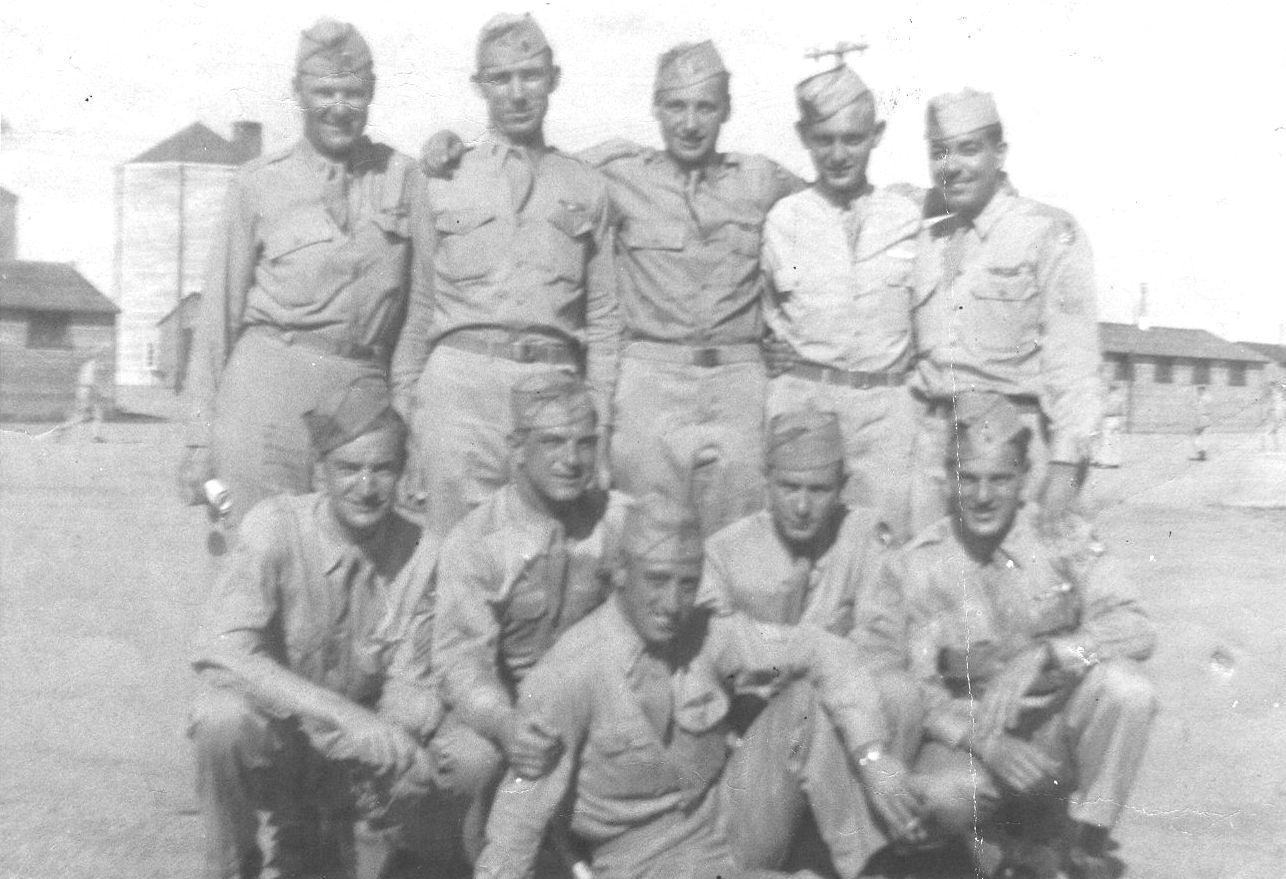 Standing:
William Schaudt – CP, Frank Morris – P, Joe Vacha – B, George Gebhart – TG, Jerry Girardi – RO.
Kneeling:
Raymond McCarthy – G, Freddie Schmidt – WG, Philip Smith – WG, James Weick – TTG, George Ahlsen – N.
Shot down by flak August 25, 1944 – MACR 8295
| Rank | Name | Serial # | Pos | Date | Status | Comments |
| --- | --- | --- | --- | --- | --- | --- |
| 1Lt | Francis H Morris | 0705252 | Pilot | 25-Aug-44 | POW | Stalag Luft III |
| 2Lt | William G Schaudt | 0713886 | Co-pilot | 25-Aug-44 | POW | Stalag Luft III |
| 2Lt | George W Ahlsen | 0718204 | Navigator | 25-Aug-44 | POW | Stalag Luft III |
| 2Lt | Joseph J Vacha | 0716998 | Bombardier | 25-Aug-44 | KIA | Cleveland, OH |
| S/Sgt | Jerry F Girardi | 13093143 | Radio Operator | 25-Aug-44 | POW | Stalag 9C |
| S/Sgt | James C Weick | 32757647 | Aerial Gunner/2E | 25-Aug-44 | POW | Stalag Luft 4 |
| Sgt | George F Gebhart | 13096043 | Aerial Gunner | 25-Aug-44 | KIA | Philadelphia, PA |
| Sgt | Frederick Schmidt | 36739281 | Aerial Gunner | 25-Aug-44 | KIA | Cook Cty, IL |
| Sgt | Philip A Smith | 6942945 | Aerial Gunner | 25-Aug-44 | POW | Stalag Luft 4 |
| T/Sgt | Raymond A McCarthy | 39527034 | Radio Operator | 17-May-45 | CT | Trsf to 752nd Sqdn |
Frank Morris's crew arrived at Horsham St. Faith on the last day of July 1944. After an indoctrination period to the theater, they flew their first mission on August 12, 1944 to hit an airfield near Mourmelon, France. Three more missions to Germany followed – an airfield at Vechta on the 15th, Magdeburg on the 16th, and their last on August 25, 1944 to the Dornier aircraft factory in Lubeck. The 458th Bomb Group put up two missions that day, one to Lubeck, Germany in the morning and one to Tertre, Belgium in the afternoon. Morris's crew was the only crew from both missions not to return to base. Their plane was hit by flak prior to reaching the target and crashed near Leck, Germany.
Sgt Raymond A. McCarthy, gunner, did not fly on the August 25, 1944 mission with Morris's crew. Records show that McCarthy was reclassified in November 1944 as a radio operator, and being sent on Rest Home Leave in March 1945. It is possible that he completed a combat tour flying with other crews.
MACR 8295
A/C was hit in right wing by flak from SYLT or AMRUM ISLANDS at approximately 1041. Fire resulted which diving maneuver failed to extinguish. Bombs were jettisoned as A/C remained under control and flew along for five minutes when crew bailed out. After seven (7) or eight (8) chutes came out, A/C went onto spin and exploded.
2Lt George Ahlsen – Navigator
"[The] plane was on fire when I bailed out. [After helping him out of the nose turret], the last I saw of Vacha, he was behind me apparently ready to jump. The plane blew up soon after I jumped and I never saw him again. I did not see Gebhart and Schmidt jump… and I never saw [them] afterwards. I saw the five other crew members who had bailed out safely. The Germans took us near the wrecked aircraft, [and] told us the other three men were dead."
S/Sgt Jerry F. Girardi – Radio Operator
"Concerning Sgt George F. Gebhart and Sgt F. Schmidt – I don't believe they bailed out, but were blown out of [the] plane. Sgt P.A. Smith – only man who saw them alive prior to direct loss – said that they all had chutes on prepared to bail out when ship blew up. I'm not quite sure whether Sgt. Smith jumped or was blown out…. The ack-ack burst shot up our inter-phone system so there was no radio contact between crew members, and plane immediately burst into flames. Physical contact was cut off from rear of plane by fire in bomb bay.
"The navigator helped [Lt Vacha] from the [nose] turret before bailing out – navigator barely made it. Lt Vacha went down with the ship and was burned to death – from later information gathered from guards and civilians. Frederick Schmidt's body was seen in field not too far from Sgt Gebhart's body – chute on and not opened. I saw the chute when Germans loaded it on truck. German showed me his dog tag and said, 'Too bad his chute didn't open'.
"All I know from what I saw is Lt. W.G. Schaudt bailed out from one side of the flaming bomb bay and I [from] the other side. We landed about 100 yds apart on the ground. Lt. Schaudt's face was burned a little and blistered. [We] met the rest of the crew later that day. Lt. F.H. Morris, Lt. G.W. Ahlsen, S/Sgt J.C. Weick, and Sgt P.A. Smith – they were in [the] truck when Lt. Schaudt and I were picked up. They were all burned some in varying degrees and all had badly sprained ankles. Lt F.H. Morris had a handkerchief covering one eye – blood coming from a wound above the eye. We were separated at Dulag Luft."
| Date | Target | 458th Msn | Pilot Msn | Serial | RCL | Sqdn | A/C Msn | A/C Name | Comments |
| --- | --- | --- | --- | --- | --- | --- | --- | --- | --- |
| 08-Aug-44 | CLASTRES | 108 | 1 | 42-100425 | D | J3 | 23 | THE BIRD | |
| 12-Aug-44 | MOURMELON | 111 | 2 | 42-95316 | N | J3 | 36 | PRINCESS PAT | |
| 15-Aug-44 | VECHTA | 114 | 3 | 42-7516 | K | J3 | 28 | GATOR | |
| 16-Aug-44 | MAGDEBURG | 115 | 4 | 42-100408 | D | J4 | 28 | BEASTFACE | |
| 25-Aug-44 | LUBECK | 118 | 5 | 42-110184 | F | J3 | 21 | GWEN | SHOT DOWN - FLAK |
B-24J-140-CO 42-110184 J3 F 
Gwen
Gwen is the aircraft closest to the camera
(Photo: Mike Bailey)