Dale Morris Crew – 752nd squadron – Assigned April 23, 1944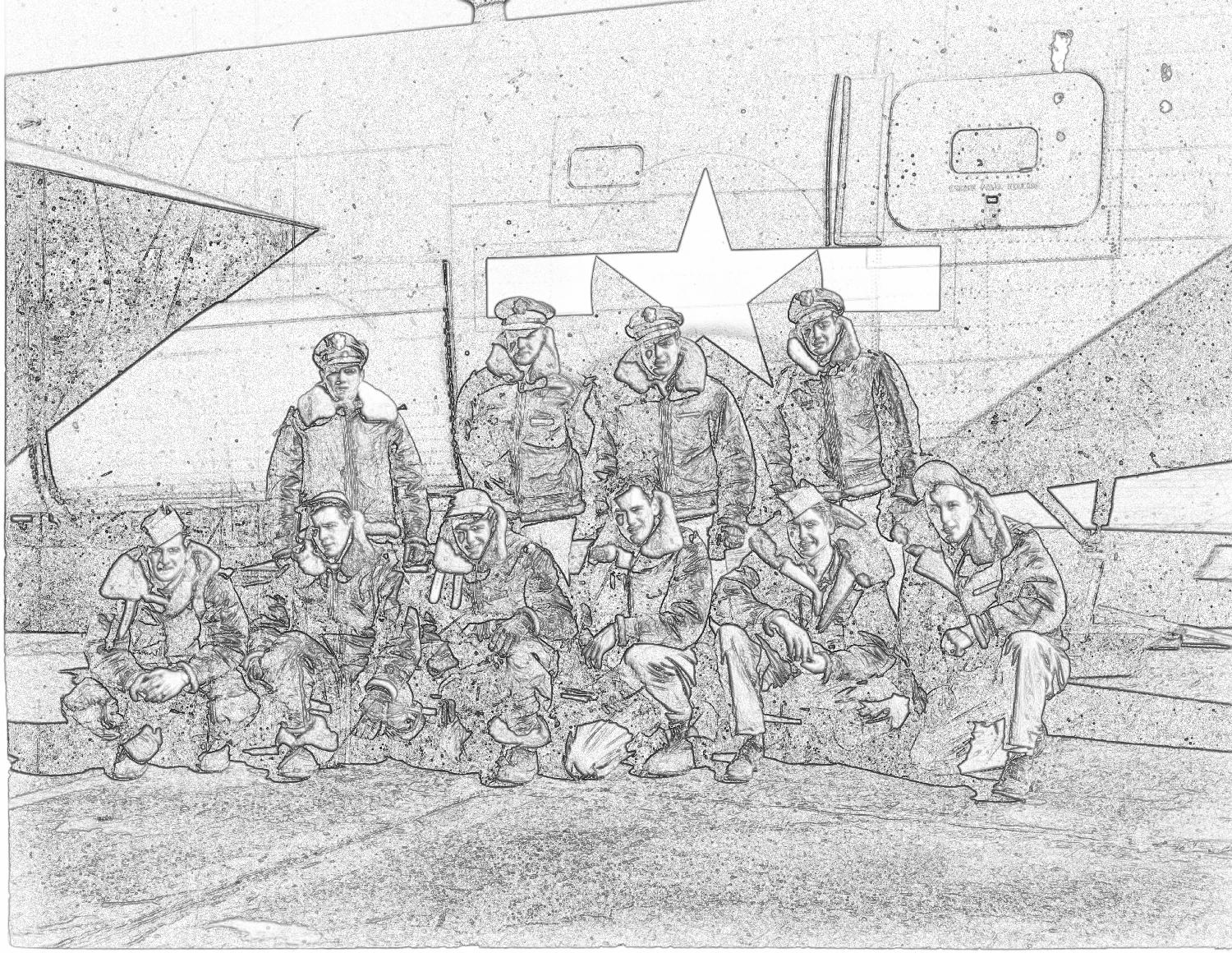 Interned in Sweden April 29, 1944 – MACR 4451
|  Rank |  Name |  Serial # |  Pos | Date | Status |  Comments |
| --- | --- | --- | --- | --- | --- | --- |
| 2Lt | Dale R Morris | 0635167 | Pilot | 29-Apr-44 | INT | Interned Sweden |
| 2Lt | George A Griffin | 0812249 | Co-pilot | 29-Apr-44 | INT | Interned Sweden |
| 2Lt | William C Lane | 0811062 | Navigator | 29-Apr-44 | INT | Interned Sweden |
| 2Lt | Louis S Beckett | 0752833 | Bombardier | 29-Apr-44 | INT | Interned Sweden |
| S/Sgt | Thomas C Bell, Jr | 15334764 | Radio Operator | 29-Apr-44 | INT | Interned Sweden |
| Sgt | Stonewall J Johnson  | 35499061 | Top Turret Gunner  | 29-Apr-44 | INT | Interned Sweden |
| Sgt | Lynn T Lemons | 39855467 | Ball Turret Gunner | 29-Apr-44 | INT | Interned Sweden |
| S/Sgt | William E Marr | 39192421 | Waist Gunner | 29-Apr-44 | INT | Interned Sweden |
| Sgt | Charles A Frazier | 37233872 | Waist Gunner | 29-Apr-44 | INT | Interned Sweden |
| Sgt | Earl C Savage | 11038039 | Tail Turret Gunner | 29-Apr-44 | INT | Interned Sweden  |
Many stories have been told about the one crew "that did not have time to unpack" before they were lost on a mission.  2Lt Dale Morris' crew could be one of those mentioned in the 458th.  This crew was assigned on Sunday, April 23, 1944.  The next Saturday night, they were "guests" in Sweden, having been forced to divert to that neutral country during the day's mission.  Not quite the 24-hour turn around that most of the stories are made up of, but this crew's tenure with the group was surely short lived.
Morris and crew flew their first mission on April 27, 1944 to the marshalling yards in the French town of Blainville.  This mission (the second of the day) by all accounts, was a milk run – only a few enemy aircraft seen in the distance, but no attacks made on the 458th formation, and none of the group sustained battle damage.  Morris dropped on the primary target with the rest of the group and made a landing back at Horsham St. Faith with no trouble.
On Saturday, April 29th, the 458th was headed to Berlin, the target Friedrichshafen Station.  The 458th put 29 Liberators into the air.  Of these, six aircraft aborted and the remaining 23, including Morris made it to the target.  For reasons unknown, Morris's crew had arrived at the 458th without a navigator, and filling in on this mission was 2Lt William C. Lane.  Lane had been the navigator on Lt Beckley's Crew #12 before Beckley became ill and the crew disbanded, spread out amongst the 752nd.  Also new to the crew on this mission was 1Lt Edwin A. Grant, pilot of Crew 16.  He was almost half way through his combat tour, having flown 13 missions with his own crew, who were not flying on this date.  He was flying from the co-pilot's seat, acting as an Instructor Pilot for the new crew.  2Lt George A. Griffin, co-pilot, who did not have to fly since his seat was taken, apparently elected to stick with his crew, as squadron records note that he "flew as an observer on this trip."
Related by Grant, the trouble started for the crew, "over the city of Berlin, seconds before bombs away…."  According to the Missing Air Crew Report
MACR 4451: "Morris was seen to be attacked by FW-190s at 1104 hours in vicinity of Celle, Germany.  One engine was knocked out and A/C fell out of formation in an easy spin.  Four (4) 'chutes were seen before A/C disappeared into clouds below."
No one had in fact bailed out, as Ed Grant related in the MACR that, "aircraft landed in Sweden with all crew members aboard."
This was the only ship to be lost on this date by the 458th.
| Date |  Target | 458th Msn | Pilot Msn |  Inst Pilot |  Serial | RCL | Sqdn | A/C Msn |  A/C Name |  Comments |
| --- | --- | --- | --- | --- | --- | --- | --- | --- | --- | --- |
| 27-Apr-44 | BLAINVILLE-SUR-L'EAU | 30 | 1 |   | 41-28718 | M | 7V | 25 | BO |   |
| 29-Apr-44 | BERLIN | 31 | 2 | GRANT | 41-28718 | M | 7V | 27 | BO | LANDED IN SWEDEN   |
1Lt Edwin A. Grant – Pilot Crew 16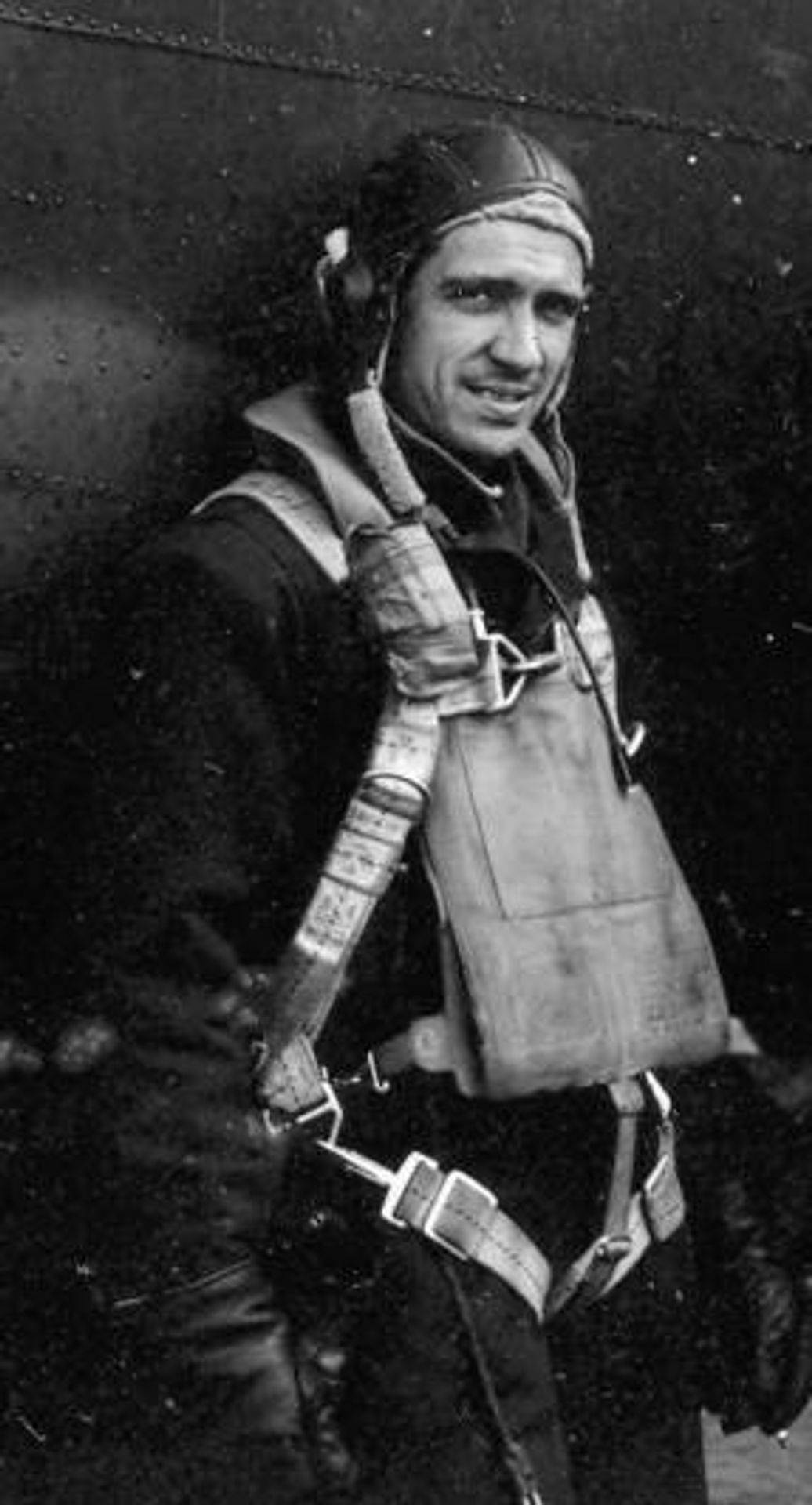 Ed Grant was Instructor Pilot (I.P.) for the Morris crew on April 29, 1944
(Photo: Bayard Wilson via James Payne)
B-24H-10-DT 41-28718  7V M "

BO

"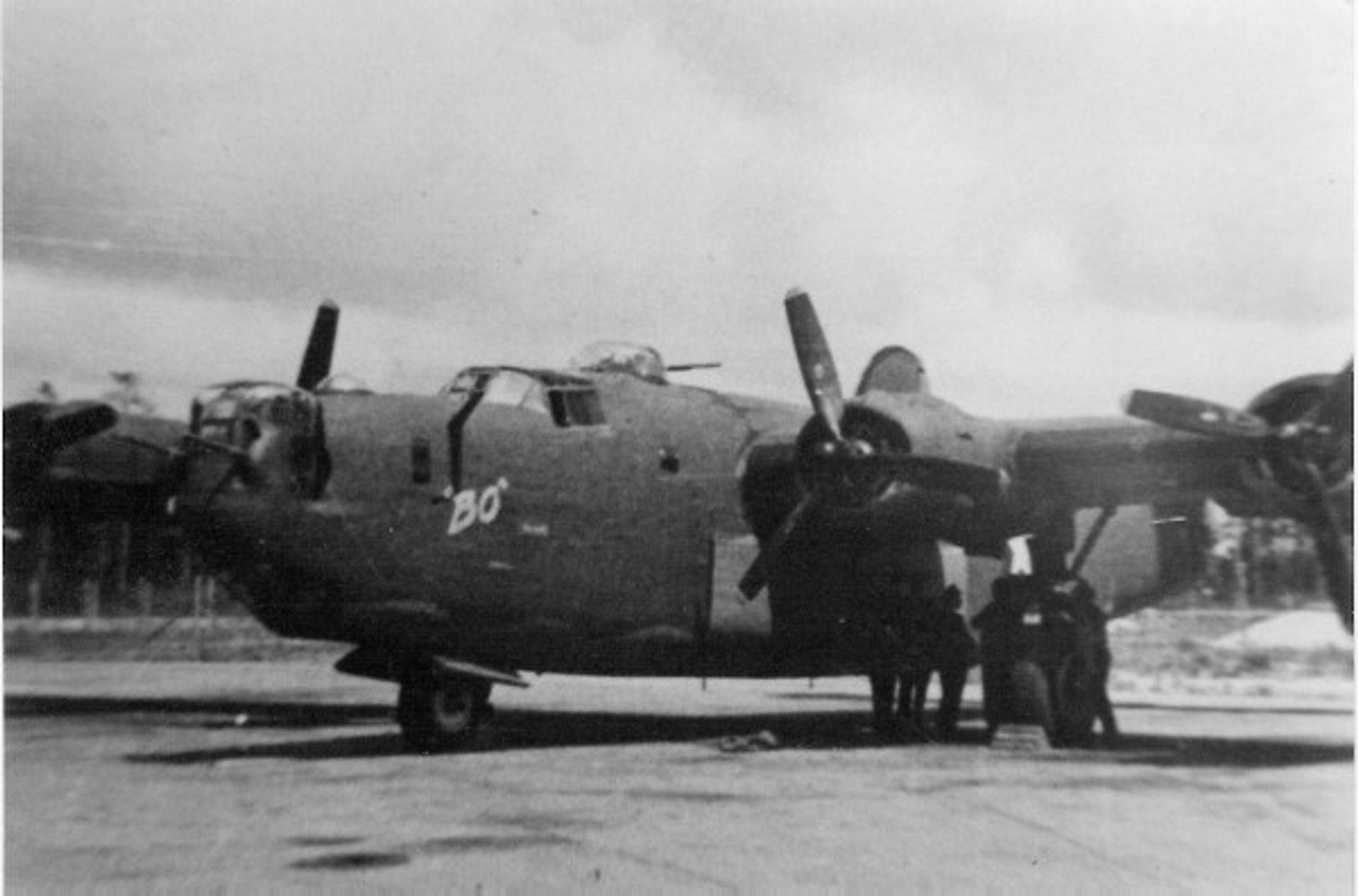 Possibly taken en route to the ETO
(Photo: Rob Martyr)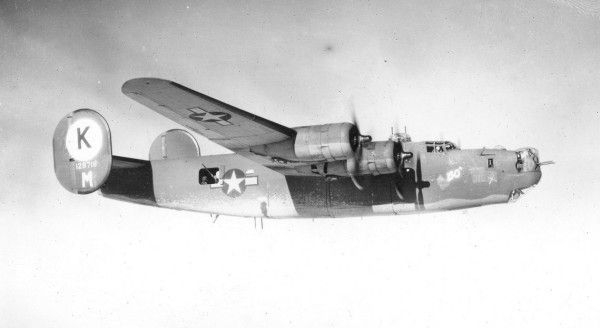 On an early March 1944 mission (Note lack of "7V" squadron code on fuselage)
(Photo: Odis Taylor)