Crew 34 – Assigned 753rd Squadron – October 21, 1943
Standing:
Walter Reed – BTG, Roy Rice – TG, Robert Elliott – RO, James Sutton – NTG Grover Summey – E
Kneeling:
Gerry Banghart – CP, James Keck – P, Bud Eyer – B, William Dayson – N
Transferred to 491st Bombardment Group
| Rank | Name | Serial # | Pos | Date | Status | Comments |
| --- | --- | --- | --- | --- | --- | --- |
| 1Lt | James M Keck | 026002 | Pilot | May-44 | TRSF | Transfer to 491st BG |
| 1Lt | Gerald Q Banghart | 0810989 | Co-pilot | May-44 | TRSF | Transfer to 491st BG |
| 2Lt | William R Dayson | 0746798 | Navigator | 08-Apr-44 | POW | Shot down w/Sievers Crew |
| 1Lt | Harold Eyer | 0689144 | Bombardier | May-44 | TRSF | Transfer to 491st BG |
| S/Sgt | Robert G Elliott | 39540496 | Radio Operator | May-44 | TRSF | Transfer to 491st BG |
| T/Sgt | Grover F Summey | 34388662 | Flight Engineer | May-44 | TRSF | Transfer to 491st BG |
| S/Sgt | Walter T Reed | 32751113 | Armorer-Gunner | May-44 | TRSF | Transfer to 491st BG |
| S/Sgt | James E Sutton | 18190793 | Aerial Gunner/2E | May-44 | TRSF | Transfer to 491st BG |
| S/Sgt | Roy K Rice | 35092546 | Armorer-Gunner | May-44 | TRSF | Transfer to 491st BG |
Crew 34 went through combat crew training in Tonopah, Nevada along with the rest of the 458th Bomb Group.  They came to England via the Southern Ferry Route in January 1944.
Keck's crew flew the group's first combat mission on March 2, 1944 to Frankfurt, Germany.  The next day the 458th was to bomb Berlin, but Keck's aircraft, Ye Olde Hellgate had several mechanical problems, and the crew was forced to abort for no sortie credit.  Due to increasingly bad weather conditions over the Continent, this mission was recalled, the majority of the crews receiving sortie credit.  It was three days later that the Eighth Air Force finally made it to Berlin in force.  March 6, 1944 saw the fledgling 458th lose five of their Liberators and crews, the highest single mission loss for the group's 13 month tour of combat.  Keck's crew was lucky; they picked up a couple of pieces of flak, but made it back to Horsham intact.
Keck did not fly on the April 8th mission to Waggum airfield near Brunswick, but his bombardier, 2Lt Harold "Bud" Eyer did.  It is not known which crew he was with, but flying in the nose turret, Eyer was credited with an enemy fighter destroyed on this date.
Co-pilot 2Lt Gerald Banghart flew on this mission as well.  He was a fill-in on the crew of 2Lt Stephen F. Davidson.  Two DFC's and a Soldier's Medal went to this crew for their actions in bringing their severely damaged B-24 back to base for a safe landing with only minor injuries to the crew.  Davidson and his engineer were awarded the DFC and Banghart would collect the Soldier's Medal.
On this same day, 2Lt William R. Dayson, navigator on Crew 34, was also a substitute on Crew 32, pilot 2Lt Edward A. Sievers.  This crew was the only loss of the day for the 458th.  All ten men parachuted safely and spent the rest of the war in a German POW camp.  Dayson went to Stalag Luft I on the Baltic coast.
On April 12, 1944, Crew 34 began to fly in the lead and deputy lead positions.  After flying seven lead missions in April and May, Keck's entire crew was transferred to the 491st Bombardment Group (H) who had recently arrived from the States.  The new bomb group needed experienced crews and Keck fit the bill perfectly.  After flying several lead missions, Keck was promoted to Major and transferred to 491st Group HQ.  Gerald Banghart became the crew's pilot and they completed their tour of combat missions.
James Keck flew two combat tours in the ETO and remained in the service to eventually rise to the rank of Lieutenant General in the USAF.  He retired in 1977.  Click for his USAF Biography.
| Date | Target | 458th Msn | Pilot Msn | Cmd Pilot | Ld | Serial | RCL | Sqdn | A/C Msn | A/C Name | Comments |
| --- | --- | --- | --- | --- | --- | --- | --- | --- | --- | --- | --- |
| 24-Feb-44 | DUTCH COAST | D1 | -- | | | 41-28729 | -- | J4 | D1 | UNKNOWN 046 | Diversion Mission |
| 02-Mar-44 | FRANKFURT | 1 | 1 | | | 42-100341 | A | J4 | 1 | SATAN'S MATE | |
| 03-Mar-44 | BERLIN | 2 | 2 | | | 41-28705 | -- | J4 | 2 | YE OLDE HELLGATE | |
| 06-Mar-44 | BERLIN/GENSHAGEN | 4 | 3 | | | 41-28729 | G | J4 | 1 | UNKNOWN 046 | |
| 15-Mar-44 | BRUNSWICK | 7 | 4 | | | 41-28671 | K | J4 | 5 | UNKNOWN 001 | |
| 16-Mar-44 | FRIEDRICHSHAFEN | 8 | 5 | | | 42-52392 | O | J4 | 3 | WABBIT TWACKS | |
| 21-Mar-44 | WATTEN | 10 | 6 | | | 41-28705 | H | J4 | 9 | YE OLDE HELLGATE | |
| 23-Mar-44 | OSNABRUCK | 12 | 7 | | | 41-28721 | L | J4 | 6 | DOWNWIND LEG | |
| 24-Mar-44 | ST. DIZIER | 13 | 8 | | | 41-28721 | L | J4 | 7 | DOWNWIND LEG | |
| 26-Mar-44 | BONNIERES | 14 | 9 | | | 41-29300 | M | J4 | 12 | LORELEI | |
| 27-Mar-44 | BIARRITZ | 15 | 10 | | | 41-28721 | -- | J4 | 8 | DOWNWIND LEG | |
| 10-Apr-44 | BOURGES A/F | 19 | 11 | | | 41-29300 | M | J4 | 16 | LORELEI | |
| 11-Apr-44 | OSCHERSLEBEN | 20 | 12 | | | 42-100341 | A | J4 | 8 | SATAN'S MATE | |
| 12-Apr-44 | OSCHERSLEBEN | REC | -- | CHAMBERLAIN | D2 | 42-100341 | A | J4 | -- | SATAN'S MATE | RECALL |
| 24-Apr-44 | LEIPHEIM A/F | 26 | 13 | MOORE | D1 | 42-100341 | A | J4 | 11 | SATAN'S MATE | NAV - GROSS |
| 26-Apr-44 | PADERBORN A/F | 28 | 14 | O'NEILL | L2 | 42-100341 | A | J4 | 13 | SATAN'S MATE | NAV - DAVID |
| 29-Apr-44 | BERLIN | 31 | 15 | OLLUM | D1 | 42-100341 | A | J4 | 14 | SATAN'S MATE | |
| 07-May-44 | OSNABRUCK | 36 | 16 | FEILING | L | 42-100341 | A | J4 | 15 | SATAN'S MATE | NAV - DAVID |
| 08-May-44 | BRUNSWICK | 37 | 17 | | | 42-100341 | A | J4 | 16 | SATAN'S MATE | |
| 10-May-44 | DIEPHOLZ | REC | -- | | | 42-100341 | B | J4 | -- | SATAN'S MATE | RECALL |
| 11-May-44 | EPINAL | 39 | 18 | MARCER | D1 | 42-100341 | B | J4 | 17 | SATAN'S MATE | |
| 19-May-44 | BRUNSWICK | 42 | 19 | WRIGHT | L | 41-29470 | O | J3 | 1 | UNKNOWN 013 | NAV - THOMPSON |
Officers Quarters – Spring 1944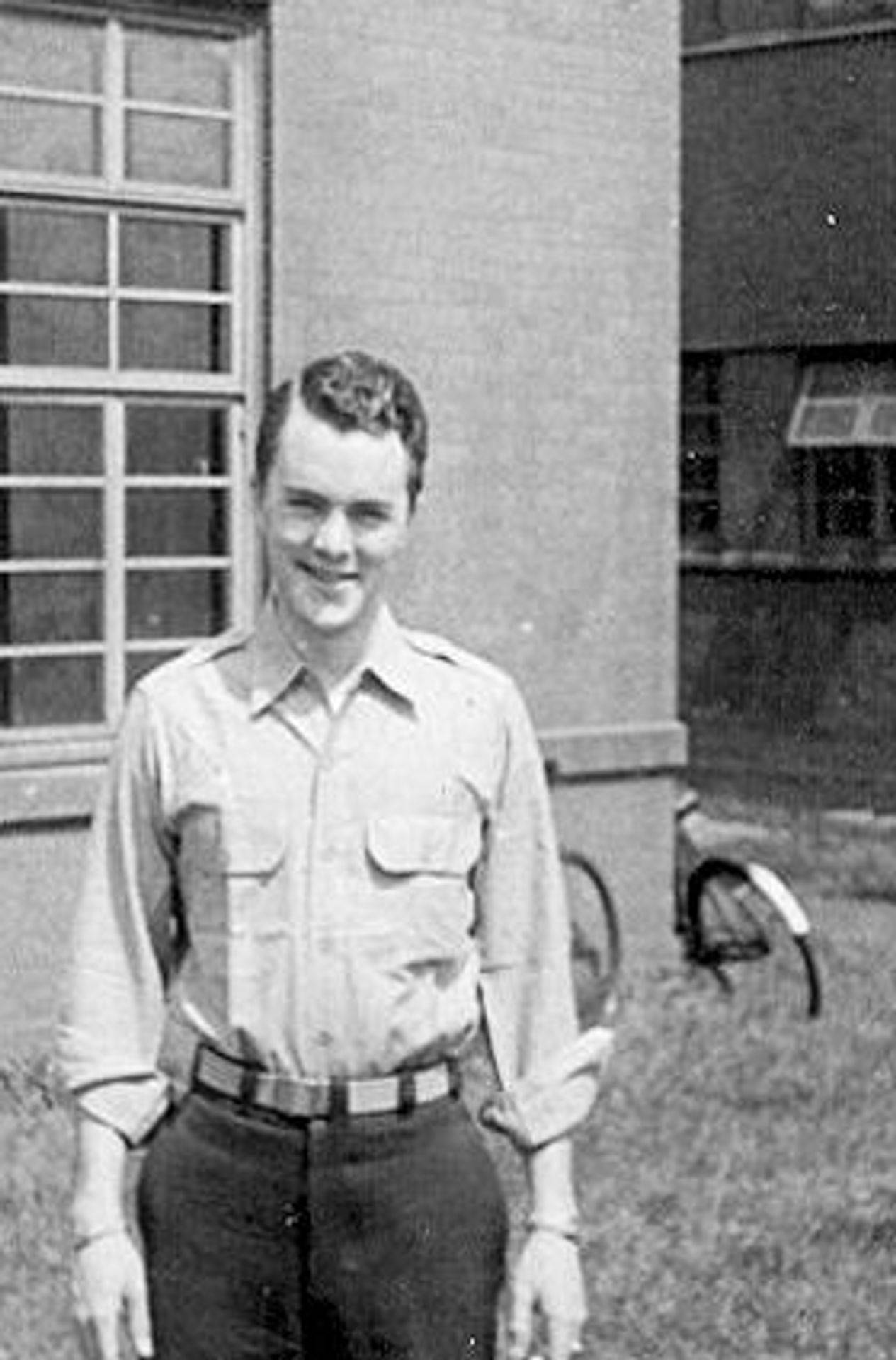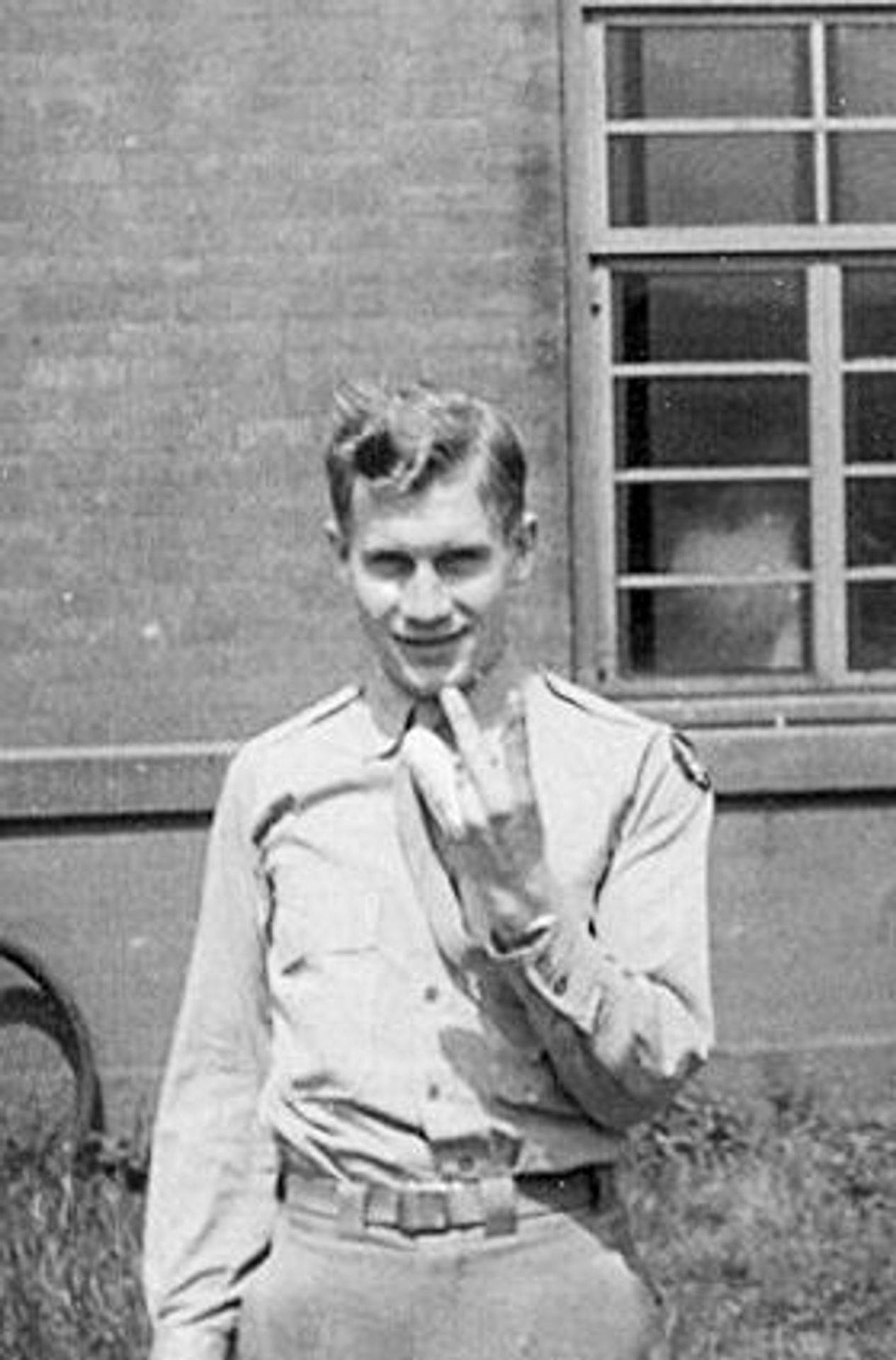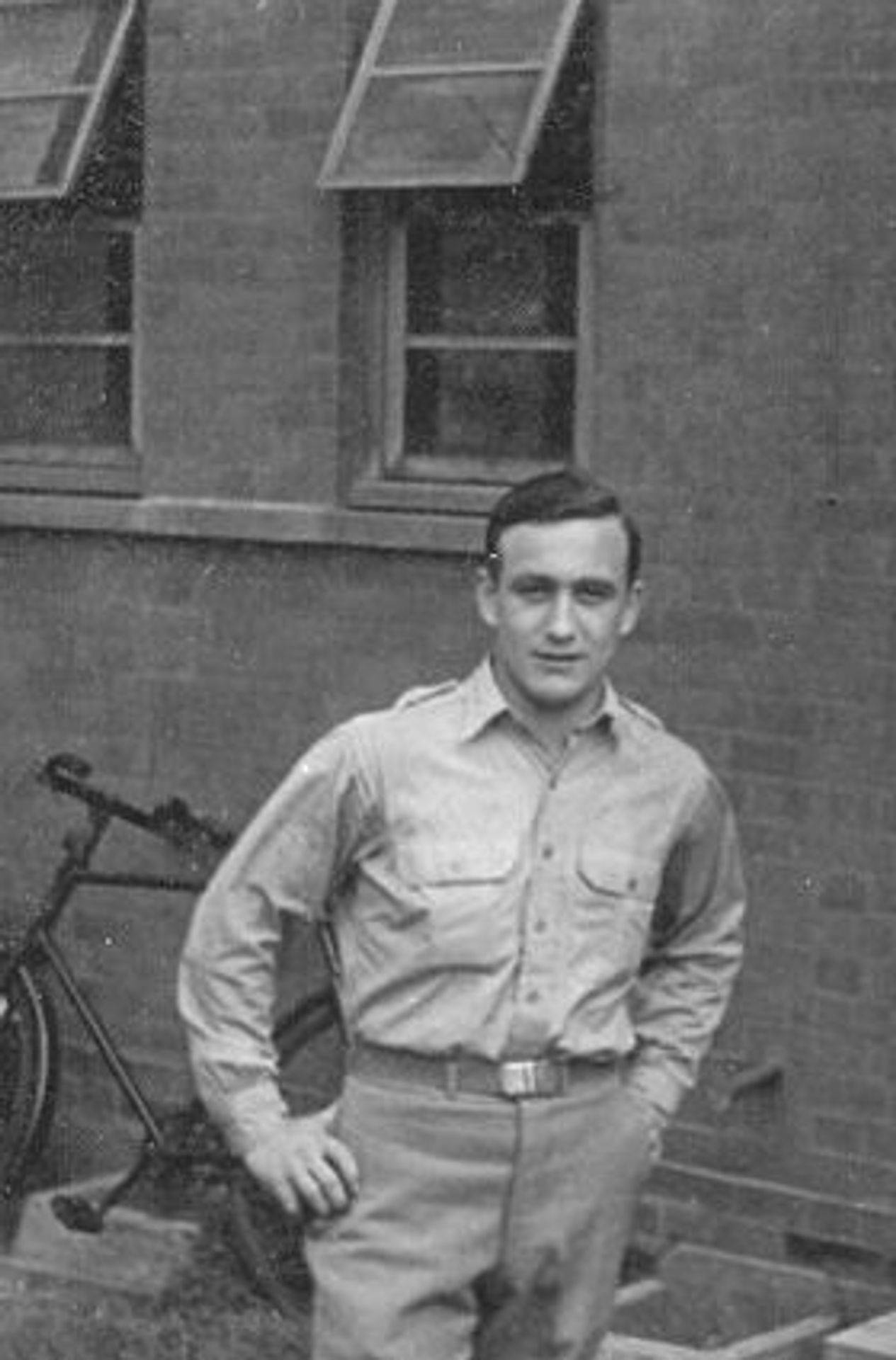 Prior to their move to the 491st, "Jimmie" Keck, Gerry Banghart and Bud Eyer
(Photos: Annze Zimmer)