Hoffman Crew – Assigned 752nd Squadron – November 18, 1944
Standing:
Bill Coleman – N, Ralph Hoffman – P, Bill Simmers – CP, F/O Bledsoe – B
Kneeling:
Peter McWeeney – NTG, George Bily – TTG, Laurence Kannon – RO, Don Boudreau – TG, Oscar Loveless – E, Milton Randall – BTG
Flying at the End of Hostilities
| Rank | Name | Serial # | Pos | Date | Status | Comments |
| --- | --- | --- | --- | --- | --- | --- |
| 1Lt | Ralph O Hoffman | 0678264 | Pilot | 30-Apr-45 | FEH | Rest Home Leave |
| 1Lt | William K Simmers | T4472 | Co-pilot | 30-Apr-45 | FEH | Rest Home Leave |
| 2Lt | William G Coleman | 02015137 | Navigator | 30-Apr-45 | FEH | Rest Home Leave |
| T/Sgt | Laurance H Kannon | 18109601 | Radio Operator | 30-Apr-45 | FEH | Rest Home Leave |
| T/Sgt | Oscar Loveless | 39208219 | Flight Engineer | 30-Apr-45 | FEH | Rest Home Leave |
| S/Sgt | Peter B McWeeney | 42070839 | Aerial Gunner | 30-Apr-45 | FEH | Rest Home Leave |
| Sgt | Milton F Randall | 11136548 | Radar Crewman | 30-Apr-45 | FEH | Rest Home Leave |
| S/Sgt | George F Bily | 16107191 | Armorer-Gunner | 30-Apr-45 | FEH | Rest Home Leave |
| S/Sgt | Donald A Boudreau | 37490208 | Aerial Gunner | 30-Apr-45 | FEH | Rest Home Leave |
Ralph Hoffman's crew came to the 458th in mid-November 1944, and was assigned to the 753rd Squadron.  Their bombardier, F/O Bledsoe, was not assigned to the Group with the crew.  After the obligatory indoctrination period into the theater, they began their combat career on December 6th 1944 with a mission to Bielefeld, Germany. Missions to targets in the German towns of Koblenz, Neuwid, and Remagen followed.
On January 17, 1945 the 458th was briefed for a mission to bomb the oil refinery in Harburg. Unknown to navigators of the group their flight path took them directly into what later became known as the jet stream.  Tail winds of 200knots were encountered giving the bombers almost a 400knot ground speed.  According to navigator Bill Coleman, "the bombardier had to scramble like mad to get the bomb sight set up, but in about three minutes the bomb bays were open and the bombs went away."  Realizing that their return flight would be against a headwind of 200 knots effectively making their ground speed zero, Hoffman led the flight in a diving turn, changing altitude and they made their way home.
Four days after this mission, on January 21st, the crew was briefed to hit the marshalling yards at Heilbronn, Germany, but heavy contrails from the lead group over the target obscured vision and necessitated a drop on a target of opportunity.  Hit by flak in the target area, which damaged their fuel system, the crew ran out of gas near Rhiems, France and Hoffman put their B-24 down in a field.  The ground was hard and the plane hit a furrow which drove the nose gear into the navigation compartment.  Most of the crew decided to stay with the plane while Coleman and Sgt McWeeney, the nose gunner walked to a nearby Allied headquarters, about 15 kilometers away.  As Coleman and McWeeney were entering the compound, a truck passed them carrying the rest of the crew who had been picked up after the two had left.  The crew were taken to Rhiems and put on an airplane to Paris.  After five days in Paris, they returned to Horsham and resumed their missions.
On February 21, 1945, the crew was transferred to the 755th Squadron to be a lead crew.  They flew a number of squadron and group leads between February 21st and the end of the war.  On the last mission flown by the Eighth Air Force on April 25, 1945 to Bad Reichenhall, Hoffman led the third section over the target.
F/O Bledsoe, the bombardier who trained with the crew was not assigned with them to the 458th.  His status is unknown.  When the crew was transferred to the 755th Squadron, three additional crew members were added to the nose section. It is assumed that these three flew most, if not all of the lead missions with Hoffman's crew. 2Lt Thomas E. Walsh, navigator, was assigned on November 18, 1944 with 2Lt William G. Everett's crew.  2Lt Lawrence B. Timmons was a third navigator assigned on November 9, 1944 on the crew of 2Lt William C. Spratt.  The third member was F/O Walter W. Godsin, bombardier, also assigned on November 18, 1944 on 2Lt Donald G. Williams' crew.
Group records show the crew going to a Rest Home on April 30, 1945, their combat flying completed.
| Date | Target | 458th Msn | Pilot Msn | Cmd Pilot | Ld | Serial | RCL | Sqdn | A/C Msn | A/C Name | Comments |
| --- | --- | --- | --- | --- | --- | --- | --- | --- | --- | --- | --- |
| 06-Dec-44 | BIELEFELD | 153 | ABT | | | 41-28963 | T | 7V | -- | UNKNOWN 007 | #2 ENGINE |
| 11-Dec-44 | HANAU | 155 | 1 | | | 42-52457 | Q | 7V | 70 | FINAL APPROACH | |
| 18-Dec-44 | KOBLENZ | REC | -- | | | 42-95165 | L | 7V | -- | COOKIE | RECALL DUTCH ISLE |
| 30-Dec-44 | NEUWIED | 161 | 2 | | | 42-51110 | M | 7V | 59 | TOP O' THE MARK | |
| 02-Jan-45 | REMAGEN | 164 | 3 | | | 42-100425 | O | 7V | 41 | THE BIRD | |
| 07-Jan-45 | RASTATT | 166 | 4 | | | 41-29352 | K | 7V | 66 | WOLVE'S LAIR | LANDED AT WOODBRIDGE |
| 13-Jan-45 | KAISERLAUTERN | 169 | 5 | | | 42-51514 | B | 7V | 1 | BIG CHIEF LIL' BEAVER | |
| 17-Jan-45 | HARBURG | 172 | 6 | | | 42-50740 | Q | J3 | 17 | OUR BURMA | BATTLE DAMAGE |
| 21-Jan-45 | HEILBRONN | 173 | 7 | | | 42-95165 | L | 7V | 56 | COOKIE | CRASH LAND FRANCE |
| 06-Feb-45 | MAGDEBURG | 178 | 8 | | | 42-50502 | E | 7V | 29 | LARRUPIN' LINDA | |
| 09-Feb-45 | MAGDEBURG | 179 | 9 | | | 42-50502 | E | 7V | 30 | LARRUPIN' LINDA | |
| 21-Feb-45 | NUREMBERG | 185 | ABT | | | 44-10618 | T | J3 | -- | UNKNOWN 038 | FUEL LEAK IN BOMB BAY |
| 23-Feb-45 | GERA-REICHENBACH | 187 | 10 | | | 44-10602 | P | J3 | 30 | TEN GUN DOTTIE | |
| 25-Feb-45 | SCHWABISCH-HALL | 189 | 11 | | | 44-10487 | L | J3 | 31 | Girl on surfboard (no name) | TYPO (S/B 487R) |
| 28-Feb-45 | BIELEFELD | 192 | 12 | | | 42-50504 | S | J3 | 22 | UNKNOWN 019 | |
| 02-Mar-45 | MAGDEBURG | 194 | ABT | | | 42-50575 | O | J3 | -- | UNKNOWN 020 | #3 PROB GOV OUT |
| 04-Mar-45 | STUTTGART | 196 | 13 | | | 42-50740 | O | J3 | 26 | OUR BURMA | |
| 18-Mar-45 | BERLIN | 206 | 14 | | | 42-95557 | H | J3 | 37 | LADY PEACE | |
| 21-Mar-45 | HESEPE | 209 | 15 | | L4 | 42-51939 | G | J3 | 27 | UNKNOWN 028 | |
| 31-Mar-45 | BRUNSWICK | 216 | 16 | | L2 | 42-95628 | K | J3 | 23 | UNKNOWN 038 | REPLACED 669 |
| 04-Apr-45 | PERLEBERG | 217 | 17 | | L4 | 42-95628 | K | J3 | 24 | UNKNOWN 038 | |
| 06-Apr-45 | HALLE | 219 | 18 | SIMES | D1 | 42-95557 | H | J3 | 46 | LADY PEACE | |
| 08-Apr-45 | UNTERSCHLAUERSBACH | 221 | 19 | PHILLIP | D1 | 42-95557 | H | J3 | 48 | LADY PEACE | |
| 14-Apr-45 | POINTE DE GRAVE | 225 | 20 | PHILLIP | D1 | 44-49910 | D | J3 | 8 | UNKNOWN 044 | |
| 16-Apr-45 | LANDSHUT | 227 | 21 | GOODFRIEND | D1 | 44-49261 | A | J3 | 20 | UNKNOWN 042 | |
| 19-Apr-45 | ZWIESEL | SCR | -- | HENSLER | L1 | 44-49902 | M | J3 | -- | UNKNOWN 043 | SCRUBBED |
| 20-Apr-45 | ZWIESEL | 229 | 22 | HENSLER | L1 | 44-50693 | P | J3 | 4 | UNKNOWN 054 | NEW SHIP |
| 25-Apr-45 | BAD REICHENHALL | 230 | 23 | BLACK | L3 | 44-50667 | R | J3 | 1 | UNKNOWN 053 | |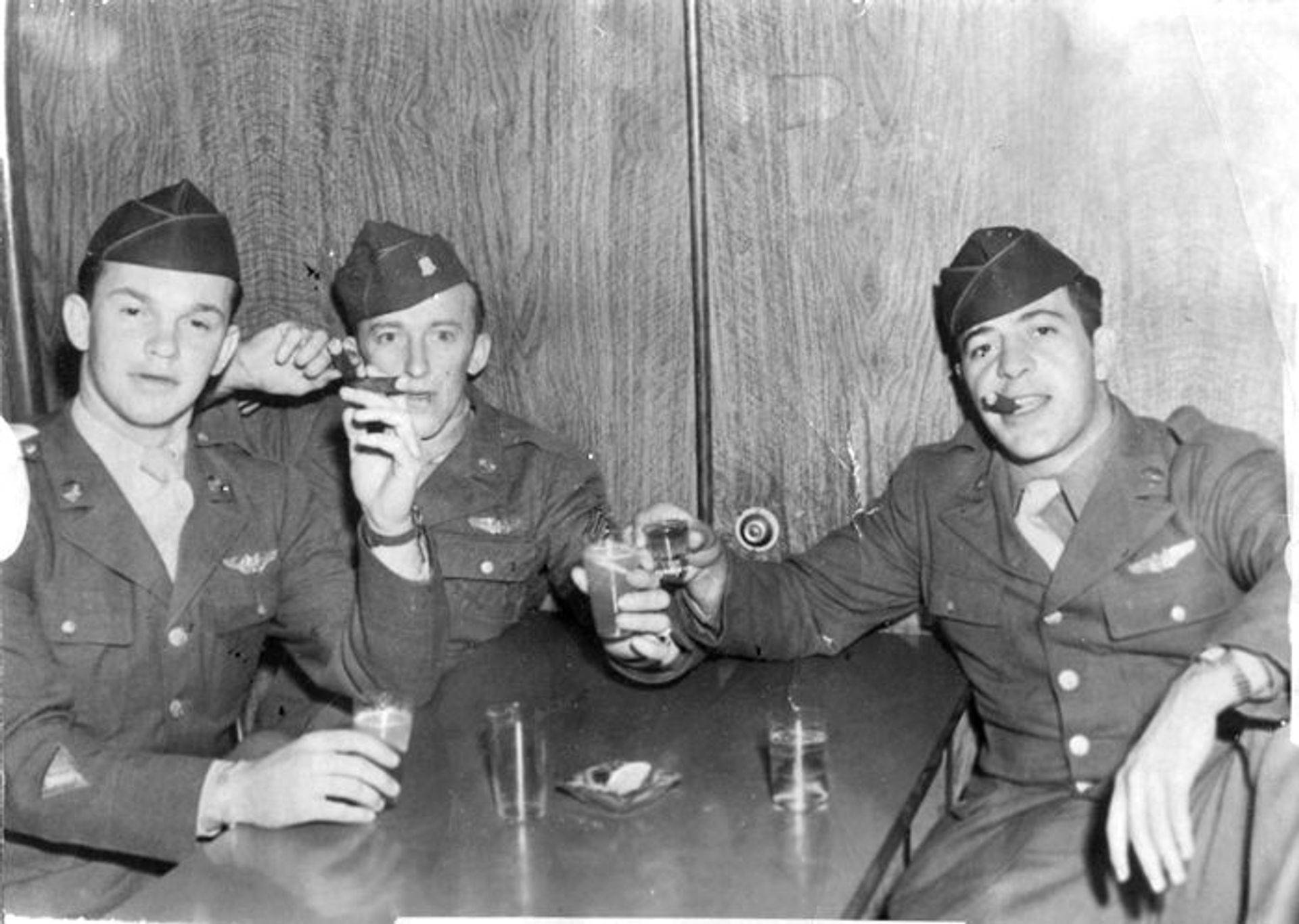 George Bily, Don Boudreau, Oscar Loveless
Possibly Stateside, prior to movement overseas
(Courtesy: The Boudreau Family)
Left: Heilbronn, Germany from 20,000 feet. On the right: a Pass for the Paris Area for gunner, Sgt Don Boudreau
Click images for a larger view
(Courtesy: The Boudreau Family)
B-24J-1-FO 42-50740 Q J3

Our Burma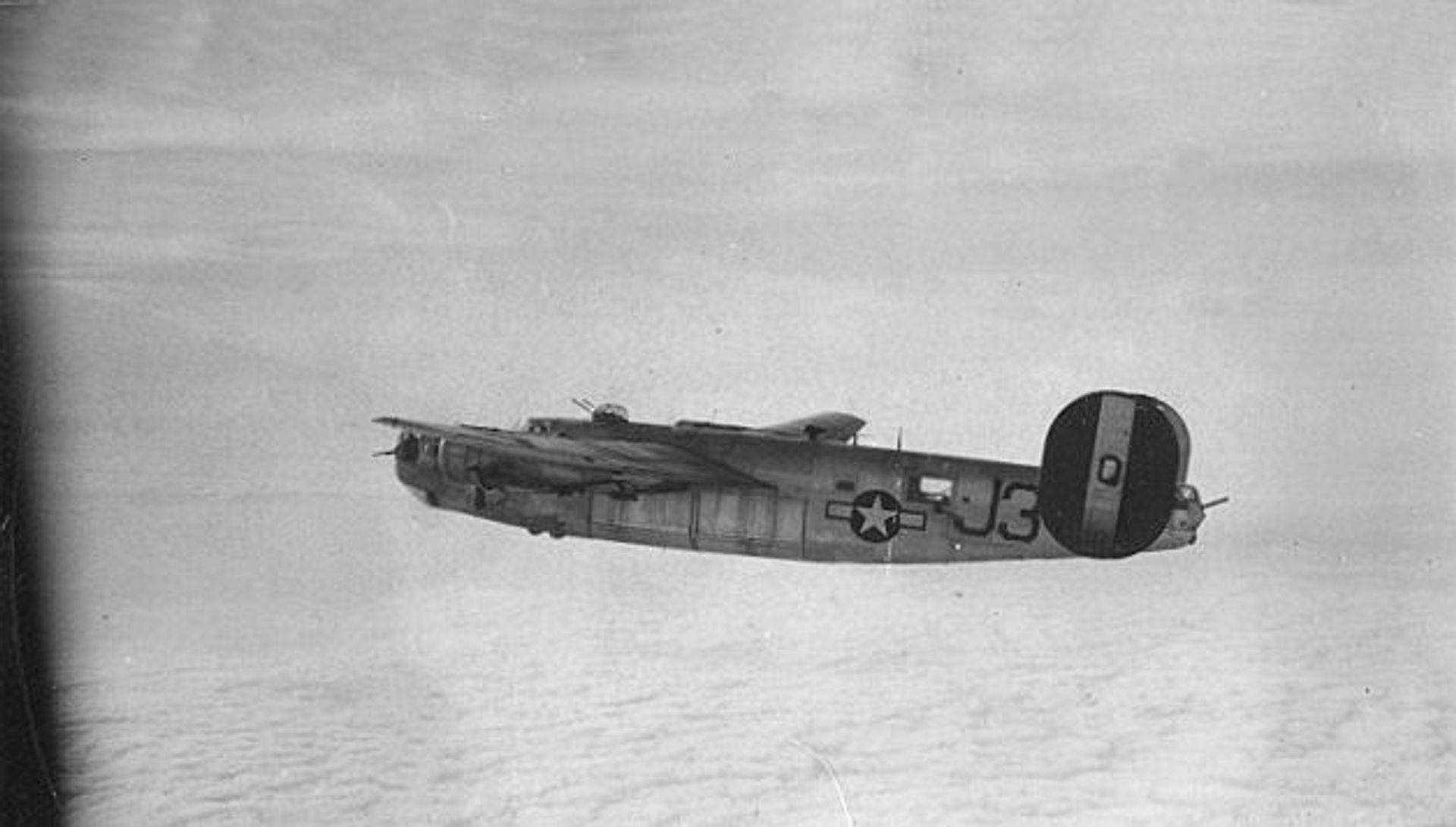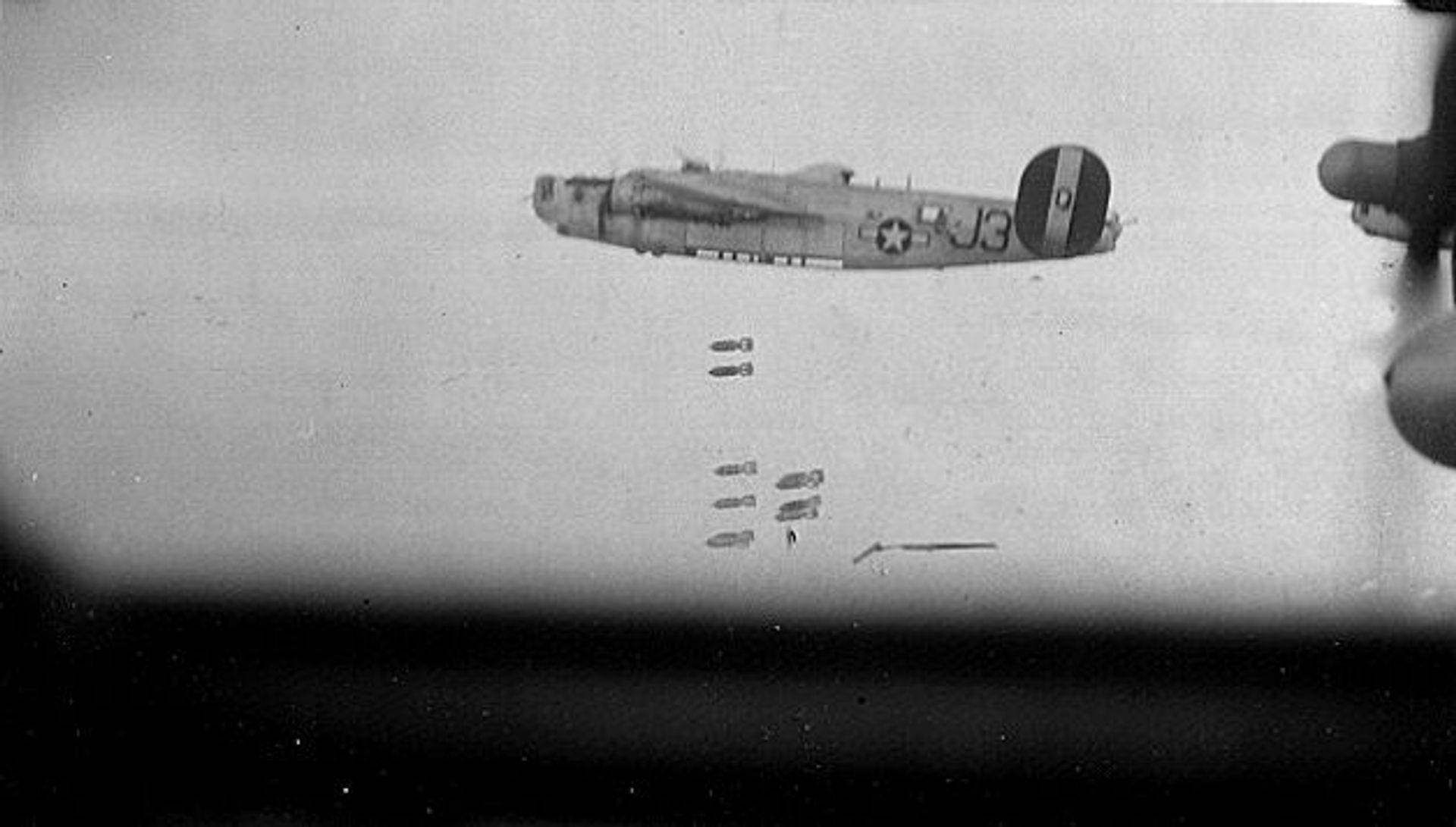 Our Burma at "Bombs Away" – Hoffman crew flew this aircraft on three missions including January 17, 1945
(Photos: The Boudreau Family)
VE Day in South Port, England
Standing:
George Bily, Oscar Loveless, Don Boudreau
Sitting:
Peter McWeeney, Milton Randall, Laurence Kannon
(Photo: The Boudreau Family)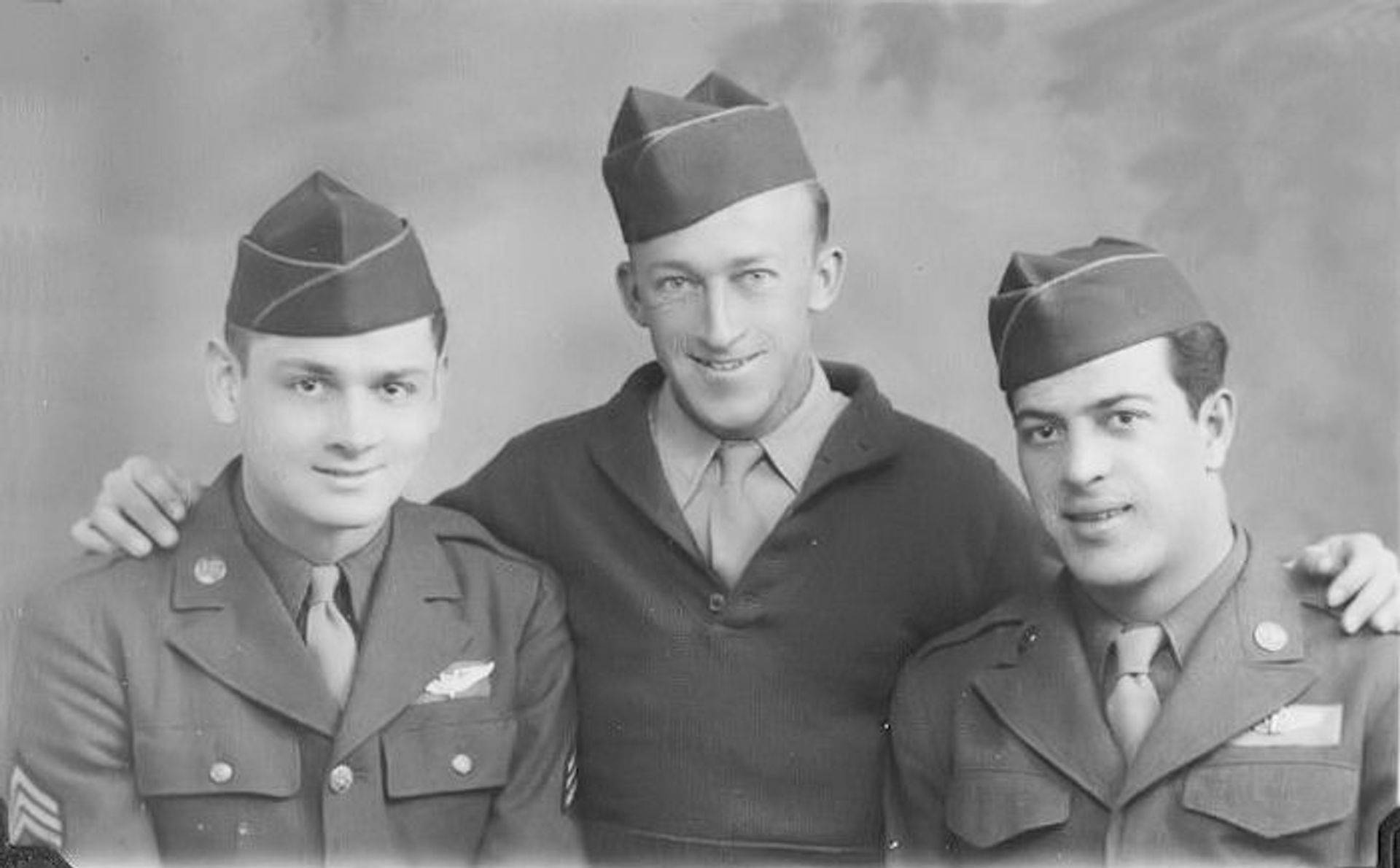 Pete McWeeney, Don Boudreau, Oscar Loveless
(Photo: The Boudreau Family)
Standing, center three:  Bill Simmers, Ralph Hoffman, Bill Coleman
Kneeling, 3rd from left: Oscar Loveless; 5th from left: Peter McWeeney
Sitting, 2nd from right: Don Boudreau; Far Right: George Bily
(Click image for a closer view)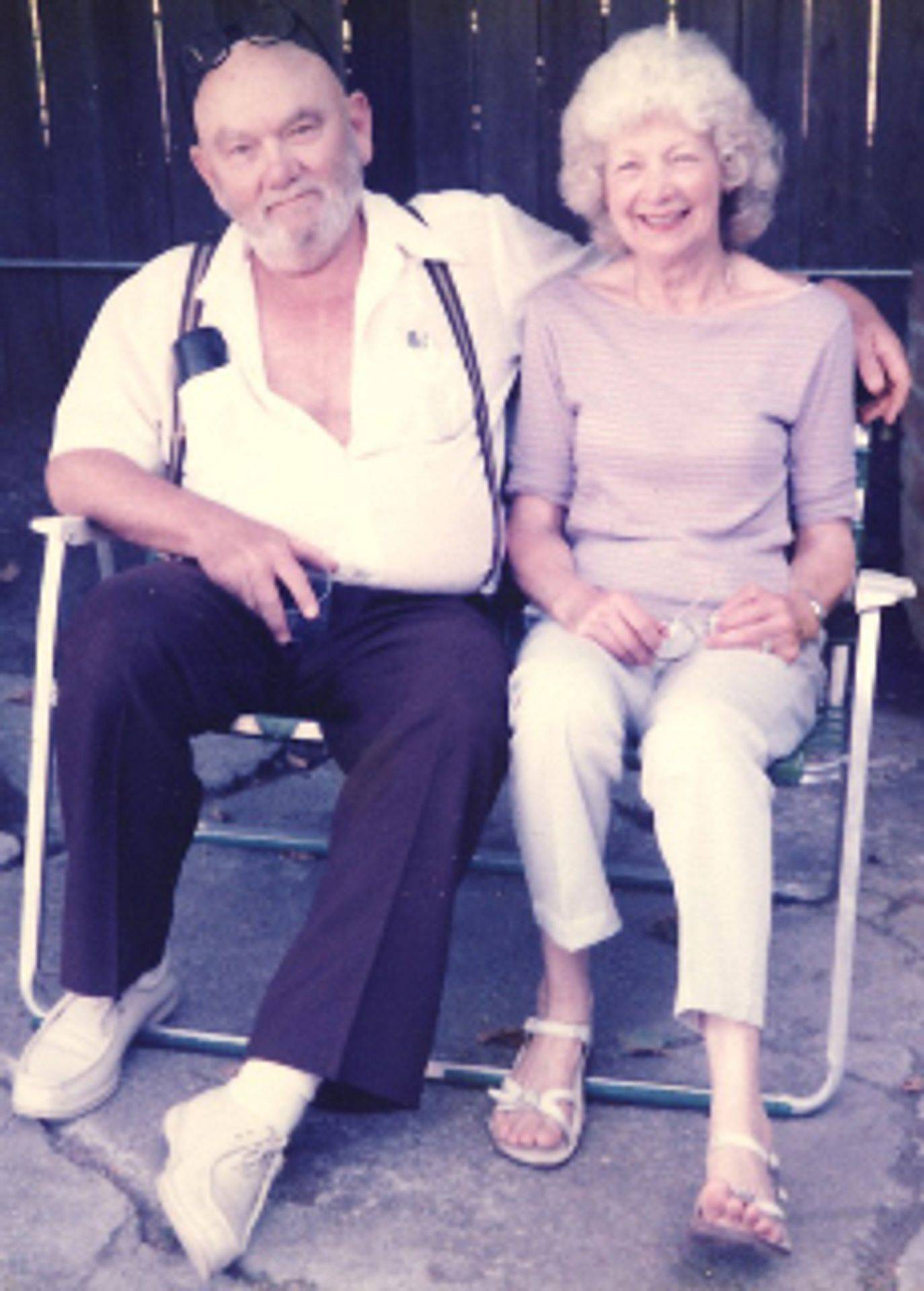 Hap and Lois Hoffman
(Photo: The Boudreau Family)
December 9, 2006 – Green Valley, AZ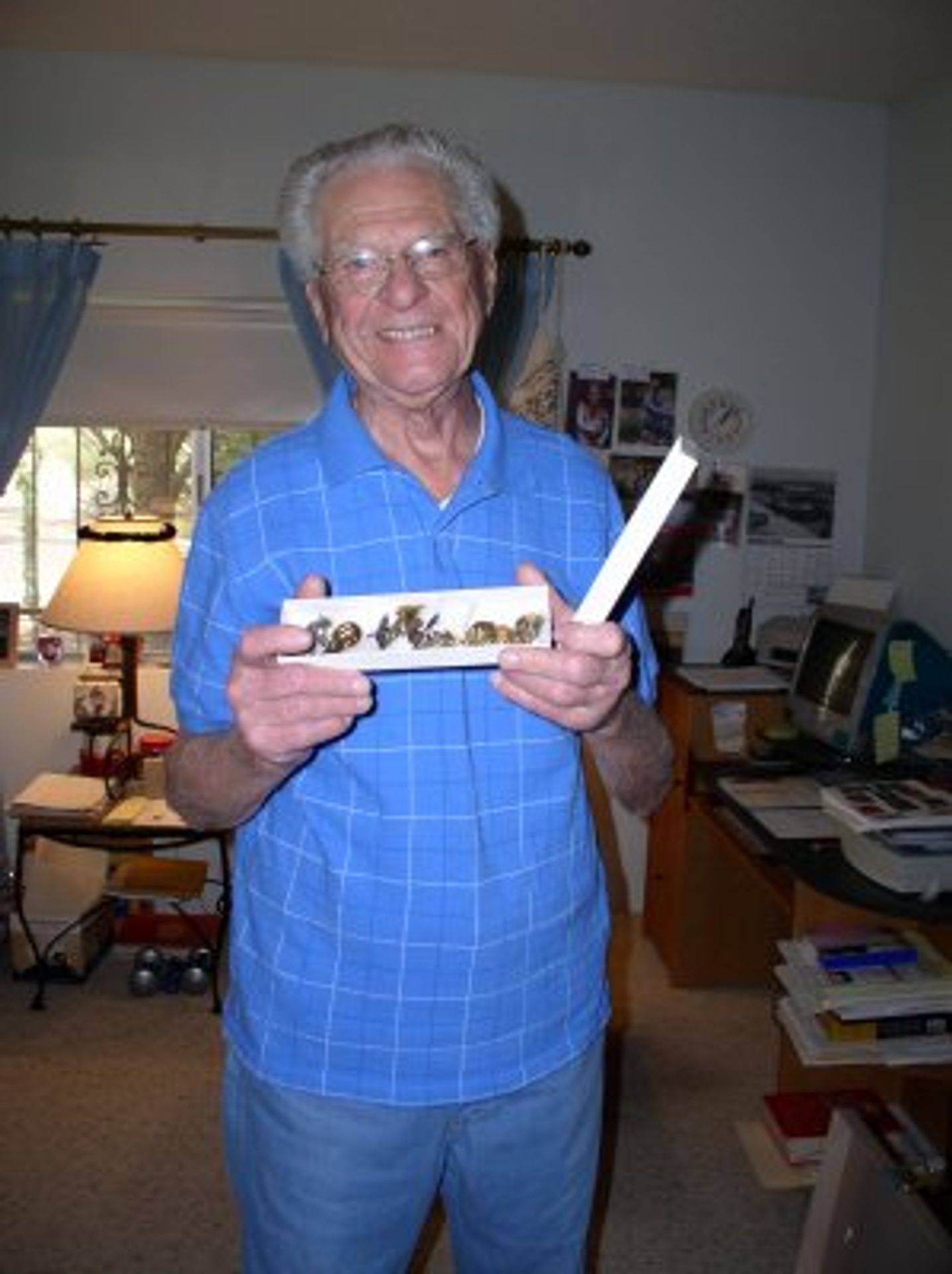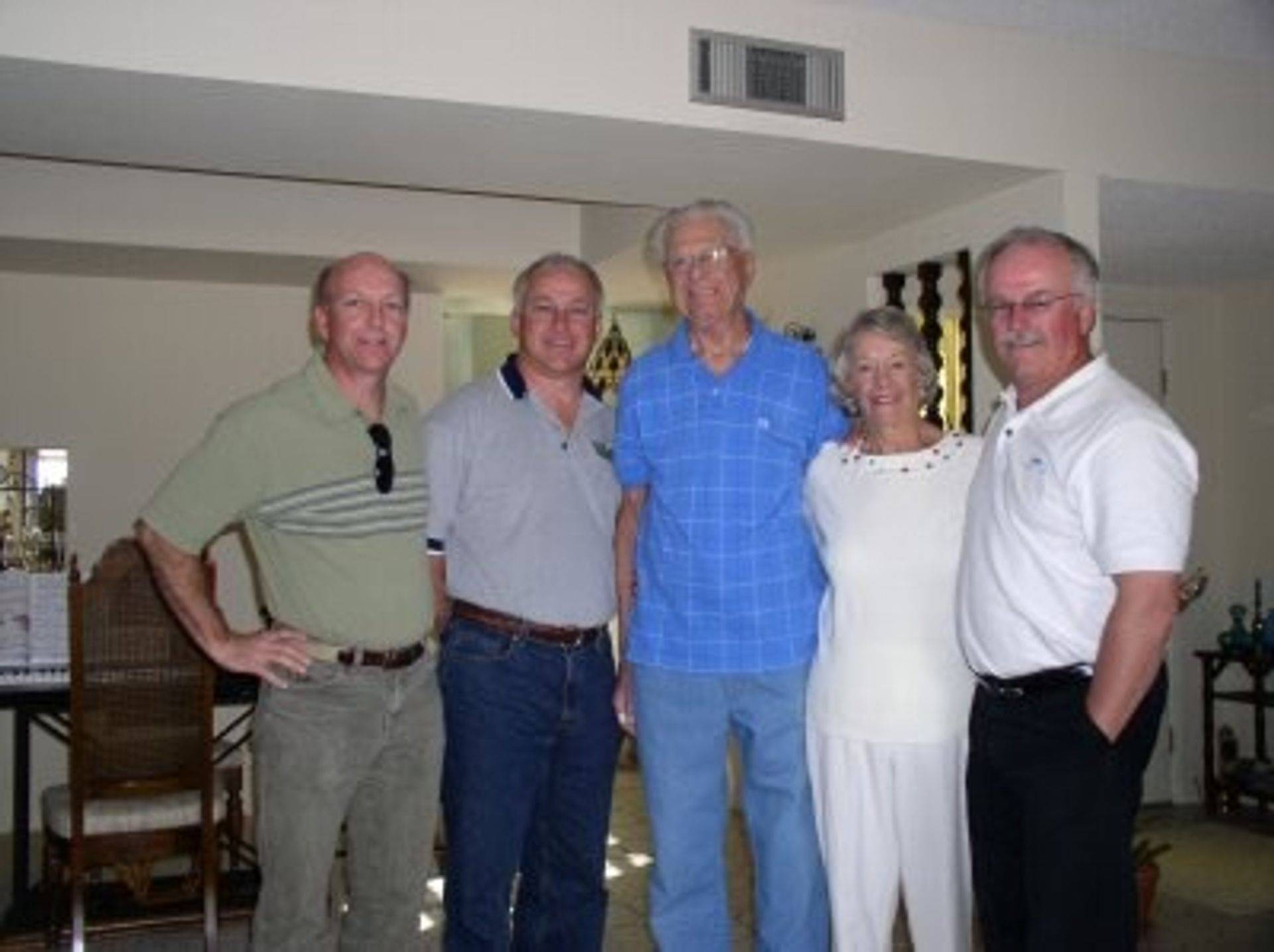 Above, (L-R): Roger & Don Boudreau, Bill & Jane Coleman, Gary Boudreau
Left: Bill Coleman
(Courtesy: The Boudreau Family)