Crew 4 – Assigned 752nd Squadron – October 1943
Standing:
Donald Davis – TG, Jimmie Adkins – BTG, Russell Jones – RO, William DePuy – E, Richard Clark – TTG, Howard Lynde – NTG
Kneeling: Charles Callahan – N, Kenneth Brett – CP, Harold Hetzler – P, Robert Lambert – B

(Photo: AFHRA / ID by Curt Dalgleish)
Shot down by flak March 23, 1944  – MACR 3556
| Rank | Name | Serial # | Pos | Date | Status | Comments |
| --- | --- | --- | --- | --- | --- | --- |
| F/O | Harold W Hetzler | T185414 | Pilot | 23-Mar-44 | KIA | Jefferson Barracks Natl Cemetery |
| F/O | Kenneth A Brett | T61248 | Co-pilot | 23-Mar-44 | KIA | Jefferson Barracks Natl Cemetery |
| F/O | Charles W Callahan | T122775 | Navigator | 23-Mar-44 | KIA | Jefferson Barracks Natl Cemetery |
| F/O | Robert S Lambert | T1535 | Bombardier | 23-Mar-44 | KIA | Jefferson Barracks Natl Cemetery |
| S/Sgt | Russell B Jones | 17156534 | Radio Operator | 23-Mar-44 | KIA | Jefferson Barracks Natl Cemetery |
| S/Sgt | Richard B Clark | 19019740 | Flight Engineer | 23-Mar-44 | KIA | Ardennes American Cemetery |
| T/Sgt | William C Depuy | 32582904 | Aerial Gunner | 23-Mar-44 | KIA | Jefferson Barracks Natl Cemetery |
| S/Sgt | Howard W Lynde | 17024585 | Aerial Gunner | 23-Mar-44 | KIA | Campbell County, WY |
| S/Sgt | Jimmie K Adkins | 37505143 | Ball Turret Gunner | 23-Mar-44 | KIA | Barton County, KS |
| S/Sgt | Donald E Davis | 16075299 | Tail Turret Gunner | 23-Mar-44 | KIA | Ardennes American Cemetery |
Harold Hetzler and crew trained with the 458th Bomb Group in Tonopah during the fall/winter of 1943 and flew to England with the air echelon in January 1944.  F/O Kenneth A. Brett, a co-pilot originally assigned to Crew 3 under 1Lt John S. Martin, was at some point during training assigned to Hetzler's crew.  Hetzler's original co-pilot, 2Lt Willard B. Becker was likewise reassigned to Martin's crew.  The circumstances for this crew change are not known.
The crew's first mission was on March 2, 1944 when the group began combat operations.  This mission did not start well for the 458th.  Crew 15 of the 752nd Squadron crashed on takeoff killing seven of the ten man crew.  Hetzler flew the Liberator that they had ferried over to England, a B-24H named Jayhawker, presumably for Howard Hetzler and his native state of Kansas.  The remainder of this mission went of without further difficulties and all crews made it safely back to base.
Four days later, on March 6, 1944 Hetzler and crew flew Jayhawker on the first successful mission by the 8th Air Force to bomb Berlin.  The 458th's target that day was the Daimler –Benz Motor Works in Genshagen, just south of Berlin.  In Hetzler's debriefing report, the crew noted that the route in was "as briefed until near IP (Initial Point) – then made couple of circles before bombing target."  These "couple of circles" turned out to be costly for the group.  Five 458th B-24's were lost on this mission, the highest single day loss the group would suffer in their 14 months in the ETO.  The crew was the victim of several fighter attacks themselves as they stated after the mission that:  "Four FW190's came along right side of formation at same level – leader flipped wings and then they turned left and came in on our right wing – first one went up after firing and other went down.  ME109 came in from left and went underneath….  FW were white and fleck-striped body with red nose and ME109 was grey.  Fighter fired at this plane and peppered plane – our fire not effective."
S/Sgt Lynde, manning the nose turret, suffered injuries when bullets shattered the glass in his turret, scratching his arm.  He was in taken to the dispensary.  Jayhawker also received minor damage listed as: "20MM shell hole thru left stabilizer – 20MM shell holes thru left wing [and] throughout hydraulic system – left side of nose turret hit by bullets."
Jayhawker was still undergoing repairs three days later when Hetzler's crew flew their fourth mission to Arado Aircraft Works near Brandenberg.  The crew flew a 752nd ship named BO on this mission where clouds forced the group to bomb a target of opportunity.
Two more missions, one on March 16th (the crew's fifth) in Jayhawker and on March 18th (their sixth) in BO would fall in the middle of the month.  Both of these missions were to Friedrichshafen where the group lost one Liberator on the 16th from the 755th Squadron that was forced to ditch in the English Channel.  Only two men of 2Lt Neil Peters crew survived.
Thursday, March 23, 1944, marked the 458th's 12th mission and would be the 7th for Hetzler and crew.  The target for today was Achmer airport near Osnabruck, Germany.  This morning the crew drew a B-24H normally flown by another 752nd crew piloted by 2Lt Walter Mangerich, who, would be forced to land in neutral Sweden in Jayhawker on the 458th's April 9th mission to Tutow, Germany.  Ship #329 was named Fritzi and had a woman's face painted on her port side.  The origin of the name is not known,  This would be the 9th time that this Liberator would be flown into combat.
Twelfth in line for takeoff, Hetzler eventually took up their place in the far left element of the first section.  The 458th, flying with the 96th CBW, entered the continent north of Amsterdam and proceeded to the primary target.  On the bomb run, the group ran into heavy, accurate flak.  One of these bursts found their mark on Fritzi, just under the bomb bay.  According to the missing air crew report: "A/C was hit by flak burst under open bomb bay.  Small fire started and spread rapidly throughout entire ship.  A/C flew on course for 45 seconds, then fell away.  Tail twisted off first.  A/C broke up completely on way down.  Report on 'chutes vary from 'none seen' to 'two seen to open'."
2Lt Samuel D. Scorza, a 755th Squadron navigator, was flying behind Hetzler in the second section, and recorded the day in his diary: "Today's target was an airfield eight miles northwest of Osnabruck, Germany. Bomb load was 52 X 70lb incendiaries totaling 3640lbs. Again, as in the previous mission, we flew 'Last Card Louie', #441. Altitude was 21,000 feet, temp was -37°C, weather under cast. We were awakened at 0200 for this mission, and after a delay as to determine weather conditions we finally took off at 0700. The bombing was to be by P.F.F. as under cast conditions prevailed all over. Strangely though, the small area around the target was as clear as could be – as though there were a hole in the sky. Our bombs were dropped right on the target. The airfield was completely destroyed. One of our ships was lost off the target area-a flak hit in the open bomb bays before the bombs were released. The ship exploded. Only one man was seen to jump and he didn't have his leg straps fastened and slid right out of the chute to his death. Flak was extremely heavy in the vicinity of Osnabruck – kinda had us sweating, especially before we dropped those incendiaries. Upon the completion of this mission we were awarded the Air Medal."
458th records indicate that no aircraft bombed the primary target of Achmer airfield, but instead 24 Liberators dropped their loads on the railroad marshalling yards at Osnabruck, the group's secondary target.  The reason for this discrepancy is not known.
After the flak burst, the destruction of Fritzi happened too quickly to allow any of the crew to escape the aircraft safely.  The Liberator came down in the vicinity of Alverskirchen.  All ten crew members perished in the crash.
| Date | Target | 458th Msn | Pilot Msn | Serial | RCL | Sqdn | A/C Msn | A/C Name | Comments |
| --- | --- | --- | --- | --- | --- | --- | --- | --- | --- |
| 02-Mar-44 | FRANKFURT | 1 | 1 | 41-28667 | F | 7V | 1 | JAYHAWKER | |
| 05-Mar-44 | BORDEAUX/MERIGNAC | 3 | 2 | 41-28667 | F | 7V | 3 | JAYHAWKER | |
| 06-Mar-44 | BERLIN/ERKNER | 4 | 3 | 41-28667 | F | 7V | 4 | JAYHAWKER | |
| 09-Mar-44 | BRANDENBURG | 6 | 4 | 41-28718 | M | 7V | 6 | BO | |
| 16-Mar-44 | FRIEDRICHSHAFEN | 8 | 5 | 41-28667 | F | 7V | 5 | JAYHAWKER | |
| 18-Mar-44 | FRIEDRICHSHAFEN | 9 | 6 | 41-28718 | M | 7V | 8 | BO | |
| 23-Mar-44 | OSNABRUCK | 12 | 7 | 41-29329 | L | 7V | 9 | FRITZI | FLAK OVER TARGET |
Members of Hetzler's crew relaxing, most likely in the States after training
Photo: Alan Kirby
B-24H-5-DT 41-28667  7V F 

Jayhawker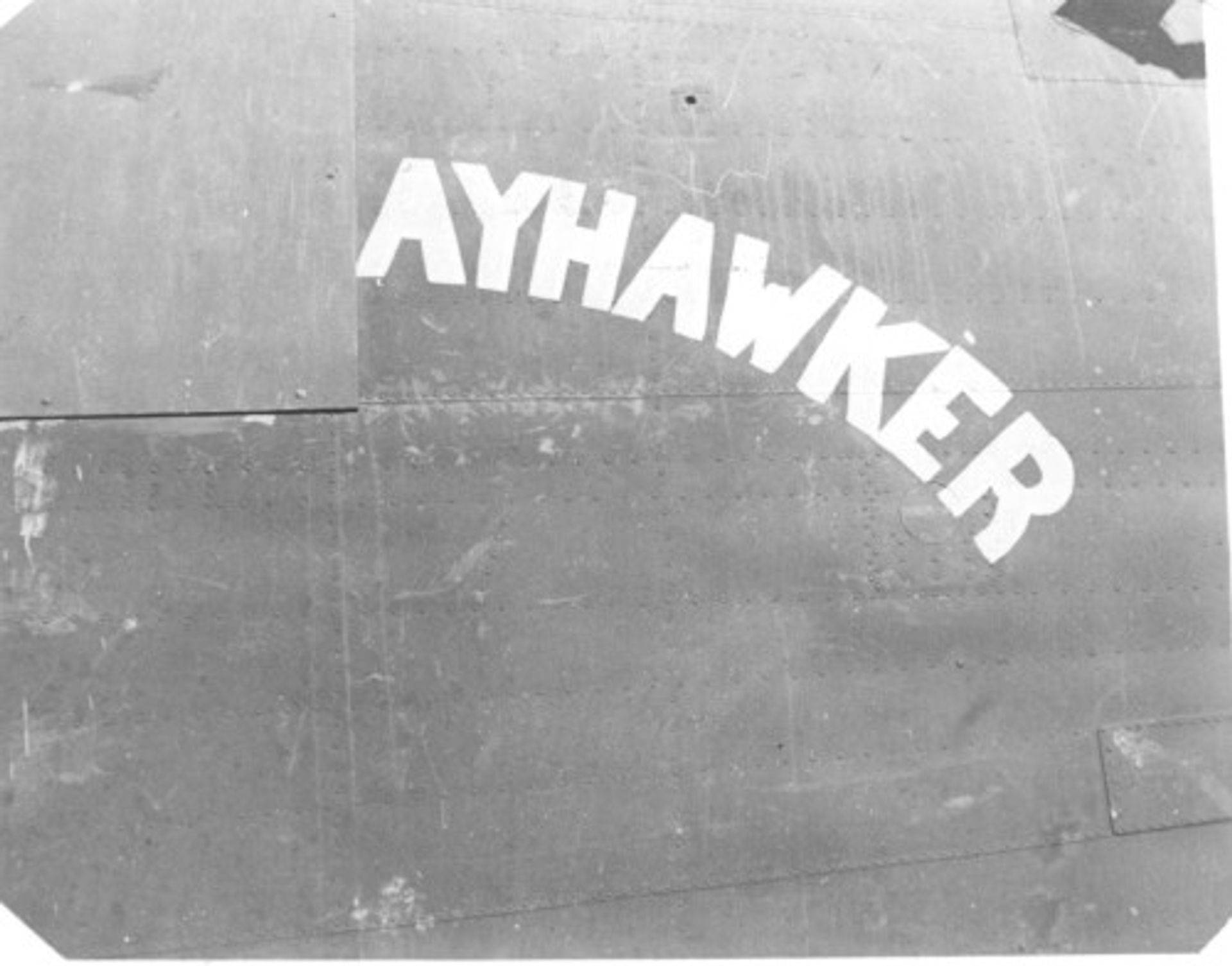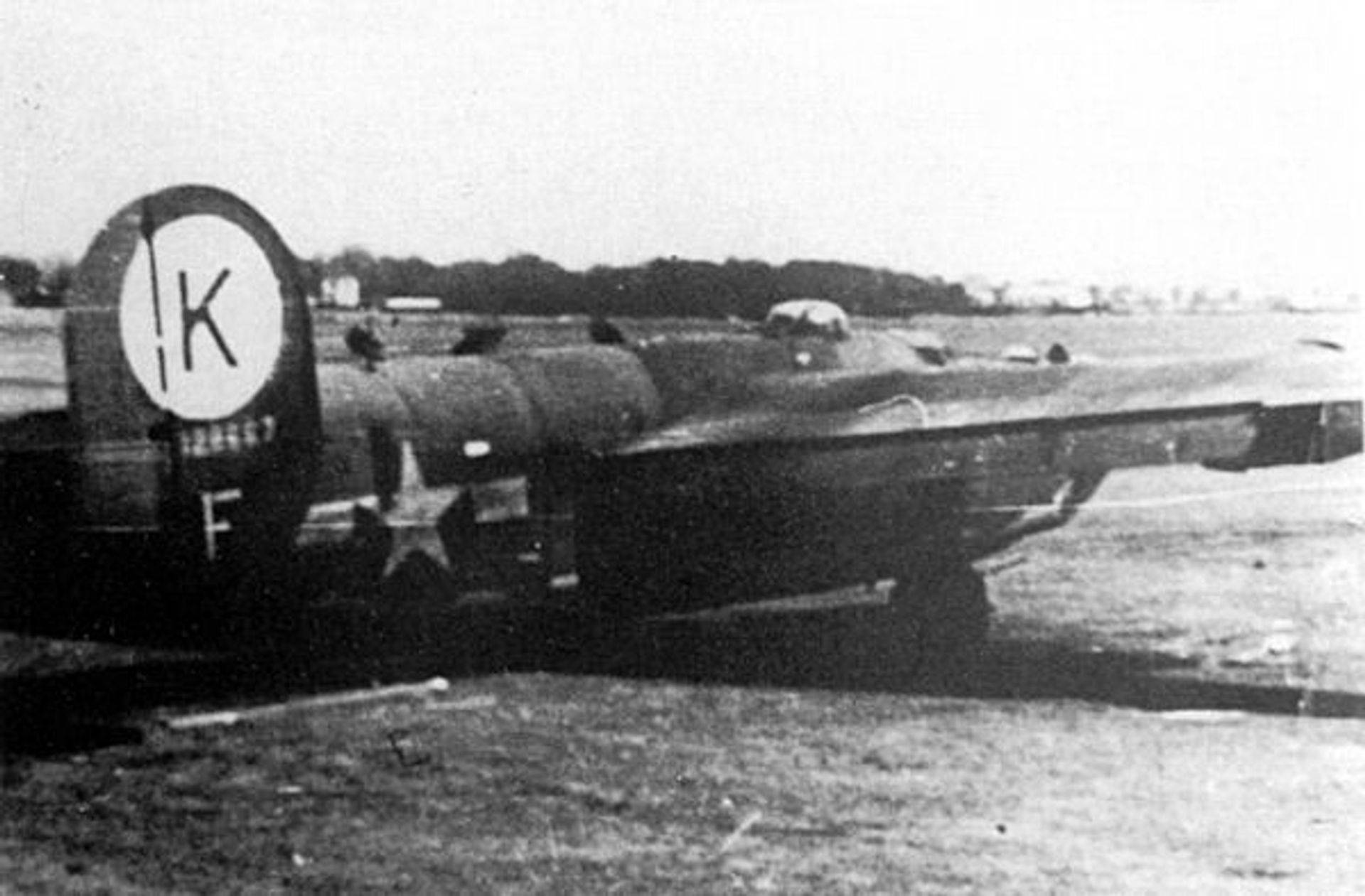 Jayhawker at Bulltofta Aerodrome, Malmo Sweden after the Mangerich Crew sought refuge there on April 9, 1944
Photos: John Spadone
B-24H-10-CF 41-29329 7V L  Fritzi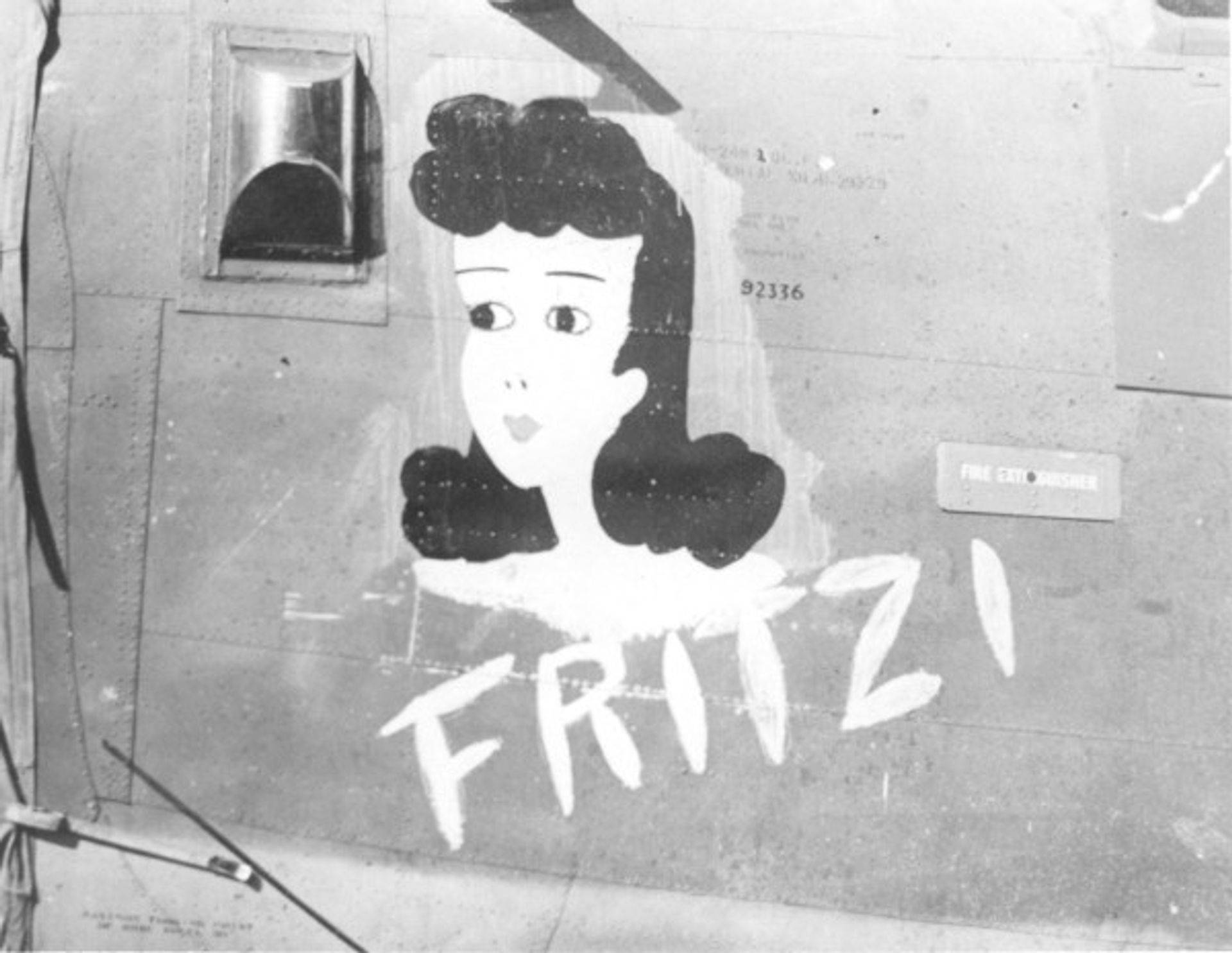 The Hetzler crew was flying FRITZI (ship #329) on March 23, 1944.
Photo: George Reynolds
2Lt Samuel D. Scorza's Flight Log – March 23, 1944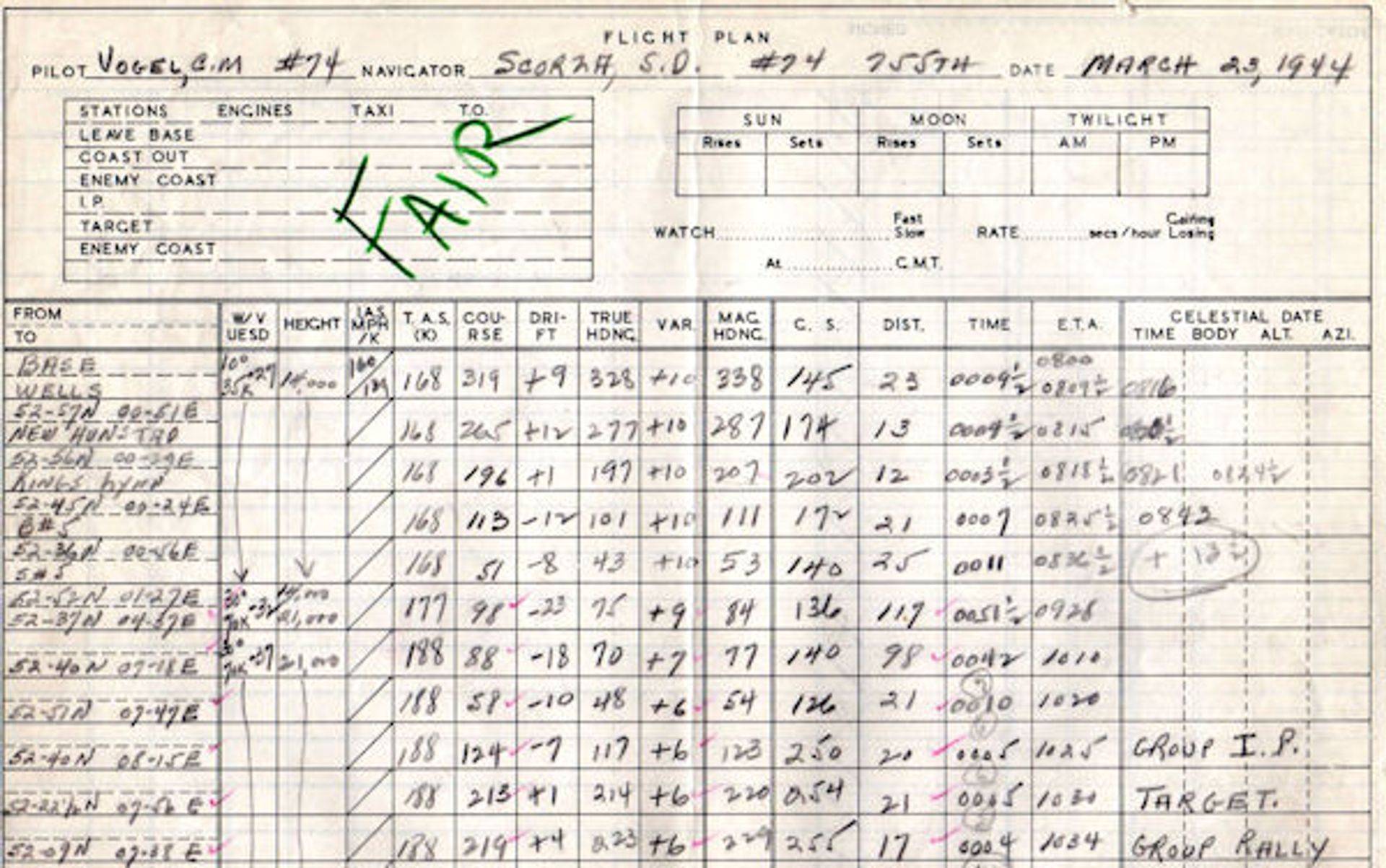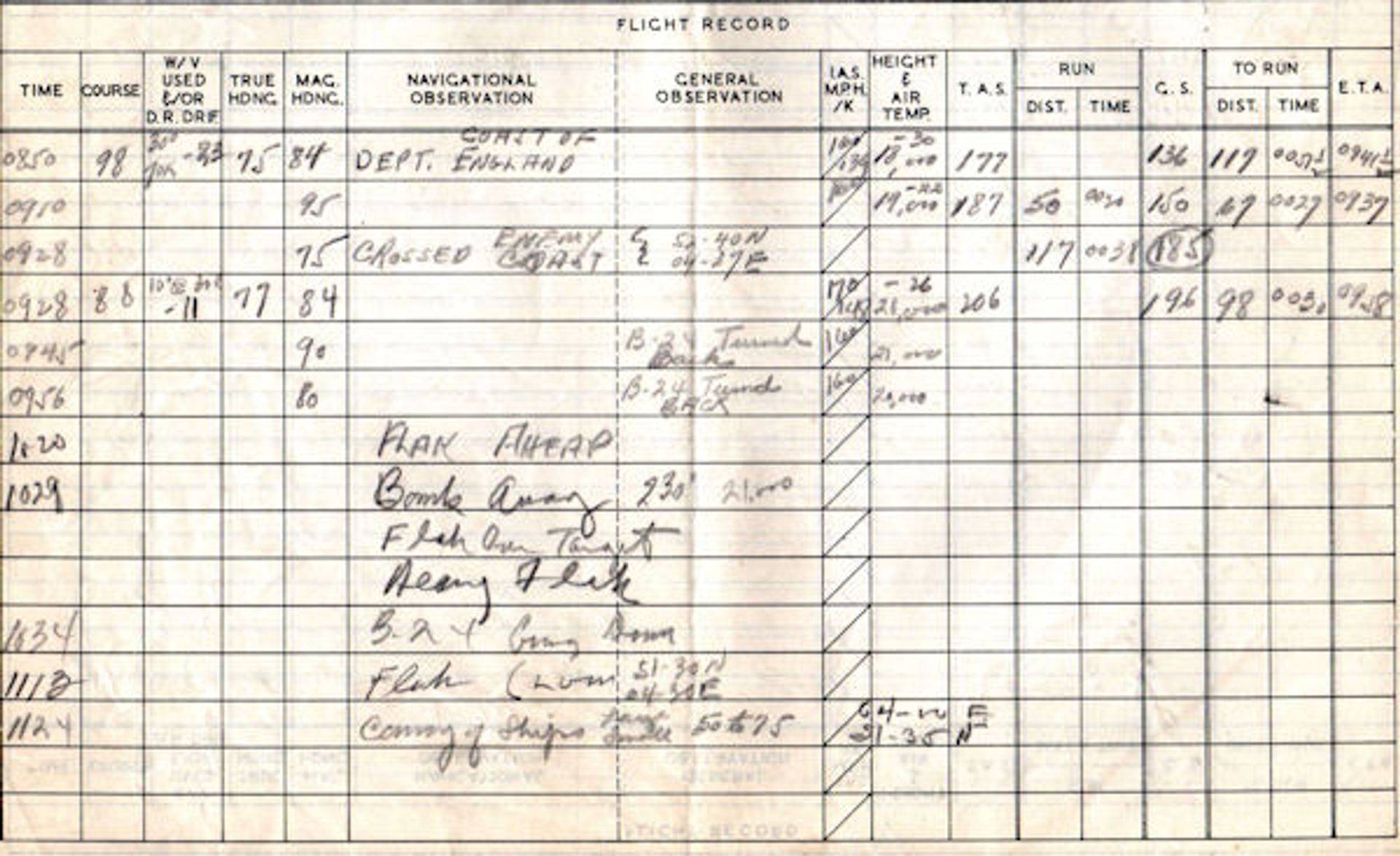 Note how the writing changes as the flak gets heavier. The entry at 1034 of "B-24 Going Down" marks Fritzi's demise.
Egbert Kemker sent the following account of his aunt, Maria "Mia" Kemker, who witnessed Fritzi's last moments:
"At that time my 15 year old aunt saw the burning airplane in the sky.  The airplane was shot down by a flak-station and crashed in between the villages of Alverskirchen and Wolbeck.  She went with many other residents from Alverskirchen to the site of the crash.  The rear of the aircraft was still shooting out big flames.  Four or five of the American soldiers were lying on the field.  The bodies of the soldiers pushed as far as 40cm into the earth.  The soldiers were buried directly in the front left side of the cemetery."
Map of the area described above.
Courtesy: Alan Kirby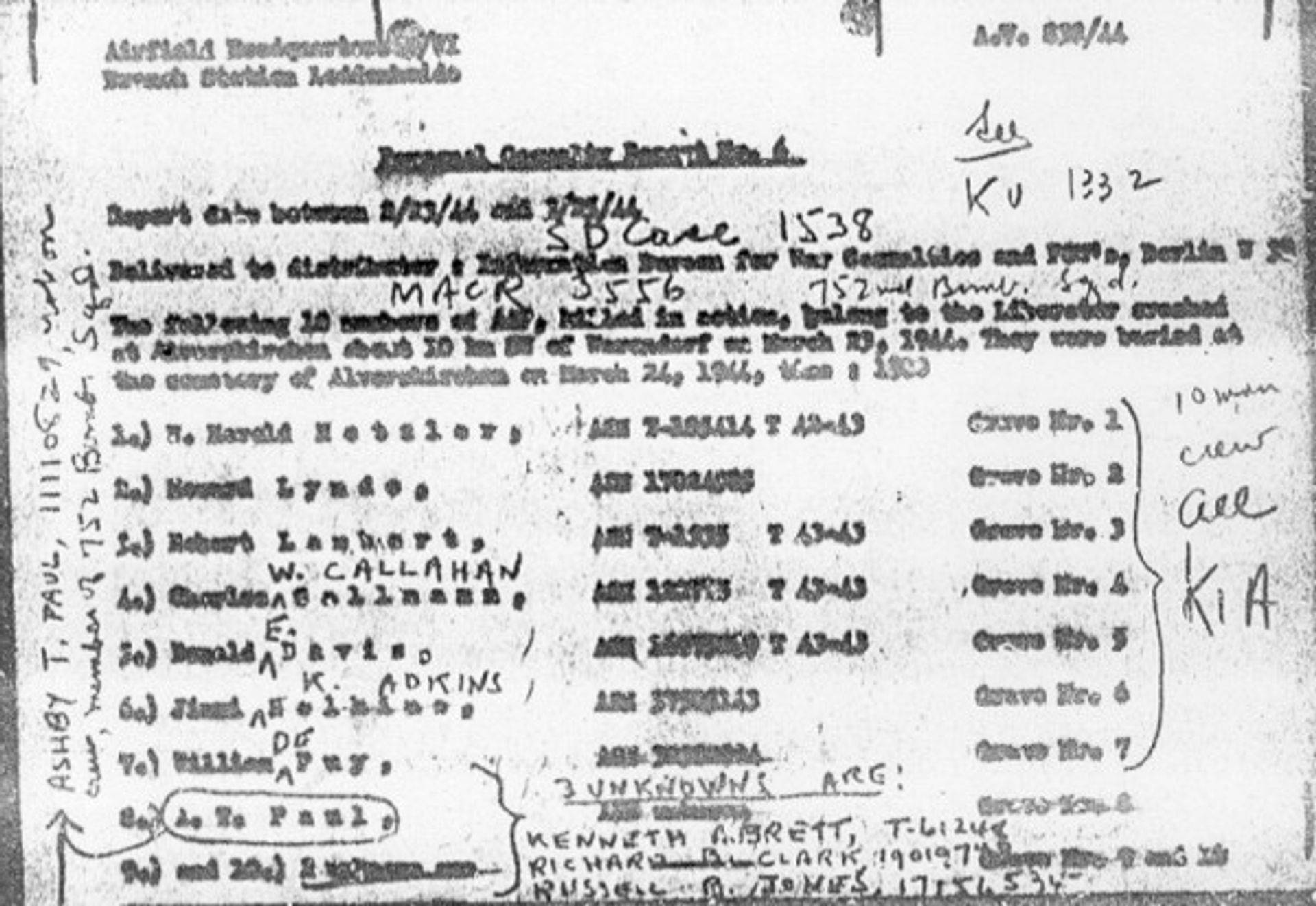 Part of the translated German KU report showing information on downed enemy airmen.  This list of Hetzler's crew contains the name A.T. Paul.  One of Hetzler's enlisted men had borrowed a watch from Sgt Asby T. Paul of Crew 17 which had his name stitched on the band.  The Germans evidently believed it was him.  The notes of an American investigator can be seen in the left margin and at the bottom of the page: "ASHBY T. PAUL, 11110827, not on this crew, member of 752 Bomb Sqd."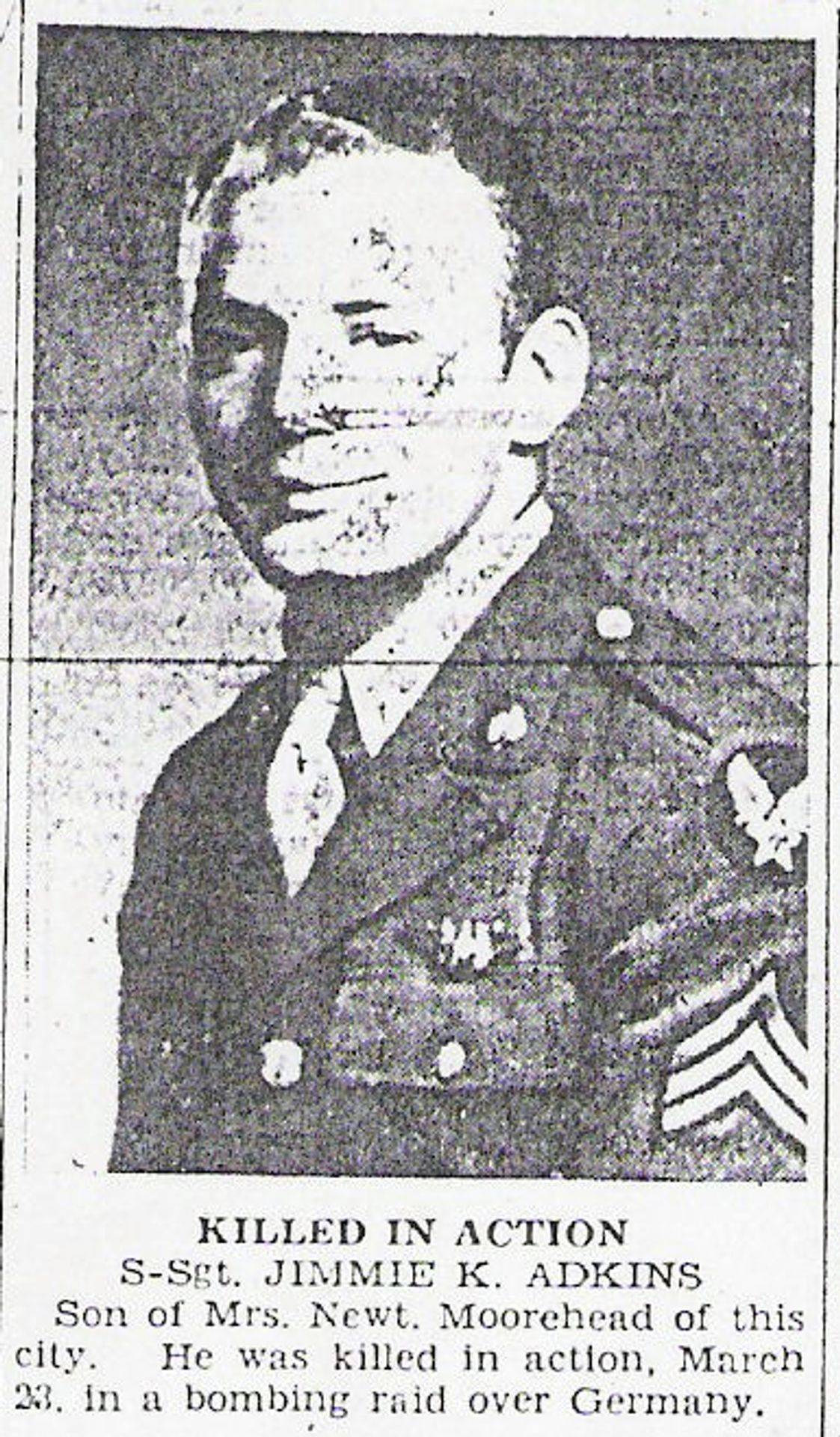 Barton County, Kansas, Thursday, August 17, 1944
"KILLED IN ACTION" WHILE OVER GERMANY
Sgt. Jimmie K. Adkins, Previously Reported Missing, Now Reported Killed in Action
Mrs. Newt Moorhead, 632 East Fourth Street, has received a message from the war department at Washington, informing her that her son, S/Sgt Jimmie K. Adkins, previously reported as "Missing In Action" was killed on March 23 in a bombing raid over Germany. The information was received from the German government through the International Red Cross.
A letter dated at Washington D.C., August 12 was received by Mrs. Moorehead Monday and it confirmed the information sent in the telegram that he was killed while on a bombing raid over Germany, March 23.
On June 11, Mrs. Moorehead addressed a letter to the Chaplain of the organization of which her son belonged, and the letter was forwarded by the Chaplain to the war department to be answered, and Mrs. Moorehead then received the following information: "Your concern for the safety of your son, who has been missing in action since March 23, 1944 is most understandable. An additional reports has been received in the War Department which states that the aircraft of which your son was a crew member, was hit by [a] flak burst under [the] open bomb bay. It is further stated the aircraft broke up completely and fell away."
"In compliance with your request the following information is given concerning the emergency addresses of military personnel listed in your son's letter, all of whom are missing in action: Manley E. Brett, Tanworth N.H., father of Flight Officer Kenneth Brett; John P. Callahan, Brooklyn, N.Y., father of Flight Officer Charles W. Callahan; Robert H. Lambert, Quincy, Washington, father of Flight Officer Robert S. Lambert; Mrs. Iva Davis, Anna, Ills., mother of Sgt Donald E. Davis; Mrs. Ruth Jones, Duluth, Minn, mother of Sgt Russell E. Jones.
Jimmy [sic] graduated from the Hoisington high school with the class of 1941 and entered the air service of Uncle Sam February 16, 1943. After completing his training, he left Homestead, Florida, flying to South America, then to Africa and across to England where his bombing group was based. Jimmy [sic] was 21 years old last January.
Courtesy: Alan Kirby
F/O Kenneth A. Brett 1917-1944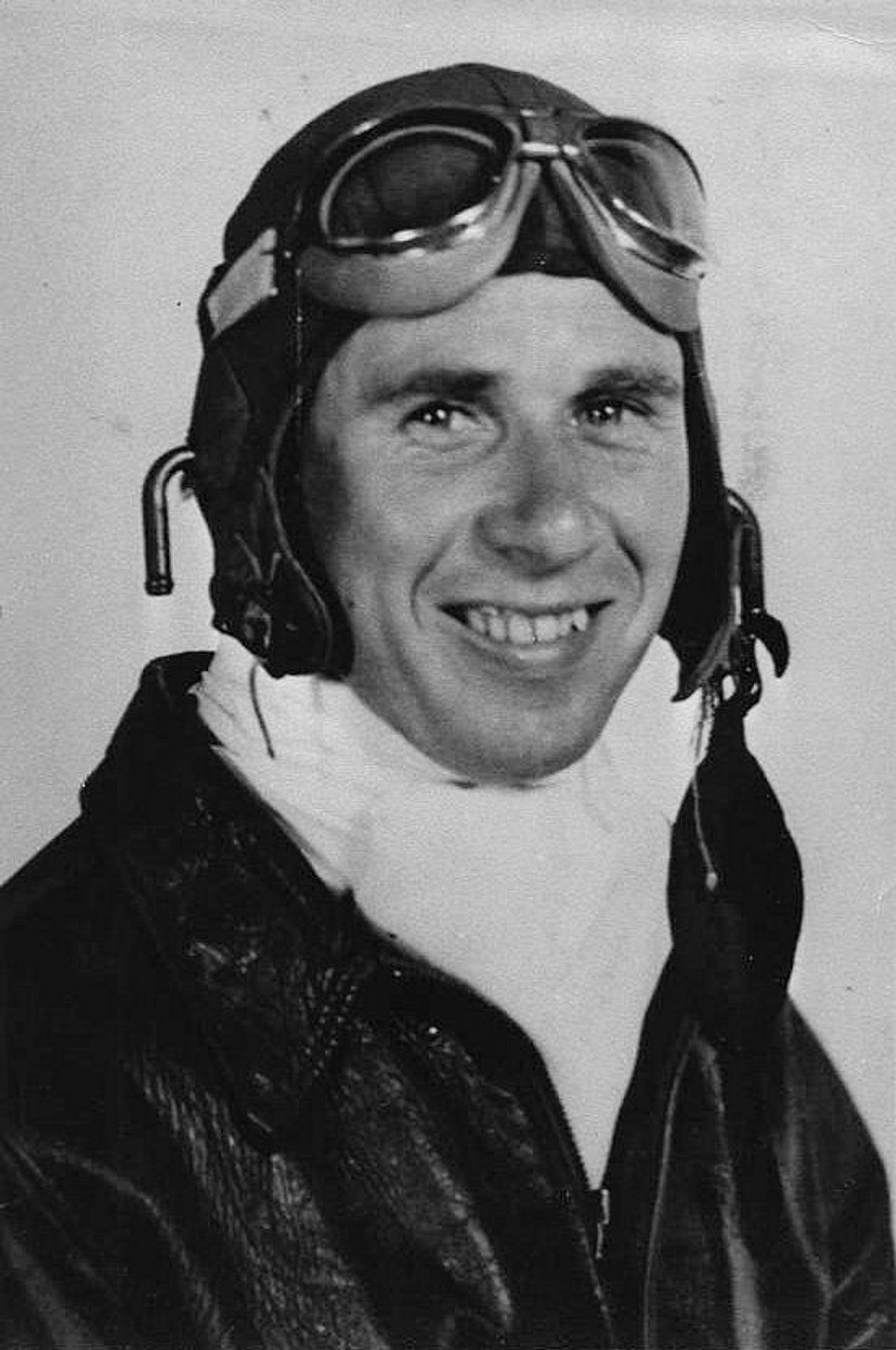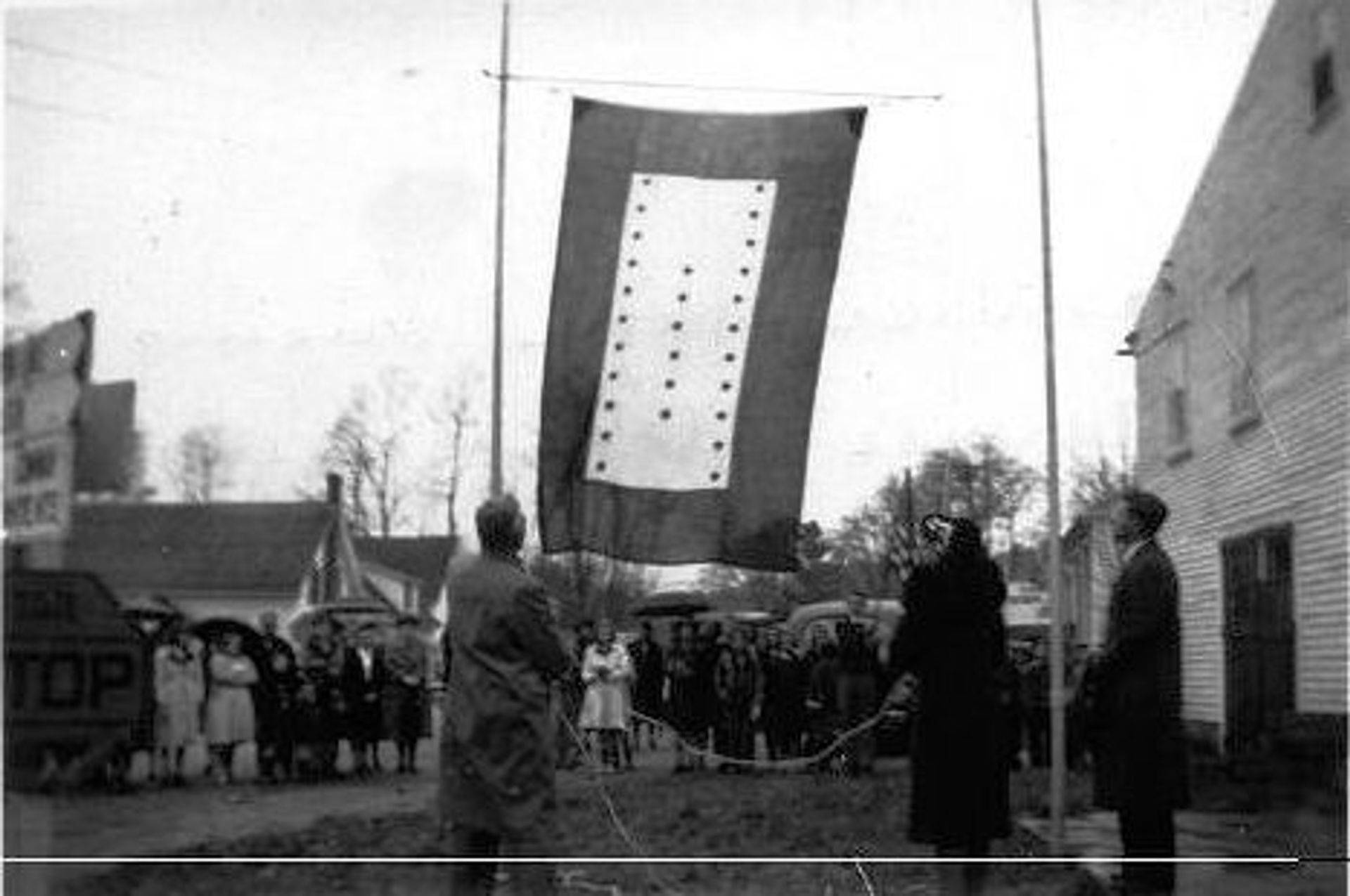 Co-pilot Kenneth Brett and the Tamworth Blue Star Celebration (post war)
Tamworth War Memorial – 2008
In 2008, the students of Kenneth A. Brett School in Tamworth, New Hampshire did an oral history project on the namesake of their school.
Photos: John Perkins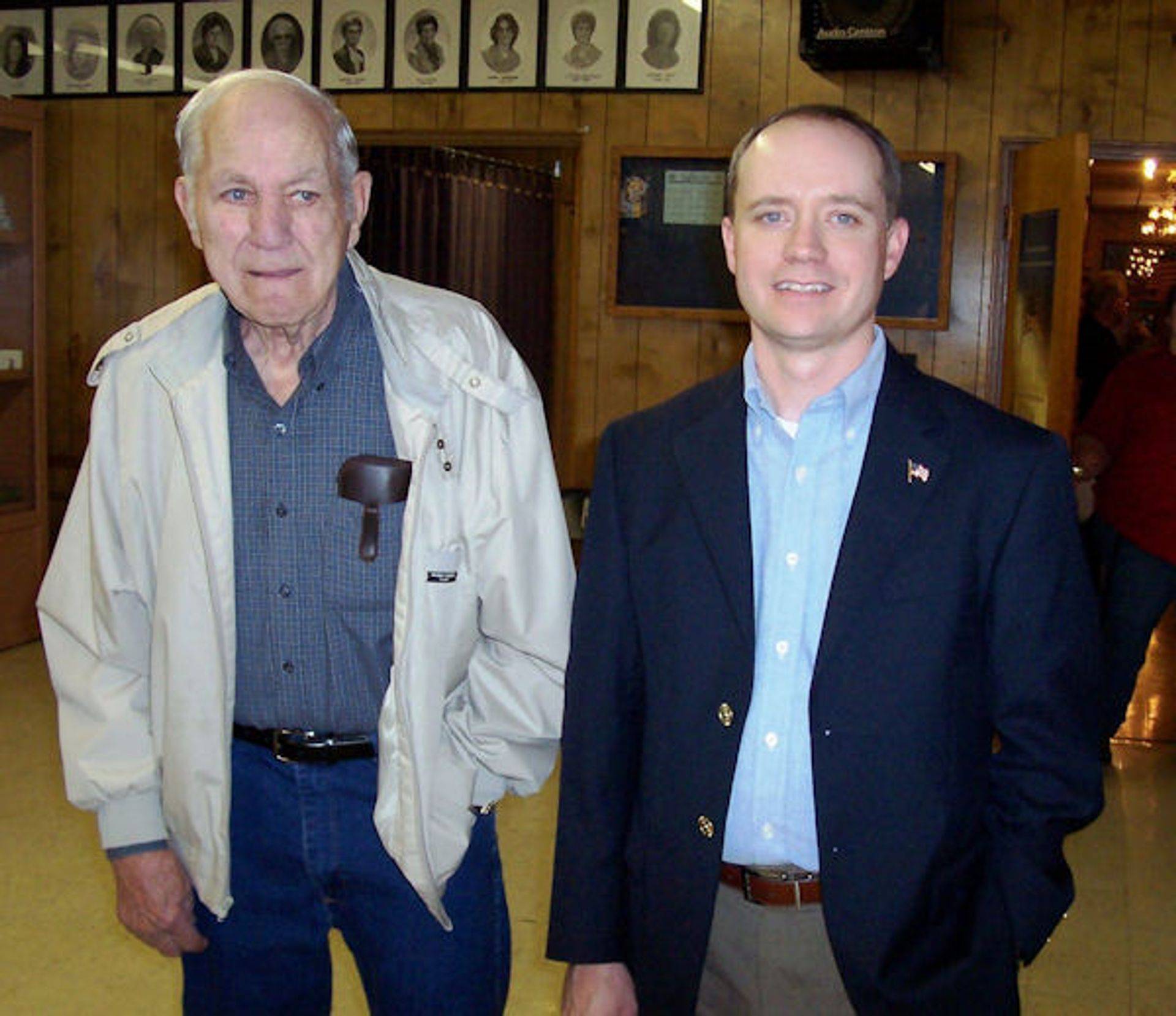 William Davis, brother of Donald Davis (TG), and Alan Kirby at a Toastmaster's speaking engagement in Anna, IL
Mr. Alan F. Kirby, a high school German teacher and a member of Toastmasters International, has done extensive research on the Hetzler crew, and has contributed many items on this page. Please visit Alan's blog The History Hangar, which documents his fantastic research on this crew and contains much more information on these fine men.
Jefferson Barracks National Cemetery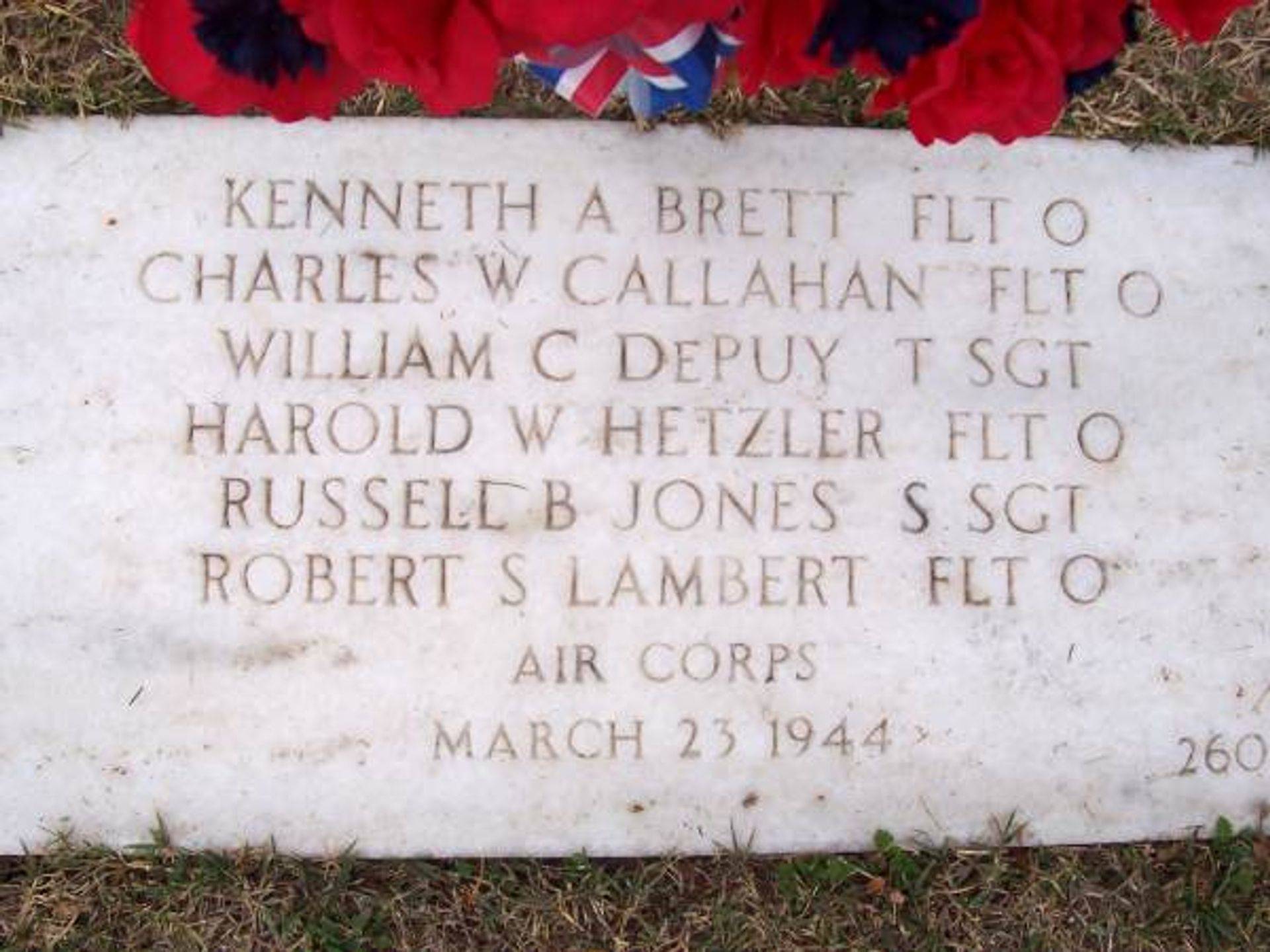 In 1950 six crew members were interred at the Jefferson Barracks National Cemetery, in Missouri.
Photo: Alan Kirby