Healy Crew – Assigned 753rd Squadron – August 9, 1944
Standing:
Milton Downs – B, Donald Webster – CP, Chuck Healy – P, Richard Beulieu – N, George Howard – WG, Gabriel Signorelli – RO
Kneeling:
Harold Smith – TT/E, Albert Jenkins WG, William Ruth – TG, Leonard Armstrong – NTG
| Rank | Name | Serial # | Pos | Date | Status | Comments |
| --- | --- | --- | --- | --- | --- | --- |
| 1Lt | Charles F Healy | 0705690 | Pilot | 19-Apr-45 | CT | Air Crew Leave |
| 1Lt | Donald E Webster | 0825028 | Co-pilot | 07-Jun-45 | CT | Ferry Crew 18 w/Capt Moran |
| 1Lt | Richard P Beaulieu | 0719832 | Navigator | 19-Apr-45 | CT | Air Crew Leave |
| 1Lt | Milton D Downs | 0772946 | Bombardier | 09-Apr-45 | CT | Air Medal (OLC) |
| T/Sgt | Gabriel D Signorelli | 18150457 | Radio Operator | May-45 | CT | Trsf to 70RD for return to ZI - Tour complete |
| T/Sgt | Harold W Smith | 15063509 | Flight Engineer | May-45 | CT | Trsf to 70RD for return to ZI - Tour complete |
| S/Sgt | Leonard W Armstrong | 35875565 | Armorer Gunner | May-45 | CT | Trsf to 70RD for return to ZI - Tour complete |
| S/Sgt | George T Howard, Jr | 13110853 | Armorer Gunner | May-45 | CT | Trsf to 70RD for return to ZI - Tour complete |
| S/Sgt | Albert Jenkins | 38518262 | Armorer Gunner | May-45 | CT | Trsf to 70RD for return to ZI - Tour complete |
| S/Sgt | William D Ruth, Jr | 15119002 | Armorer Gunner | May-45 | CT | Trsf to 70RD for return to ZI - Tour complete |
2Lt Chuck Healy and crew were originally assigned to the 753rd Squadron in August.  They flew two missions later that month, and then the 458th was pulled off of combat operations in September in order to fly gasoline to Patton's Army in France.  Healy flew on only one of the Truckin' missions during September.
They flew eight combat missions in October and November and, given the absence of Healy's name on mission records, before being sent off for lead crew training.  They were transferred into the 755th Squadron to be a lead crew on December 20, 1944, and flew their first mission in that role on January 7, 1945 when they were assigned as the deputy lead in the third squadron.  Most of the crew flew their last mission on April 14, 1945 when they led the third squadron on the mission to Pointe de Grave.
Two members of the crew, S/Sgt William D Ruth and T/Sgt Harold W Smith kept detailed diaries which can be seen below.
| Date | Target | 458th Msn | Pilot Msn | Cmd Pilot | Ld | Serial | RCL | Sqdn | A/C Msn | A/C Name | Comments |
| --- | --- | --- | --- | --- | --- | --- | --- | --- | --- | --- | --- |
| 18-Aug-44 | WOIPPY | 116 | 1 | | | 44-40287 | J | J4 | 12 | BACHELOR'S BEDLAM | |
| 24-Aug-44 | HANNOVER | 117 | 2 | | | 44-40277 | P | J4 | 7 | MISS USED | |
| 28-Sep-44 | HSF to LILLE | TR11 | -- | | | 41-28721 | G | 753 | T9 | DOWNWIND-LEG | TRUCKIN' MISSION |
| 14-Oct-44 | COLOGNE | 133 | 3 | | | 44-40277 | P | J4 | 14 | MISS USED | |
| 17-Oct-44 | COLOGNE | 135 | 4 | | | 44-40277 | P | J4 | 15 | MISS USED | |
| 19-Oct-44 | MAINZ | 136 | 5 | | | 42-110163 | M | J4 | 31 | TIME'S A WASTIN | |
| 04-Nov-44 | MISBURG | 141 | NTO | | | 44-40277 | P | J4 | -- | MISS USED | NO TAKEOFF - #2 ENG |
| 05-Nov-44 | KARLSRUHE | 142 | 6 | | | 44-40277 | P | J4 | 21 | MISS USED | |
| 16-Nov-44 | ESCHWEILER | 147 | 7 | | | 44-40277 | P | J4 | 23 | MISS USED | |
| 25-Nov-44 | BINGEN | 149 | 8 | | | 42-50449 | W | J4 | 18 | HEAVENLY HIDEAWAY | |
| 12-Dec-44 | HANAU | 156 | ASSY | | | 41-28697 | Z | Z5 | A36 | SPOTTED APE | ASSY & WTHR SHIP - 753RD |
| 25-Dec-44 | PRONSFELD | 158 | MSHL | | | -- | -- | -- | -- | | MARSHALING CHIEF- 755TH |
| 31-Dec-44 | KOBLENZ | 162 | MSHL | | | -- | -- | -- | -- | | MARSHALING CHIEF- 755TH |
| 03-Jan-45 | NEUNKIRCHEN | 165 | 9 | | | 44-10487 | R | J3 | 25 | Girl on surfboard (no name) | |
| 07-Jan-45 | RASTATT | 166 | 10 | | D3 | 44-10602 | P | J3 | 24 | TEN GUN DOTTIE | |
| 10-Jan-45 | SCHONBERG | 168 | 11 | | | 44-10487 | R | J3 | 26 | Girl on surfboard (no name) | |
| 28-Jan-45 | DORTMUND | 174 | 12 | | | 44-10487 | R | J3 | 28 | Girl on surfboard (no name) | |
| 03-Feb-45 | MAGDEBURG | 177 | 13 | | | 42-50516 | V | J3 | 18 | STARDUST | |
| 08-Feb-45 | RHEINE M/Y | REC | -- | | | 44-50618 | T | J3 | -- | UNKNOWN 052 | RECALL - WEATHER |
| 09-Feb-45 | MAGDEBURG | 179 | 14 | | | 44-10618 | T | J3 | 2 | UNKNOWN 038 | |
| 14-Feb-45 | MAGDEBURG | 181 | 15 | | | 42-50740 | Q | J3 | 21 | OUR BURMA | |
| 15-Feb-45 | MAGDEBURG | 182 | 16 | | | 42-50499 | U | J3 | 33 | COOKIE/OPEN POST | |
| 19-Feb-45 | MESCHADE | 184 | 17 | | | 42-50575 | O | J3 | 20 | UNKNOWN 020 | |
| 24-Feb-45 | BIELEFELD | 188 | 18 | BRECKENRIDGE | L3 | 42-95628 | K | J3 | 13 | UNKNOWN 038 | |
| 28-Feb-45 | BIELEFELD | 192 | 19 | | L3 | 42-51743 | F | J3 | 18 | UNKNOWN 006 | |
| 01-Mar-45 | INGOLSTADT | 193 | 20 | | | 42-50504 | S | J3 | 23 | UNKNOWN 019 | |
| 03-Mar-45 | NIENBURG | 195 | 21 | | | 42-50575 | O | J3 | 23 | UNKNOWN 020 | |
| 05-Mar-45 | HARBURG | 197 | 22 | GARDNER | L2 | 42-95557 | H | J3 | 29 | LADY PEACE | |
| 07-Mar-45 | SOEST | 198 | 23 | QUINN | D1 | 42-95557 | H | J3 | 30 | LADY PEACE | |
| 09-Mar-45 | OSNABRUCK | 200 | 24 | BETZOLD | D1 | 42-95557 | H | J3 | 32 | LADY PEACE | |
| 15-Mar-45 | ZOSSEN | 204 | 25 | GARDNER | D1 | 42-51669 | J | J3 | 18 | UNKNOWN 026 | |
| 18-Mar-45 | BERLIN | 206 | 26 | BRECKENRIDGE | D1 | 44-48837 | L | J3 | 17 | UNKNOWN 041 | |
| 24-Mar-45 | NORDHORN | 212 | 27 | BLACK | D1 | 42-51743 | F | J3 | 28 | UNKNOWN 006 | |
| 31-Mar-45 | BRUNSWICK | 216 | 28 | GOODFRIEND | D1 | 42-95557 | A | J3 | 43 | LADY PEACE | |
| 08-Apr-45 | UNTERSCHLAUERSBACH | 221 | 29 | BRECKENRIDGE | L3 | 42-51939 | G | J3 | 32 | UNKNOWN 028 | |
| 14-Apr-45 | POINTE DE GRAVE | 225 | 30 | ANDERSON | L3 | 44-49902 | M | J3 | 6 | UNKNOWN 043 | |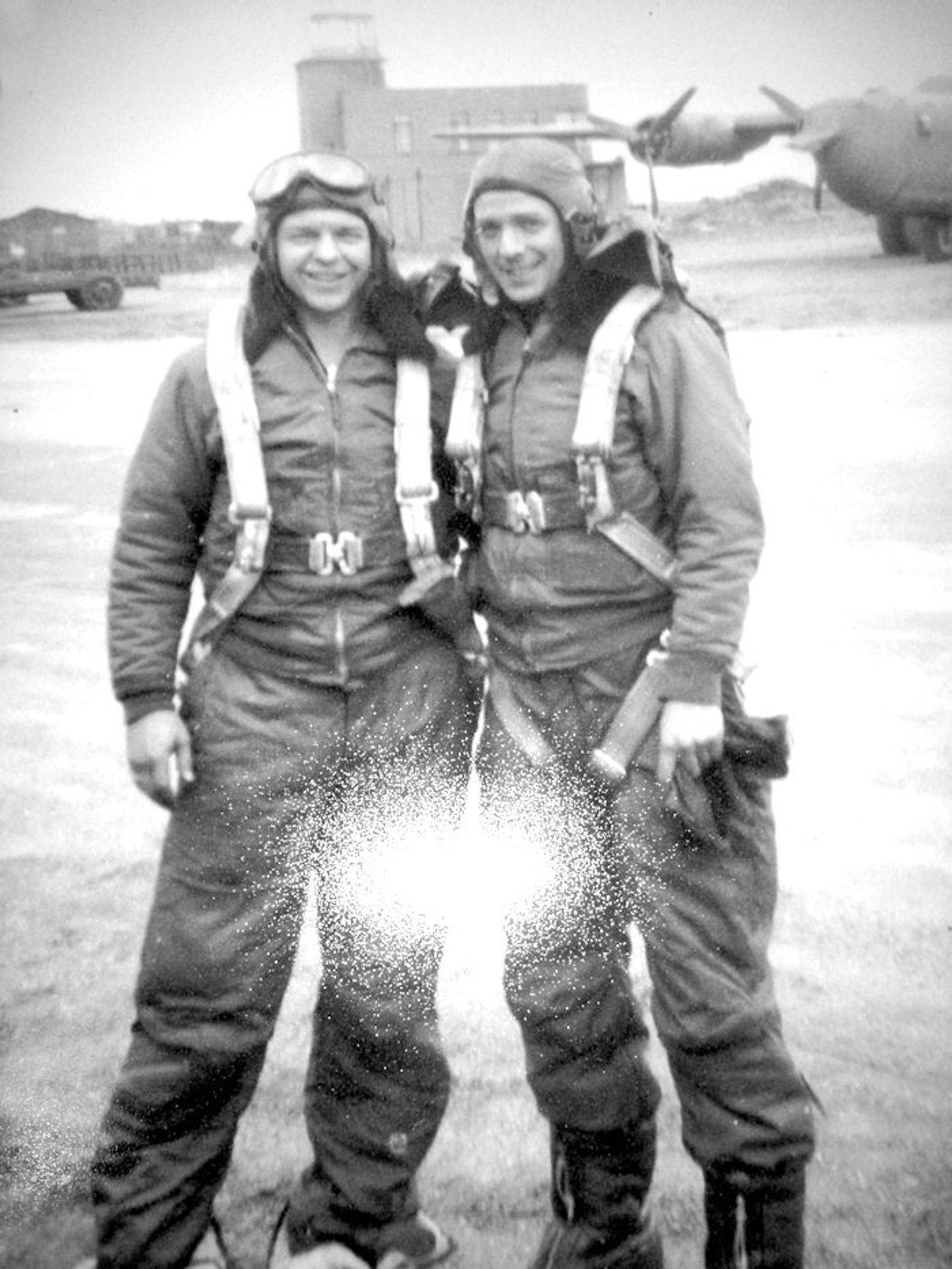 William D. Ruth and Leonard W. Armstrong
(Photo: Doug Rulon)
S/Sgt William D. Ruth Diary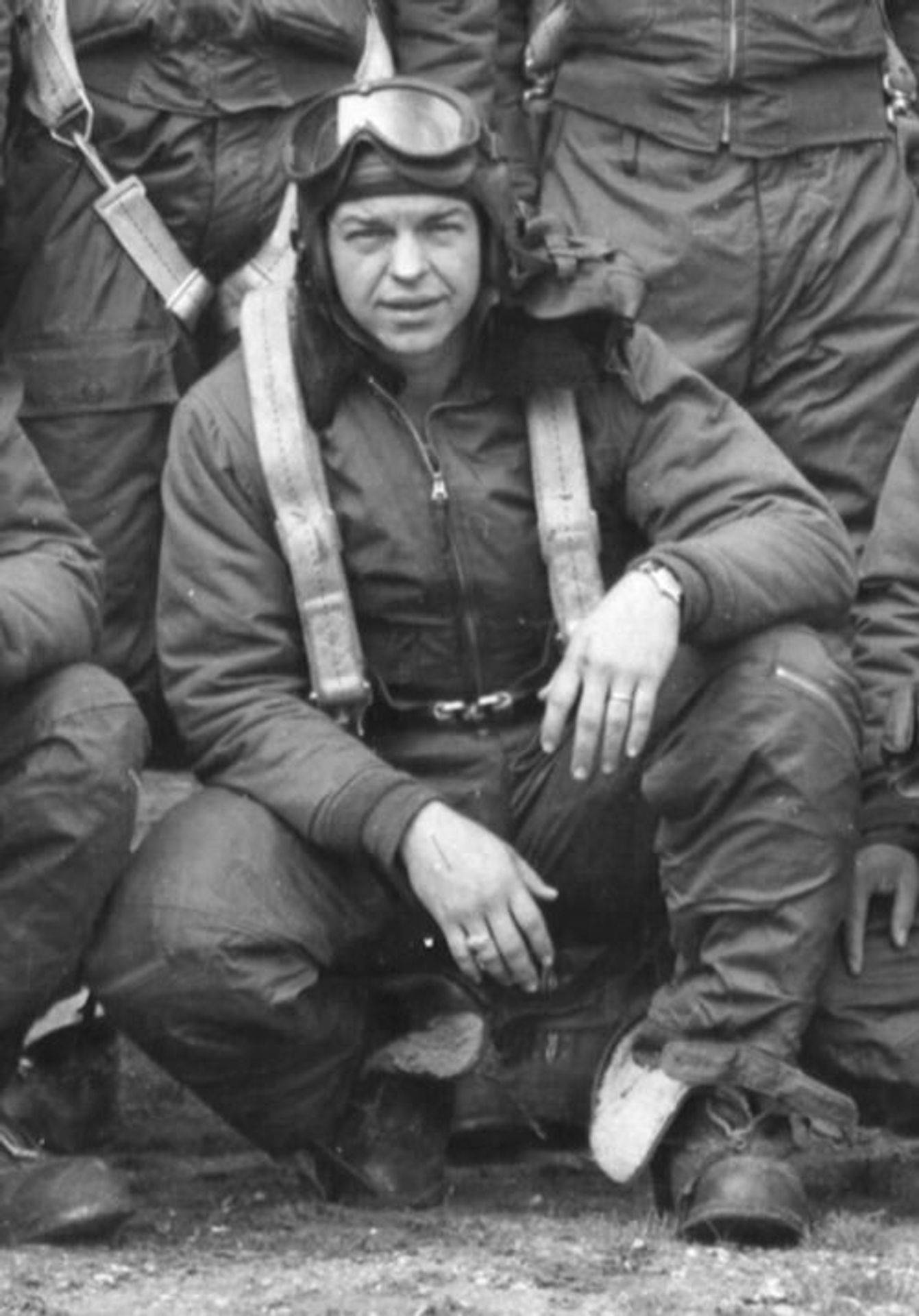 On July 10, 1944 we loaded the train, having completed our overseas training, and headed for Lincoln Nebraska. This was our staging area base. We arrived in Lincoln July 11. Shug was at Lincoln. I didn't want to leave her for a minute. The last few nights, I stayed all night in town. Wasn't supposed to but got away with doing it o.k. Those are nights I will never forget. I knew one of the worst things I would have to do during my life was ahead of me. That was telling Shug goodbye. This was done about 6 o'clock July 15. That was the last time I have seen Shug. A time I will never forget.
July 10 – Left Pueblo
July 11 – arrived Lincoln
July 16 – 1 a.m. Left Lincoln. Arrived at Grenier Field, New Hampshire.
July 17 – Left Grenier; arrived Goose Bay, Labrador July 19 – Left Goose Bay; arrived Meeks Field, Ireland 25 hour inspection-prop Gov. changed, nose wheel tire flat.
July 20 – Left Meeks; arrived Valley, Wales
July 21 – Left Valley; arrived at Howard Hall near Echalshall and Stone July 22 – Gas mask fitted
July 23 – Red Cross detail July 24 – K. P.
July 25 – Guard Duty – WAC area (wow) July 26 – Ate & Slept
July 27 – Left Howard Hall; arrived Warrington, England July 28 – Left Warrington; arrived in Green Castle, Ireland Had the blues for Shug
July 29 – Ate & Slept
July 30 – Another Dental check – routine
Aug 1 – Had lecture by first person to escape through German lines in Normandy and get to Americans.
Aug 2 – School
Aug 8 – Finished School
Aug 9 – Shipped out to permanent base at 0900 Ireland time. Left Ireland at 5:30 arrived 458th Bomb Group at 7:30. It's a swell place. Our Squadron really on the ball. Very good chow. Jenks, Smitty, Armstrong and I have room together. Signorelli and George are together.
Aug 11 – Supposed to have Squadron indoctrination this afternoon and paid $49.65
Aug 12 – Paid per Diem of 26.25. Dick told me our squadron had been chosen for AZON Bombing. We are called the "Buck Rogers Squadron". This will probably mean it will take us much longer to get our missions in. Bomb guided to target by radio beams. 'Attended school.
Aug 13 – Sunday – supposed to have school all day but fluffed off after first two hours. Have thought of Shug all day. Sure wish I was with her. Sundays are always hard days.
Aug 14 – Shot 2 hours of skeet. Need a little practice. Hit 15 out of 25. 15 highest score shot.
Aug 15 – Had ditching lecture – Smith, Sig, Jenks, Beaulieu, Healy, Webster flew first practice mission.
Aug 16 – Flew my first practice mission. Shot guns over North Sea. Saw big part of England from air. Cambridge, London, Norwich are some of the towns flown over.
Aug 17 – Flew another practice mission today.
Aug 18 – First mission – bombed Engine Assembly Plant – very little flak­ time: 7 hrs. 15 min. Fighters – none – place Metz, France. Had an easy mission for our first mission. Hope they are all like that. Few within 20 miles of German border, 35 miles of Paris, and over front lines.
Aug 19 – Scheduled for maximum effort but was stood down. Fly tomorrow though. Fooled around with a meeting here and there all day.
Aug 20 – Supposed to have a practice mission after regular mission – stood down. Practice mission stood down because of weather. Up for maximum effort again tomorrow.
Aug 21 – Mission stood down for weather. Dreary day good for giving the fellows the blues. Changed rooms today. Having our first taste of true English weather. I don't like.
Aug 22 – Received Buck Sergeants rating today, dated Aug 21. Having that famous English weather. The weather is like everything else that's English and that's pretty bad. Paid 8 lbs. for bicycle today. Pretty good bike considering.
Aug 23 – Had practice mission today.
Aug 24 – Target – Hanover, Germany – factory and oil refinery. Flak-heavy. Time: 7 hrs. Fighters – none Second Mission
Aug 25 – Scheduled for normal effort but stood down. Downs went to get checked out on AZON.
Aug 26 – "[Same]
Aug 27 – Received letter from June. Will always remember it. Sure lonely for Shug. Went to church.
Aug 28 – Nothing much happened today.
Aug 29 – Been scheduled to fly since 25th, didn't fly though. Another day and nothing happened.
Aug 30 – We have been designated as a night operations crew. Only one on the field. Don't know whether this is good or bad. Hope it's good. Don't know much about it yet. Haven't talked to Chucker yet.
Aug 31 – Not much doing today. Eating, sleeping but not so merry. Sure miss my pretty little wife. Got paid 14f 11/4 d. Sent Shug 50.00 money order – kept around 40.00 for myself. Know no more about special training.
Sept 1 – Had first practice mission for special training. Nobody knows anything about our special work. Saw England for first time at night from the air.
Sept 2 – Rained this afternoon. Doubt if we will fly tonight. Flew tonight.
Sept 3, 4, 5, 6, 7, 8 – nothing doing. Rain.
Sept 9 – Flew night practice mission – lost one plane [Lt Frederick Crew].
Sept 10 – nothing doing.
Sept 11 – Had Bulls Eye Mission tonight. Had a funny feeling going out to plane. Had bail out tested. Plane wasn't fit to fly. The Lord took care of us that all. Given another plane but didn't leave the ground because of lateness.
Sept 12 – They told us today that the crew was going to be split up. Am just praying; am sure the Lord knows best.
Sept 13, 14, 15 – nothing doing.
Sept 16 – Two day pass. Went to several picture shows.
Sept 26 – Bulls Eye Mission – first flying we have done for a long time.
Oct 3 – Buzz Bomb hit about a mile from camp. Smitty and Webster rode bikes to see it. Brought back some souvenirs. Was sitting in room when it hit. Black out curtains blew out, building shook.
Oct 4 – Already today 3 Buzz Bombs have hit close by. Not too close but close enough to suit me. They are evidently trying to hit our field and barracks. I hope they don't succeed. Those bombs sure tear things up. The one last night hit in the middle of a golf course. No known casualties. Rumored that the Germans broadcasted a warning yesterday to Yanks close to Norwich that they were going to blast the hell out of us. Two of these bombs fell while I was trying to write to Shug. Mail situation improving. Have had 2 letters a day from Shug for the past few days.
Oct 5 – Buzz Bombs still going strong. 3 about 40 minutes apart and then another long time.
Oct 7 – Two day pass supposed to start tomorrow but 1st Sgt gave us a lean on it. Smitty, Lenny, Sorry went to London.
Oct 8, 9 – Sig, Jenks and I stayed around camp. Went to shows and fooled around in town. Ate my first meal in a British restaurant. Not so good.
Oct 10 – Pass ended today at noon. Smitty brought radio back with him from London. Am really enjoying it. Dinah Shore just went off. Heard Red Skelton for first time in months. Radio cost 12f 3/4d. We can sell it for twice that much when we leave here.
Oct 11 – Rained and dreary all day. Was going to the show in town tonight but was rained out.
Oct 12 – Alerted to fly a Bullseye Mission tonight but was rained out.
Oct 13 – Went to town tonight to see Bing Crosby in "Going My Way". Rained pretty hard. Alerted for a day mission tomorrow.
Oct 14 – Flew a mission today for a change. This was my third one. This night flying has kept us from flying a lot of missions. Target today was Cologne, Germany, a railroad marshalling yard. Altitude 23,000 ft. Temperature -33 degrees C. Bomb Load – 10 250# G. P. 4 – 450# incendiaries. No fighters – no flak close to us. However, we didn't hit Cologne with our group. We couldn't find them while forming. We tacked on 448th group and hit southern part of Ruhr Valley. Bombed by PFF. Clouds were so heavy we couldn't see the ground. Gas load 2,500 gals. Our third milk run. Hope we get about 29 more missions like this. The fellows that did hit Cologne got the heck shot out of them.
Oct 15 – Chuck, Don, Dick, Downs, Smitty, Sig were supposed to fly a cross country but it was scrubbed. Jenks and I went to the show.
Oct 16 – Scheduled for a mission tomorrow. Hope it isn't too rough. The good Lord has sure taken care of us so far. Hope He continues and I am sure He will. Gave Sig's brother a letter to mail to Shug in the States. Hope she gets it.
Oct 17 – Flew 4th mission. Bombed Secondary target. Marshalling yard at Cologne, Germany. Bomb load – 6 500# G.P. 6 450# incendiaries, -39 degrees C. No fighters – light flak and none close, only had one gun working. Really had to sweat it out. Ammo jammed in flexible chute. Couldn't get ammo to lift gun at all. Really did some sweating trying to find the jam. It was a little cold too. Bombing altitude 23,500 ft. to 24,500 ft. Jenks really was sick today. Howard thinks he got some good pictures during the bombing. I hope they turn out o.k. Couldn't find group again so tacked onto part of ours and part of 466th. This was another easy mission. Hope we get more like it. I really do some praying on these missions. I want to get back home o.k. to my pretty wife.
Oct 18 – Found out today that all our night training isn't going to be wasted. We are now night operational besides being day operational. Beside this we are starting Air-Sea Rescue. When we aren't going to fly day or night missions, we have to take off about two hours before the day mission is due back. We have a certain area of the channel to protect. Have to watch planes that can't make it back to their bases. We have to report and squawk all ditching's in our area.
Oct 19 – Pulled fifth mission today. Target – Mainz, Germany. Bomb load 12 – 250# G.P. 6 – 450# incendiaries. No enemy fighters- light flak. Got our first flak hole today in the left wing right under outside end of flap. Bombing altitude 26,400 ft. Highest have ever been. Temperature -41 degrees C. Coldest I have ever seen. Had an extra gunner today. Didn't need him. He just went along for the mission credit. Didn't have any trouble today except generator on turret freezing up after crossing Belgium border. Booster motor on right ammo track didn't pull enough. Needs another booster motor farther down on the track. Gas load 2,650. Flying time 6 hrs. 30 min. Flak hole 4″ from aileron control cable.
Oct 20 – Had an Air-Sea Rescue lecture today. Capt. Deneffe said today we couldn't pull any more day missions for a while. Said we had to practice for night work some more. He was kind of mad because we slipped 3 missions in. Need only one more for the Air Medal. Don't guess we will get it for a while. It's rumored that night operations will start in about a week. Sure do miss Shug these days. Hope I get home to see her soon. Am trying to figure out what to get her for her Birthday and Christmas. Am having Mother pick out her things. Christmas is sure going to be hard for her; me too, as far as that goes. All we can do is hope and pray. Started making a lighter out of a .50 shell. Looks pretty good. Hope I can make some other things too.
Oct 21 – Jenks and I went to town tonight to a show. Chuck put us in for T.O. Ratings again. He thinks we will get them this time. Was supposed to fly a practice mission but too cloudy. Was quite foggy when Jenks and I came in.
Oct 22 – Went to Morning Services and to afternoon show. Guess I will stay in and go to church tonight and write letters, maybe read a little. Don't think we will fly as it is pretty cloudy.
Oct 24 – Received my first Christmas box today. Shug sent me sweater, scarf, 2 pair wool socks, 2 wool ties. Mother's package had Christmas package marked on it too. It had 2 cans fruit cocktail, boxers, etc.
Oct 25 – Haven't done anything for the last three days. They won't let us fly any day missions until we fly 2 more night missions.
Oct 25 – 26 – Nothing has happened yesterday and today
Oct 27 – Had a night practice mission tonight. Other than that, everything is the same as usual. Haven't had any mail for 3 days.
Oct 28 – Nothing has happened today. No mail again today. This makes the fourth day. Didn't get to write Shug her daily letter yesterday. Wrote tonight. Hope I get mail and plenty of it tomorrow.
Oct 30 – Flew final Bullseye Mission tonight. The captain said we had graduated now. Mission flew at 17,000ft -20 degrees C.
Oct 31 – Got paid today. Send Mother $35 money order on Shug's Christmas and Birthday
Nov 1 – Alerted for maximum effort but mission was scrubbed. Will probably fly tomorrow. Smitty & Sig flew a practice mission today. Did my washing today. Didn't have as much as I usually have. Promoted to Staff Sergeant.
Nov 3 – Was all ready for a mission but it was scrubbed after planes had been marshalled. Don't like the new idea about getting to ships. Heavy fog is the reason the mission was scrubbed.
Nov 4 – Again we were ready for a mission. Everyone ready and at their stations but No. 2 engine was bad. We didn't go. We are having a hard time getting that sixth mission in to get the Air Medal. Engine trouble was wrong setting on carburetor. Had to put new carburetor on.
Nov 5 – [6th mission] What a day. Ready for another mission in #277 but one mag was bad. We started to #408 and the truck ran out of gas. Flagged another truck out to 408 [pictured]. I found the booster motor on # right gun was bad. Didn't tell anyone though. Just hoped and prayed we didn't meet any fighters. On way to target #1, engine started smoking and leaking oil. Finally had to feather it when pressure got below 20. Group started making 360 degree turn to make another run on target. Chuck didn't like that with us only having three engines and #2 now smoking and throwing oil. Chuck gave orders to salvo bombs. We had 3 – 2000#. Dale salvoed bombs so we turned to right of the heavy flak. We started on a straight course for home. We hoped and prayed no enemy fighters would see us. We got out of enemy territory o.k. After we were just out of enemy territory, I spotted two P-51s.  In a minute, I heard on interphone. "Big friend, this is little friend. Can I help you?"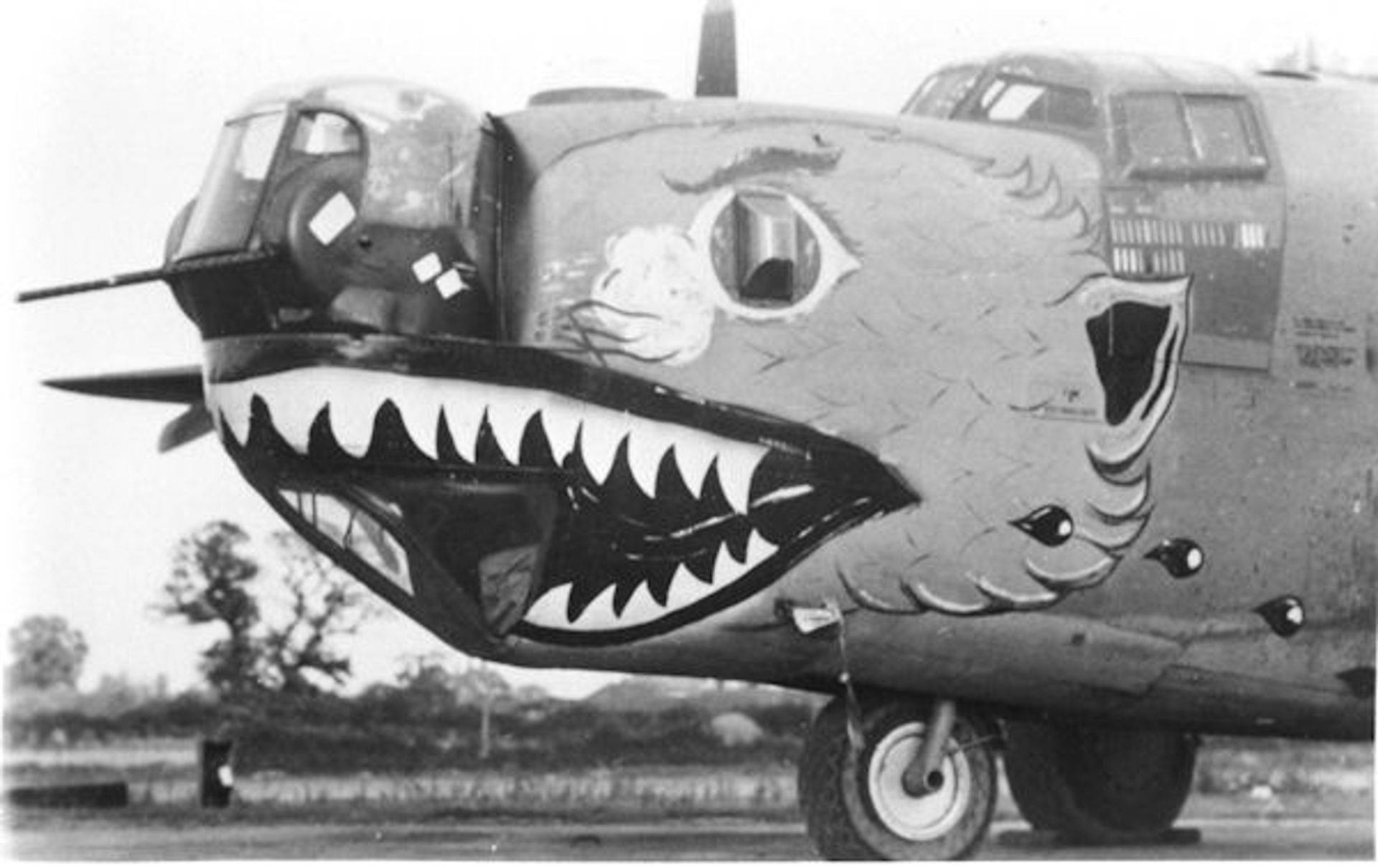 Chuck didn't think we would need them as we were getting pretty well into friendly territory. They stayed around for a while anyway. Dick did some fine navigation and took us to Brussels, Belgium. We landed at a base thirty miles from the front lines named Brussels Meldwick. It was littered with Nazi planes that had been bombed and strafed. This field had been in German hands only 1-1/2 months ago. We stayed all night in a school house that had been taken over by 8th Air Force. Slept on canvas cots with two blankets. While eating dinner, we heard a buzz bomb go over. It was just above the clouds and hit about 10 to 15 miles from where we were. We caught a liberty run at 7:00 and went to Brussels. What a town. Saw first electric street cars I had seen since I left Pueblo. Dick, Sig, Smitty, Lenny and George and I went to town, the other four stayed in and slept. We were going to come back to England in the afternoon but the weather was so bad we couldn't land so we had to stay the night. Caught liberty run back to school house at 11 o'clock. Chuck made a wonderful landing with three engines and expecting one of three to go out at any time (#2). I saw Norton as I was finishing my dinner. He had gone down in a B-17 someplace in France. His crew was supposed to fly a B-17 back and we were coming with them.
Nov 6 – Took off from Belgium about 11 o'clock. Landed back in England at 12:20 at a field about 40 miles from here. It was Norton's home base. Our field sent a plane for us and we landed back at our home base about 3:40. We sure were glad to get back. We were afraid someone would take all our things. Nothing was gone though. We had finally gotten that sixth mission for the Air Medal. I hope we don't have that trouble any more. I thank the good Lord – sure took care of us again. If it hadn't been for Him, I wouldn't be sitting here now writing this.
Nov 7 – 15 – Have been alerted every day but mission has been scrubbed. Even had my guns in twice and was at the ship three times.
Nov 16 – Alerted for today's mission [7th mission]. Took off with it so foggy we could hardly see the run way. We hit the German front lines 10 miles from Aachen. Our bombs away was at 12:46 and the big offensive was at 12:45. Bombing altitude 21,000 ft. Gas load 2,500gals. No fighters, light flak, 20 260# frag bombs. Temp -41 degrees C. They knew when we took off we wouldn't be able to land back at our home base. We landed at Baulton[?], an R.A.F. base. They treated us fine. Had to sleep in a gym on the floor. Had three biscuits and four blankets. Slept in parka and all my clothes but my electric suit. Still was a little cold.
Nov 17 – Stayed at R.A.F. base all day. Our field was closed in. Went to Gainsboro tonight. Had a pretty good time.
Nov 18 – Returned to home base about 5:30. Glad to get back. Sack sure did feel good after sleeping on the floor.
Nov 19 – Wasn't alerted today. Didn't go out on mission because of the weather.
Nov 20 – Worked on my bookkeeping all day. No mission today because of weather again.
Nov 21 – Received the Air Medal today.
Nov 22 – Sent Air Medal home along with the scarf for Shug. Cost me $2.04. Scarf cost $11.00. Was alerted for mission today but there was no mission. Rain is the reason.
Nov 23 – Can't find my citation. I thought I put it in my bookkeeping book but it isn't there. Have a slight remembrance of sticking it in something else. Have looked every place but can't find citation. Guess I'll run across it soon. I hope so anyway. If I don't, maybe I can get another copy of it. Was alerted for a mission again today but didn't fly for some reason. It looks like it is closing in now. Maybe that is the reason. Had a good Thanksgiving Dinner today. Had turkey, sweet potatoes, peas, ice cream, cranberries, and raisin bread. Table cloths on tables.
Nov 24 – Had a practice mission today. Field was about closed in when we got back. They must think that enough people aren't getting killed by enemy action. There were two fronts coming in – still they sent us out on practice mission. One plane crashed in town [Lt Ralph Dooley Crew]. It's a wonder there hadn't been half a dozen piled up. The ceiling was 500 ft. with heavy haze below. Chuck brought her down like a kitten.
Nov 25 – Had [8th] mission to Bingen, Germany. Gas Load 2500, Bomb Load: 10 – 500# G.P., 2 450# M17's. Flying time 6 hrs. 35 min. No enemy fighters, meager flak except where lead navigator was off the ball. Hit rail yards. Lead navigator started to take us over Coublay but Major Hensler wouldn't follow. Ceiling on return was 1000 ft. with heavy haze. Received a wonderful picture of Shug today and a wonderful letter. Also had very good letter from Mother.
Nov 26 – Received second Christmas box from Shug. I like my things very much.
Nov 27 – Alerted to mission but there wasn't any. Called Waller Hurd today. Going to see him on my pass. Alerted for mission tomorrow.
Nov 28 – Dec 1 – Went to visit Waller Hurd. Had quite a time.
Dec 2 – Got paid today 27f 15/10d Joined Short Snorter.
Dec 3 – Chuck told us tonight that one man had to leave the crew. Will know who it is tomorrow.
Dec 4 – Chuck talked the major out of one man having to leave the crew for a while. Made footlocker and junk box today. Received box from Aunt Lizzie. Looks like we are going to be a lead crew.
Dec 5 – Nothing much doing today.
Dec 6 – Received another Christmas box from Shug. This made my third. We are definitely a lead crew now. Are not operational for some reason. Won't have to move until someone moves out of the 755th Squadron. Had my first soda crackers in E.T.O. Tonight. Shug sent them in my box. Tried crackers out with Velveeta cheese Shug sent in box. Had big football game today. Received a box of nuts from Donna.
Dec 7 – 8 – Nothing doing. Dec 9 – Nothing doing.
Dec 10 – Nothing doing.
Dec 19 – Was awakened early this morning by a robot bomb going over. Saw it falling but never heard it hit.
Dec 20 – Moved to 755th Squadron.
Dec 21 – Chuck and the fellows moved today just across the street.
Dec 22 – Nothing doing.
Dec 23 – Flew about 45 minutes today. I'm learning engineering. Am taking a little cold – need 3-1/4 hrs. for my flying time yet this month.
Dec 24 – 30 Have flown 45 minutes during this time.
Dec 31 – Test Hop – 3 hrs. 15 min. Just did get my 4 hours this month.
Jan 1 – Test Hop – 1 hr. 30 min
Jan 2 – Test Hop – 1 hr. 00 min.
Jan 3 – Flew 9th mission today. Hit communication centers (Hamburg), marshalling yards. Flying time 6 hours – no fighters, no flak. Milk run as far as opposition. Had to fly a spare ship today. Supposed to fly 487 but flew 504. Guns had been put in wrong. Alerted for another mission tomorrow. Flew Deputy Lead in high right.
Jan 4 – Had to test hop today. Jan 5 – " " " "
Jan 6 – Up for mission. Was all ready to go but the field closed in with fog and the mission was scrubbed. We were marshalled and ready to go.
Jan 7 – Flew mission #10 today. Target railyards at Rastatt. Bomb load 6 x 1000 lb. Flying time 7 hrs 15 min. Flak meager. Temperature 42 degrees C. No enemy fighters. Flew Deputy Lead in high right.
Jan 8 – Test hopped 487 today. It's in bad shape. We are supposed to fly it on a mission tomorrow.
Jan 9 – Mission scrubbed, Alerted for practice mission at 6:30am but it was scrubbed. Alerted again for test hop 1:00 p.m. but it was scrubbed. Alerted at 4:00 for test hop – pilot, co-pilot, navigator, bombardier, engineer & radio operator flew. Alerted for mission again tomorrow.
Jan 10 – Flew mission #11 today. Target – Bridge at Schonberg, Germany. Highest altitude 24,500 ft. Temperature 48 degrees C. Bombing altitude 22,500 ft. Temp – 44 degrees C. No flak – no fighters- weather terrible. Last 50 miles we flew with parachute on in case someone ran into us or vice versa. Flew through haze the entire mission – flying time 6 hrs. 15 minutes. Worse weather I have ever flown in. We were really sweating it out. This is the eleventh day in a row the crew has flown. However, the gunners didn't fly yesterday.
Jan 11 – Nothing doing today.
Jan 15 – Had a practice mission today. Five lead crews flew over Cherbourg simulating bomb runs with squadrons. Received a box from Shug today mailed in December. It came at a good time as my ration box was empty.
Jan 16 – [Lt John] Moran went down on raid yesterday. Frankie Anderson was his navigator. We were supposed to fly today but only 10 planes went out as the mission yesterday had to scatter all over England to get down. Our field was closed in. Moran plane caught on fire over the target from flak hits in #3. He nursed it back to France and crash landed. One man reported dead and two more injured.
Jan 17 – Haven't heard anything from Moran. Three planes out of the ten failed to come back today. Missions are really getting rough.
Jan 18 – No mission today because of weather. We didn't even test hop today. Nothing much doing with us today.
Jan 19 – Gunners did no flying today. Skeleton crew went to another field to bring one of our planes back but the weather was so bad they couldn't land. Had a snow blizzard tonight around supper time. The boys just barely did get back in time to land before the storm. Hit the jackpot on mail today. Received 14 letters today. Eight were from Shug. Sure glad to get them.
Jan 20 – I flew a test hop today. We flew a skeleton crew. Only one gunner has to fly on a test hop now. I happened to be the one lucky enough to get it when there was four hour's slow time needed on #4. Flew 837 – a very good ship. It is a P.F.F. ship. We are a P.F.F. crew now. Don't know what we will get stuck with next. Smitty started this old stuff of F.Y.B. today. From now on he has had it. I can F. Y. B. too. Flew locally today. Was supposed to go high but had to stay under the clouds at 1,500 feet.
Jan 21 – The ground is still white. A skeleton crew flew today. We are alerted for deputy in the third section tomorrow. Moran's crew get back today. Frankie is o.k. except for a sprained ankle he got when he jumped. Jones was killed, also Smith. Their chutes didn't open. Some of the guys saw Jones bounce when he hit the ground. I'll bet it will be cold if we fly tomorrow. George brought a pup in tonight. I guess we will keep him for a little while.
Jan 22 – Nothing doing today. Had a practice mission, but skeleton crew flew. Are alerted for a mission tomorrow. Deputy lead in third section. Still cold and ground covered with snow. I am getting so I dread to think of flying a mission. They are getting plenty rough again. Everyone seems to like the pup. We haven't named her yet.
Jan 25 – Mission scrubbed because of weather. Didn't wake us up.
Jan 26 – Mission scrubbed today because of weather. They didn't even wake us up. Only two squadrons were going up. We were deputy in third squadron. Snowed some more today. Got my pictures from London today. I am disappointed in them. The tinting job is terrible. I ought to take them back and raise some heck.
Jan 27 – Briefed for mission to Kiel, Germany. Supposed to hit submarine pens. It would probably have been a rough mission as there are 128 flak guns in target area. We were dressed and I had my A-3 bag on my shoulder ready to go to the plane when the mission was scrubbed. It was very foggy. I am glad we didn't go. We went back to bed when we got back to the barracks. Supposed to test hop in the afternoon but Downs had gone to town so we didn't have to. No one got off the ground. It started snowing right after the other crews got to their planes.
Jan 28 – Went on mission #12 today. We hit benzoyl plants at Dortmund. -46 degrees C. No enemy planes – heavy flak. Bombing altitude 23,700 ft. 12 – 500# G.P. We got four or five flak holes. One piece of flak hit hydraulic line going to co-pilot emergency pump. Very good hits on target. Flying time 5 hours 45 minutes. In range of 420 flak guns. We took off in very bad weather. Couldn't see the end of the runway. Had icing from ground to 18,000 ft. We didn't have any trouble at all. Flew number six position in lead squadron. We were supposed to fly deputy lead in third squadron but the third squadron didn't get off the ground. Only first squadron and four planes of the second did. Snow blizzard hit here just after we took off. Chuck had hard time getting plane to climb. It snowed just before we took off. Runway slick on takeoff and landing. Flew #487 [pictured]
Jan 29 – Nothing doing at all today. Weather still cold and snowy. Have Shug's pictures ready to mail. Jenks and I are by our lonesome tonight. Went to base show this afternoon. Saw "Mrs. Parkington" with Greer Garson and Walter Pidgeon. Alerted for fourth section tomorrow.
Jan 30 – No flying – nothing doing all day.
Feb 2 – Got us up for a mission today. Target was supposed to be Berlin. Mission was scrubbed because of bad flying weather over the continent. Berlin has about 400 flak guns. Would really have been a rough mission. Will probably fly it tomorrow. We had just gotten to the ship and starting to put our guns in when the mission was scrubbed. We were supposed to get a 2 day pass starting tomorrow at 12:30 but Lt Charles Mitchell got his foot run over by an oxygen cart so our pass was changed. His crew took our pass time and we have to take his. Are alerted for a mission tomorrow.
Feb 3 – Flew 13 (13B) mission today. Primary target Magdeburg. Secondary – Berlin. 143[?] Division had Berlin for primary. Clouds were 10 tenths over target area so we overran the target. Dropped bombs on Wesermunde, Germany. Bomb Load 10 x 500#. Gas Load 2700 gals top (running over) B. Alt 24,000ft Temp -40degrees C. Flak – quite a bit but it missed us. No enemy fighters. Called this mission 12B until we landed after the mission. Flew deputy lead in second section. Alerted for deputy in fourth for tomorrow. 2,500 tons of bombs were dropped on Berlin. Wesermunde is supposed to have submarine building industry.
Feb 8 – Briefed for mission to Rhine, Germany. Took off and assembled and started to target but was recalled. Don't know the reason.
Feb 9 – Flew mission #14 today. Target Magdeburg, Germany. Primary target – oil refinery – secondary target – marshalling yard. Hit marshalling yard P.F.F. Bombing altitude 22,000 ft. Temp -40 degrees C. Time 7 hrs. 15 min. No enemy fighters attacked our group. Another group was attacked – heavy and accurate flak. We got about four flak holes – 2 in left wing, 1 in #3 that caused oil leak. Broke 1 push rod and bent another. 1 in right wing out board of #4. Flew deputy lead in third section. This was our roughest mission so far. Alerted for deputy lead in fourth section tomorrow.
Feb 12 – Alerted but scrubbed.
Feb 13 – Flew practice mission today. Lost a crew again. Lt. Shannon. Lose more crews on practice missions than we do on combat missions. Got up for regular mission today but it was scrubbed before we got our guns in.
Feb 14 – Flew mission #15 today. Target Magdeburg, Germany, marshalling yard. Hit secondary target. Primary was oil refinery. Can't get good weather to bomb it in. This is the third time this month we have been there. No enemy fighters – flak meager – inaccurate. Bombing altitude 25,700 ft. Temp -44 degrees C. 4 x 1000# G.P., 2 x 500# incendiary. Don't think we got any flak holes. Flew deputy lead in second section. Flying time 7 hours. Easy mission except for it being so long. Bombed P.F.F. half through. Gas load 2600 gals.
Feb 15 – Mission #16 today. Was really surprised when they woke us up. We weren't on the alert. Bombed Magdeburg, Germany. Hit oil refinery. Bomb load 12 x 500#. Flak meager ­ inaccurate. No enemy fighters. Time 7 hours. Flew deputy in 4th squadron.
Feb 19 – Mission #17 Target Meschede, Germany. Meager flak, no enemy fighters. B.A. [Bombing Altitude] 20,000 B. L. [Bomb Load] 6 x M17 6×500#G.P. Temp -23 degrees C. Not a bad mission. Bombed marshalling yards. 7 hours.
Feb 24 – Mission #18 Target Bielefeld, Germany. B.A. 22,000, B.L. 6 x 500#G.P. Temp -24 degrees C. No Flak, No fighters. Time 6 hours, 15 minutes, marshalling yard. No Ball.
Feb 28 – Mission #19 Target – Viaduct at Bielefeld, Ger. B.L. 4 x 1000# G. P. G.L. 2500 B.A. 22,000′ Temp -26 degrees C. No flak, No fighters 6 hrs. 45 min. No ball – alerted for tomorrow.
Mar 1 – Mission #20 Target – Marshalling yard at Ingolstadt, Germany. B.A. 17,800′ B.L. 10 – 500# G.P. Temp -18 degrees C. No flak, no fighters G.L. 2,700 gals 9 hours. Lead third squadron. Saw Alps Mountains.
Mar 3 – Mission #21 – Target Nuremburg, Germany. Railroad viaduct. B.L 6 x 1000#G.P. G.L. 2500 gals
B.A. 18,500′ No flak , No fighters 7 hrs. 30 min., Made three bomb runs and then circled for an hour. Deputy – third Squadron. Had a compliment paid us today. Headquarters called for three best group leads to be squadron leader and three best squadron leaders to be deputy squadron leaders.
Mar 5 – Mission #22 – Target Harburg, Germany. Flew over Harburg, B.A. 24,900′ B.L 6 x 500# 1 x 100#, Smoke bomb G.L. 2500 Temp -34 degrees C. Flew at 26,000. Temp -40 degrees C. Heavy flak but not accurate. No fighters. Lead 2nd squadron – Good formation C. P. Capt. Gardner.
Mar 7 – Mission #23 – Soest, Germany Marshalling yards. B.L 6×250# 1 x 100# S.B. G.L. 2,500 gal. B.A. 24,500ft. Temp -36 degrees C. F.T. 6:10 meager flak, Group Deputy. G.H. Bombing C.P. Capt. Quinn
Mar 9 – Mission #24 – Osnabruck, Germany Marshalling yard. B.L 10 x 100#G.P. 1×100#S.B. 2,500 gal temp -28 degrees C. F.T. 5 hours. Meager flak, Group Deputy, Good weather, C.P. Maj Betzold
Mar 15 – Mission #25 – Berlin, Germany. German High Command on outskirts of town. 6×250# G.P. 1x 100# S.B. 2,700 gal. 21,000′ -31degrees C. 7:15 Meager Flak but accurate. Took over Group lead just over Zuider Zee. B-17 blew up.
Mar 18 – Mission #26 – Berlin, Germany, Ordinance Plant. 10 x 100# M 47's 1×100# S.B. 2,700 gal. 21,900′ -28 degrees C., 7:40 Moderate flak but very accurate Flak damage. Saw B-24 blow up. 7 chutes. Total combat time: 171:55
Mar 24 – Mission #27 – Nordhorn, Germany. Air Field Invasion support. 10×100# G.P. 1×100# S.B. G.L. 2,300 gal. BA 20,000′ , Temp -27degrees C. Time 4:20 Total 176:15. No flak, No fighters. Excellent bombing Saw much activity at front. Group Deputy – visual bombing.
Mar 31 – Mission #28 – Brunswick, Germany. Marshalling yard. 4×500# G.P. 1×100# S.B. G.L. 2,500gal B.A. 23,000′ Meager flak. Group Deputy Enemy fighters driven off. Saw P-51 blow up. C.P. Capt. Goodfriend P.F.F.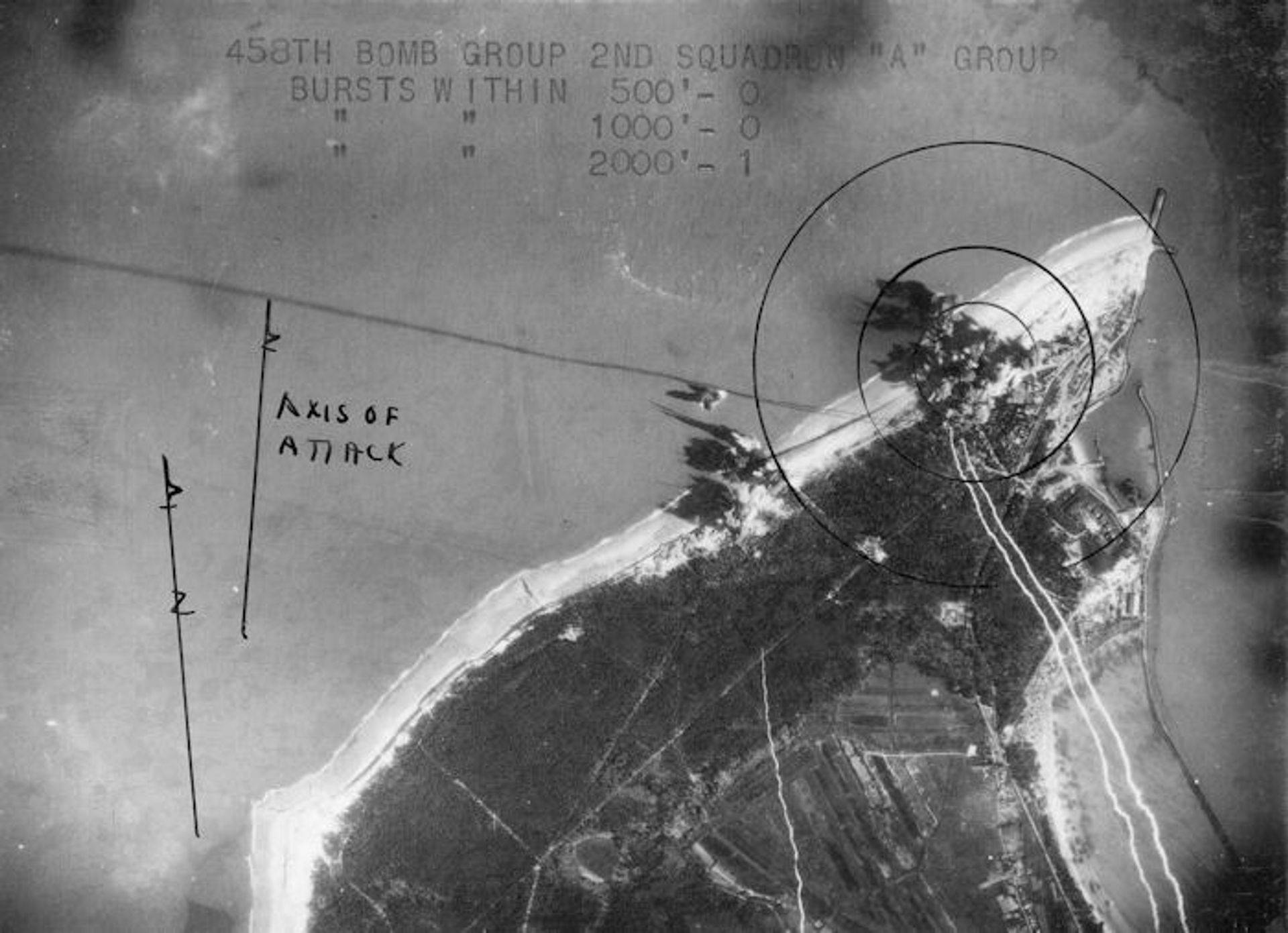 Pointe De Grave, France – April 14, 1945
Apr 8 – Mission #29 – Unterschlauersbach, Germany. Air Field 6 x 250# G.P. 1 x 100# S.B. G.L. 2,700 gals. B.A. 19,000′ Temp -20 degrees C. Time 7:00 Time 189:25 No flak, no fighters. Saw Alps again. Many sights of interest. Visual.
Apr 14 – Healy, Dick, Smith and Sig finished up today. No gunners flew. They hit Pte. De Grave, France. Sorry I couldn't finish with them.
Apr 16 – Mission #30 – Landshut, Germany Marshalling Yard. 4 x 500# G.P. 1 x 100# S.B. G.L. 2,700 gals B.A. 18,000′ – 19degrees C. Time 9:00 Total 198:25 Combat hours. Intense flak at Augsburg. Flew with Lt. Lanquist. Visual.
LAST COMBAT MISSION IN
——————————————————————-
Mom's record of time in service:
April 21, 1944 – left for College Station, Texas to be married to Bill Ruth.
Arrived April 23 and was married 5:30 that evening. Stayed there about three months and then we were sent to San Antonio, Texas. We stayed there about 18 weeks. Then went to Bonham and stayed about 6 weeks. From there we went to Houston. I stayed there 2 weeks and went home about a month. From there we went to Laredo, Texas where we stayed 6 weeks and then to Monroe, Louisiana. We stayed there about 2 months and went to Denver, Colorado. Stayed there about 6 weeks and then went home on our first furlough for 15 days. Then went to Pueblo, Colorado and stayed 2 and a half months. From there Bill was shipped overseas. He stayed 10-1/2 months. Now here I am in the Army again. Left home June 27, 1945 for Greensboro, N. C.
William Ruth's diary is presented here with the kind permission of his grandson Doug Rulon. Photos and items in brackets have been added by webmaster.
T/Sgt Harold W. Smith Diary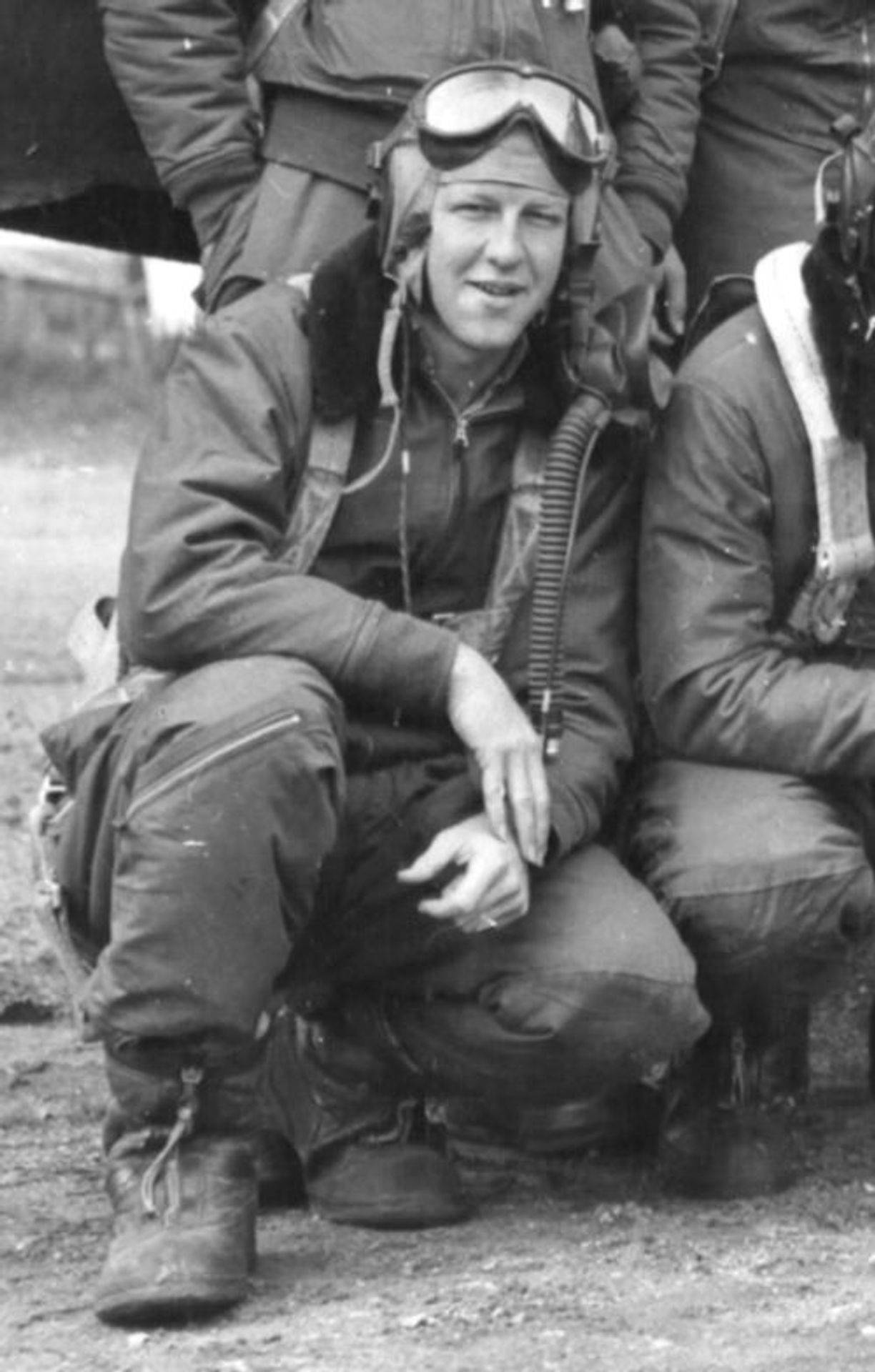 Jul 31, 1944 Oh Boy what a gap [in diary entry]. Nearly 2 1\2 months. That's a long time. Now to fill in the gap. Nothing happened till July 9th when I left Pueblo for Lincoln. We pulled out about 8 pm and had Pullman all the way even though it was troop train. Nothing exciting happened during the trip. July 10th, 1944, we arrived in Lincoln about 10 P.M. and had to hang around and register before we could go to bed. That's Lincoln all over.
I called Mom on the 11th and told her where I was and that there would be no furlough. On the 12th I had a telegram from home telling me to call home at 7 P.M. which I did. Mom wanted to know if it would be O.K. for them to come out Friday but I told her if she was coming at all she better get here tomorrow. So on the 13th of July Mom, Jim and Aunt Mary arrived and it sure was good to see them. Jim is about an inch or so taller than I but is a little thinner. We weigh about the same. He's just as crazy as ever. They bought me a gold bracelet with my name and serial No. on it just before I left. They all came out to the Post Sat. evening the 15th and left at 8 P.M. It sure was a sad farewell. Bill Ruth's wife and Chuck's wife & parents were there too. We took off from Lincoln at 1 A.M. of the 16th with 2700 gal of gas and all our equipment. We passed over good old Fort Wayne about 5:15 A.M. but we were at 10,000 ft. and it was sort of foggy so I couldn't see much. I did pick out the Lincoln tower though.
We arrived near Grenier field near Manchester New Hampshire about 10:30 A.M. That was the last time we set foot on good old U.S. soil. While at Grenier we took aboard lunches, water and 10 sleeping bags in case of a crash landing in the wilderness on the way across. 
Fortunately we didn't need them. We left Grenier on the 17th headed up across Maine and Northeastern Canada for Goosebay, Labrador. We arrived the same day without mishap. On the 19th we took off for Meeks Field, Iceland. We passed over the southern tip of Greenland and there we saw some massive icebergs in a large field of ice. We also noted a couple of large Glaciers in the valley or rivers leading to the sea. Quite beautiful but very dangerous to ditch a B-24 on.
We arrived at Meeks late in the evening and it was still light. In fact it stayed light till about 1:30 A.M. and was dark for about 2 hours. There is hardly any vegetation around the place. Just dirt and rocks. Nothing like Grenier or Goosebay, where incidentally, there were plenty of Pine trees (Xmas trees to you). While at Meeks we had to have a prop gov. Changed a nose wheel tire, the pilot free air temp, the mag comp changed and pulled a 25 hr. insp.
We left Meeks on the 20th and arrived in Valley Wales the same day. I can't say much about that leg as I slept most of the way. George lost $30 playing blackjack with Chuck & Dan. Dan lost $14 himself. At Valley our ship was taken away and that is the last we will ever see of it I suppose. Her number was 42-50808. A good ship. We left Valley on the 21st bound for Howard Hall near Echalsball, England. That is also near Stone. That is more of a reception center for crews coming to England. Had all my money changed to English pounds. I won $122.00 on the train coming down.
On the 27 we were shipped to Warrington, England. I won $37.50 on that trip. We left Warrington on the 28th by B-17 and hopped over to Greencastle, Ireland for 10 days of school and that's where I am now. We have three days of intelligence and five days of gunnery then we got to our group. So far I haven't received any mail and don't expect to for quite some time. We started school today so it won't be long now before we are in combat.
Aug 1, 1944 Today was calm and accompanied by very nice weather for a change. We were given a talk by a T/Sgt who had evaded the Germans and came through the lines in Normandy. He was very interesting. So far that's all except aircraft recognition and ditching. Still no mail.
Aug 9, 1944 I have finished school and am now waiting to be shipped to a group. It won't be long now before I fly my first mission. I got a letter from June three days ago. That was the first letter I have received since coming over here. Yesterday concluded my first three years in the army. Some veteran, that's me. That's about all there is for now. 19:30: Arrived at my permanent base in the E.T.O., the 458th Bomb Group, 753rd Bomb Squadron. It is located about 2 miles north of Norwich, England. At the present time we are living in a sort of an apartment house. A lot more privacy than I've ever had in the army before. The beds are still the three old biscuit type with one G.I. and two limey blankets. The food at the combat mess is swell – the best since Oakland, Calif.
Aug 16, 1944 The last few days have been filled in with a few classes on ditching, engineering and so forth. Yesterday we flew for the first time in England. We had an instructor pilot – engineer and radio operator aboard and put in 1-1/2 hrs. Today we had another practice mission and logged 4:10. Had a little gunnery along with it and I fire 800 rounds and burnt up two barrels in the upper turret. So far no one has received any mail since at this station except Jenks – the lucky dog. Oh, nearly forgot. The instructor engineer who was with us yesterday happened to be from Ft. Wayne. His name is Bob Crosby [Lt David Manker Crew] and he lives right across the street from June. He completed his missions about a week ago and expects to go home soon. He said he would go see my folks if he did get home. I hope he does.
Aug 18, 1944 Today was what you might call a red letter day as I went on my first mission into enemy territory. We Bombed an aircraft engine factory at Metz, France. We carried twelve 500 LB bombs and on the way over I got to thinking of the people down below who was going to be on the receiving end. The mission was 7:55 long and in all that time we didn't see a single enemy fighter and only 8 or 9 bursts of flak. We did see lots of our own fighters though (P-38 & P-51). No ships were lost that I know of. One came home with a badly damaged wing due to a mid-air collision, not enemy action. It is now about midnight so I guess I better go to bed as we are alerted for tomorrow. By the way. Webster didn't fly with us. He flew with another crew. We had an experienced co-pilot by the name of Fields with us.
[ed. Barry Smith: The planes that were involved in the midair collision were "A Dogs Life" and the deputy Lead's plane. Records shows that A Dogs Life encountered prop wash that forced it into a sharp bank thereby striking the deputy Lead's left wing. Ten feet of the deputy Lead's wing was mangled. Both aircraft remained airborne. The deputy Lead completed the bomb run. A Dogs Life tried but could not complete the bomb run. It lost altitude but made it to an emergency base. Ref: "Liberators over Norwich", pg 149]
Aug 21, 1944 Today I have done nothing. No mission as the weather is pretty poor. Yesterday we were scheduled for a practice mission but the field was closed in before we got off. Today I got my A-3 bag that was left at Stone and it finally got here. Now I can fly with good equipment again. All mine too.
Aug 24, 1944 Today we raided Hanover, Germany. The target was an oil refinery but we didn't do such a good job of it. No fighters were seen. Just after takeoff a nose turret door blew off and broke the navigator's side window, put four holes in the leading edge of the wing and one in the fuselage.
Aug 25, 1944 Didn't do much today. Attended 1 hr of aircraft recognition then had a pass and went to town. Went to a show which wasn't bad at all. Better than was expected. The newsreel is all English this and English that. If they show Hitler they laugh to beat hell, German soldiers goose stepping get the raspberry. Norwich has some bomb damage but not too much, just a spot here & there but big spots. We were alerted for a mission today but wasn't called. We are alerted for tomorrow so I am going to bed.
Sep 3, 1944 No missions since the 24th of Aug except a couple practice missions at night. The crew is now in training for special duty. We still don't know the details. I was grounded for about five days because of an eye test results. I am a trifle far sighted and a pair of G.I. glasses have been ordered. I don't relish the idea so much either. Bob Crosby has been sent to Blackpool, England to the A.T.C. to take supplies to Paris and bring wounded back. Some deal. I am now on flying status again and have 215:10 hrs. All for now. The boys want the lights out.
Sep 23, 1944 Nothing new has been added since the last entry. I still don't know what this night business is all about and I haven't flown for about 10 days. As yet the glasses haven't come and I am in no rush for them. I am getting sort of nervous though. I smoke more than usual and for no reason at all. I just can't sit still long and I can't find anything I want to do. I guess I'll get over it. The rest of the crews are ferrying gas over to France and I guess are having one helluva good time while there. They are bringing back all kinds of souvenirs and wine at a package of cigs a quart and champagne at four bucks a quart. We are trying to get operations on the stick so we can go over. I tried to find Bert the other day but was told he is in the front lines in France. I guess that's all for this time.
Sep 28, 1944 Today we took a trip to Lille, France, with 1600 gallons of 80 octane gas. I can now say I have been in France at least. Nothing out of the way happened but the runway over there is bomb pocketed and several places we passed over are completely devastated. I got a few German coins and one French coin and that's all. I might have had more if we would have stayed overnight. Maybe some other time. [The a/c used by Healy and crew for this flight was "Downwind Leg".] So far we don't know what this night operation stuff is. And we don't have our ship for it either.
Oct 3, 1944 Tonight has been quite an exciting one. About 9:30 P.M. a Buzz Bomb hit the golf course about 3/4 of a mile away. Webster & I hopped on our bikes and went over. We got a few pieces which were picked up about 500 yds. away. That's about all there is to say tonight.
Oct 12, 1944 Since the last entry, we have had several Buzz Bombs hit quite close. A half mile was the closest. I went to London the 8th for two days and really had an interesting time. I saw all the famous places and even learned a few extra things about them.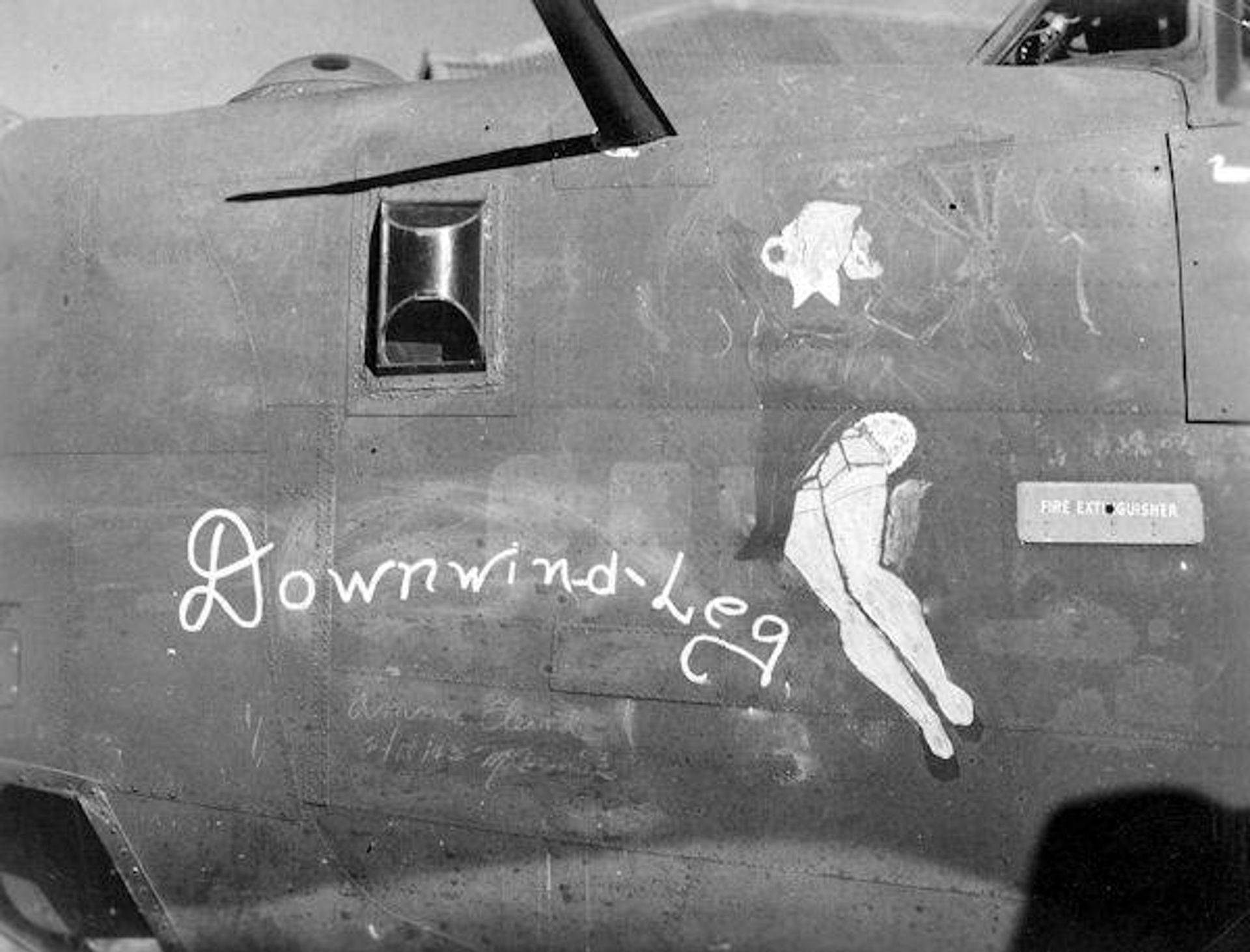 I stayed at the Red Cross Interstate Club a few blocks off of Piccadilly Circus. George, Lenny and I were together. So far nothing new on night operations. We were called on to test hop a ship on the 10th and that also proved uneventful. I now have 239 hrs.
Oct 14, 1944 Today we got our third mission in. We were briefed to go to Cologne which has somewhere around 900 guns. When we took off, everything got screwed up. The group was supposed to form over Splasher 5 and then the orders were changed to Splasher 7, which was also a mistake as it was supposed to be Buncher 7. Anyway, we didn't find the formation so tacked onto the 448th group and bombed KOBLENZE instead of Cologne. We didn't see any fighters or come close to any flak. We carried 4-450 lb. incendiaries and 16-250 lb. general purpose bombs. That 448th group can't fly formation either. When we turned off the target, they went every which way and one ship didn't drop his load and, to top it all off, he flew directly above us. That's a helluva feeling to look up and see an open bomb bay loaded with nearly 6,000 lbs of high explosives. It was a 5:15 hr trip, which wasn't bad. There isn't much to say, so so long 'til next time.
Oct 17, 1944 We now have four missions to our credit. We raided Cologne again. The target was the marshaling yards. We were supposed to bomb a chemical plant about 6 miles north if the weather was clear but it was clouded over so we bombed Cologne with instruments. Again, no fighters or flak near us although some was seen in the distance. This mission fogged me out more than any other I think. My flak suit got so heavy I couldn't get up high enough in the turret to see the sight. We were in the air 6 hrs. I now have 252:45 hrs in the air. The Buzz Bombs have sort of slacked off. I guess they are still coming over but they aren't hitting so close.
Oct 19, 1944 Boy the missions are coming fast & furious lately. We have had one every other day this last week. Today it was Mainz, Germany, located southwest of Frankfort. We hit the marshaling yards there with 12-250 lb G.P. and 6-450 lb incendiaries. We encountered a bit of flak on the bomb run and got one hole in our left wing. It was just a small one though. Our first one too. Three ships dropped out of formation. One because of lack of oxygen, one lack of gas, and the other one had two engines knocked out. I guess they made it O.K. This trip lasted 6:30 hrs. We hit 26,400 feet with a full load of bombs. The temp was -41C and that's plenty cold.
Nov 6, 1944 The 3 & 4th of this month we have tried without success to get in mission no. 6 but yesterday (5th) we finally made it in a sort of round about way. They got us up at 4:30 A.M. which was too early as far as I was concerned. We ate and went to briefing, then to the ship (277). We were about ready to take off when we discovered the R. Mag on No. 3 was no good so we came back and took a spare (408) up. We were carrying three 2,000 lb bombs and 2500 gals of gas plus a dislike for the ship. We had tried to fly it once before but it was in an unsafe condition so no go. After we got in the air, the ship wanted to climb too fast and it wouldn't climb slower very well. Anyway, we found our position information and everything was O.K. until we were on the bomb run. Then No. 1 engine lost its oil pressure and we had to feather it. We dropped out of formation, dropped our bombs about 10 miles from the target and started back all alone. Luckily no fighters attacked us or I probably wouldn't be writing this at this time. No. 2 engine was throwing a lot of oil and we didn't trust it so we decided to land at Melsbrook Airdrome at Brussels, Belgium. I tried to fix the engines but they decided to send us back to England the next day on another ship. We all went to town (Brussels) except Jenks, Healy, Downs and Webster. I wore my heavy flying clothes including boots and even helmet and goggles. I really stood out. Everyone stared and exclaimed, "Piloter" which, of course, means Pilot. I didn't bother to correct them. The people on the continent are much cleaner, take more pride in their dress and are much more modern than the English. The beer is nearly like our own. They are very friendly and easy to get along with. We didn't have too much trouble speaking to them either. A little French and German mixed with gobs of sign language works wonders. I really had a good time in Brussels. Even kissed one little (19) Belgium lass good night and I had only known her for a half hour. They sure like the yanks but hate the Limey. We came back to England in a B-17 and landed at Rattlesden and came on home by B-24. We were listed as missing in action since last night (11-5-44). Our lockers had even been cleaned out. Our target was Karlsruhe about 100 miles inside Germany due east of Metz, France.
Nov 18, 1944 On the 16th we took off in a fog so thick you couldn't see the end of the runway. We carried 20-260 lb fragmentation bombs and 2500 gals of gas. Target was enemy troops east of Aachen ten miles. Bombing altitude was 21,000 feet. We had to land at Blyton, an R.A.F. training base near the Scot border as our field was closed in. We stayed there two days and just got back today. They treated us pretty nice and even threw a party in the officers' lounge which ended up in a football game. Most of us were plastered, including me. We slept in the gym on the floor. Rough. No flak was encountered and that was mission No. 7. Troops attacked 12:45. We bombed 2:46.
Nov 23, 1944 We haven't flown since the last entry so there isn't much new. I got the Air Medal a couple days ago and have sent it home already. It was awarded for six missions. Received two more packages today, one from Jim and one from Boots. Dad had a whale carton of Beechnut gum in one of them. I'm glad it was Beechnut as it is good gum to fly on. Whansetters also included some tobacco and cigarette papers too.
Nov 25, 1944 Yesterday we had a PRACTICE mission and it cost the lives of 9 men. When we returned to base it was socked in with a 500 ft ceiling. A pilot named Dooley hit a church steeple in Norwich and tore a wing off. He crashed & burned with 8 other crew members. We nearly had two midair collisions ourselves. We couldn't see nothing. For all we went through we made a swell landing though. Today we took off for Bingen, Germany. Bomb load was two 450 lb incendiaries and ten 500 lb G.P.s. Gas load was 2500 gals. We didn't see any enemy fighters but we did get off course and was tracked by several three to five gun flak batteries. Upon returning to base we find the field again socked in. Not as bad as yesterday but we still had two near midair collisions. The target was a panzer division in the marshaling yards.
Jan 3, 1945 Mission #9. Today we took off for NEUNKIRCHEN, GER. The target was a marshaling yard. Bomb load was two 450 incendiary and twenty 250 lb G.P. We didn't see any flak or E/A [enemy aircraft]. Gas load was 2500 gals. Bombing was done through clouds. We flew the No. 2 spot in the high Right squadron. Our first deputy lead since we became a lead crew. TIME was 6:00 hrs even [flight time]. We are now in the 755th Sq.
New Years was observed on the base and we ushered it in with plenty of flare.
Jan 7, 1945 I got up at 3:30 this morning to go to RASTATT, GER. to put in Mission #10. We got a little flak on the Bomb Run but no E/A were encountered. We carried 2700 gals of gas and 6 – 1000 lb GPs. The target was again a marshaling yard. We really plastered it too. We were in the air 7:15 min. Only 20 missions to go. This was our 2nd class B lead.
Jan 10, 1945 Today we went to Schonberg, Germany for mission #11. The target was a highway bridge but I don't think we destroyed it. The bomb load was six one thousand pound G.P.s. Gas load was 2500 gals. Bombing altitude was 23,500 ft. No flak or E/A were encountered. The trip took 6:15 hrs.
Jan 28, 1945 Today it was a benzol plant just outside of Dortmund, Germany. We carried 12 – 500 lb G.P.s and 2500 gals of gas. We bombed from 23,700 ft. and I believe we hit the target. No E/A were seen but we did get quite a bit of flak. One piece went in the right side of the ship just forward of the copilot. It clipped the emergency hand pump hydraulic line and dropped to the floor. I found the piece after we landed. It missed the copilot's rudder cables by 1/4 of an inch. The trip took 5:45 hrs. That was mission #12.
Feb 3, 1945 Mission #13. Today we were briefed for Magdeburg or Berlin. We went to Magdeburg but didn't drop our bombs. We dropped them on a small coastal town on the way out. We carried 10 – 500 lbs G.P.s and 2,700 gals of gas. Light flak was encountered but no E/A. By the way, our aiming point at Berlin was a cathedral in the center of town. We were after the 2 million refuges. Flight time was 7 hrs even.
Feb 9, 1945 Mission #14. Again today Magdeburg. This time it was an oil refinery. Our bombs hung up on us and we dropped by salvo through the bomb bay doors. Load was 10 – 500 lbs G.P.s and 2700 gals gas. No e/a, but plenty of flak. I think somebody's kitchen sink went through our left wing and bathtub hit No 3 engine and knocked out the hydraulic pump. We used the emergency to lower the gear + flaps. It also broke and bent two push rods and caused us to leave a lot of oil but not enough to warrant a feathered engine. We had a couple more holes too but they didn't amount to much. Trip took 7:15 hrs.
Feb 14, 1945 Today we got in our 15th mission and that puts us on the top with 15 to go. Today it was Magdeburg again after the Marshalling yards. Someday we'll hit it. We had 2600 gals of gas and 4 – 1000 lbs G.P.s and 2 – 500 lb incendiaries. Bombing altitude was 25,800 ft. Flak was meager and no E/A were seen. It was a 7 hr trip. I got the bends in my right knee pretty bad and it is still sore tonight. We bombed by instruments.
Feb 15, 1945 16th mission and you guessed it, Magdeburg. This time we were after the oil refinery with 12 -500 lb G. P.s. We carried 2500 gals of gas and bombing altitude was 22,500 ft. Again light flak and no E/A. Time in the air was again 7 hrs and again we bombed by instruments. I wanted an easy day because of my knee but I had a tough one because of a gas leak in a heater line in the nose. I think I made about six trips to the nose. I know now that I could never take B-29 or B-32.
Feb 19, 1945 17th mission and for a change it was a jet engine factory at Meschade, Germany. We carried six 500 lb GPs & six 500 lb incendiaries plus 2,500 gals of gas. Bombing altitude was 20,000 ft. and we were in the air 7:00 even. Light flak was encountered but no E/A. Bombing was visual and the target was hit.
Feb 24, 1945 18th Mission. Today it was the marshalling yards at Bielefeld, Ger. Bomb load was six 500 lbs G.P.s. Gas was 2500 gals. We bombed by instruments from 22,000 ft. No flak or fighters were encountered and the trip took 6:15.
Feb 28, 1945 19th Mission. Back to Bielefeld again today but this time we were after an eleven span railroad bridge. Bomb load was four 1000 lbs G.P.s and 2500 gals of gas. Bombing was visual from 22,000 ft. but we missed the target although we came close but that don't count. No flak or E/A were seen. We took 6:45 for this trip.
Mar 1, 1945 20th Mission. Today we really took a long trip. Clear down by the Swiss boarder east of Munich. Ingolstadt, Ger. was the town and its marshalling yards was the target. Bombing was done by instruments. Results unobserved. Bomb load was ten 500 lb GPs & 27oo gals of gas. Bombing altitude was 17,800 ft. No flak or fighters showed up so it was a pretty nice trip as we got to see the Alps & the Danube River on the way in. Trip took 9:00.
Mar 3, 1945 21st Mission. A railroad bridge at Nienburg, Ger. was the target today. Clouds were broken over the target so we bombed PFF with a visual assist but we missed. We carried six 1000 lbs GPs & 2500 gals. gas. Bombing altitude was 18,000 ft. Trip took 7:30. We circled the target 4 times in hopes the clouds would clear off. Fighter Bait, that's us. No flak or fighters were seen.
Mar 5, 1945 22nd Mission. Today it was Hamburg, Germany. Intense flak was encountered but we didn't get hit. No fighters. We carried six 500 lbs GPs and 2500 gals of gas. The target was a oil refinery and we bombed P.F.F. from 24,900 ft. Trip took 6:15.
Mar 7, 1945 23rd Mission. Today we attacked a marshalling yard at Soest, Germany. We dropped six 250 lb G.P.s through clouds and saw little flak and no fighters. Gas load was 2400 gals. We bombed from 24,500 ft and took 6:10 for the trip.
Mar 9, 1945 24th Mission. Another marshalling yard but today it was at Osnabruck, Germany. We carried ten 100 lb. GPs and 2500 gals gas. Bombing was done from 22,000 ft. by P.F.F. with visual assist. Light flak was encountered but no fighters. Time 5:00.
Mar 15, 1945 25th Mission. Today we went after the German General Staff Headquarters at Zossen about six miles from Berlin. We carried six 250 lb GPs & 2700 gals gas. We bombed visually from 21,000 ft and encountered moderate flak at the I.P. [Initial Point] in. No fighters were seen. Time was 7:15.
Mar 18, 1945 Big "B" "BERLIN" No. 26. Today was a great day. We bombed an armament factory on the outskirts of Berlin with ten 100 lb incendiaries from 21,500 ft. Gas load was 2700 gals. Flak was INTENSE and accurate. I saw a B-24 go down in flames and three chutes come out that I saw. We later learned seven men got out. I never want to see that again. I also saw a ME-109 go under us from 7 o'clock toward 1 o'clock about 700 ft below us. Time was 7:40. I wanted to hit Berlin but never again.
Mar 24, 1945 27th Mission. Today we hit an airfield just east of the Rhine R. in support of the attack by Montgomery's troops and our own airborne troops. Gliders passed overhead even before we took off and when we arrived at the target we could see an unending stream of them as they were going in. We also saw Monty's smoke screen. (60 miles long). Bombing was visual and we really plastered it with ten 100 lb GPs. Gas load was 2300 gals. No flak or fighters were seen. The target was near Nordhorn, Ger. and we bombed from 20,000 ft. Time 4:20.
Mar 31, 1945 28th Mission. Today it was little "B", Brunswick, Ger. We dropped four 500 lb GPs on a marshalling yard from 23,000 ft. Gas load was 2500 gals. Flak was meager and fighters were reported but didn't see any. Time was 6:10.
Apr 8, 1945 29th Mission. Today we hit an airfield handling jet aircraft near Unterschlauersbach, Ger. Laugh that name off. We dropped six 250 lb GPs from 18,000 ft. I saw two ME-262 on the field. Gas load was 2700 gals. No flak or fighters were seen. Time was 7:00.
Apr 30, 1945 [This was actually on April 14th] NO. 30! Today was the day I came over here for and it sure was a good mission. We went to Pte De Grave, France just north of Bordeaux. There's a pocket of 122,000 Germans down there who have been living the life of Riley so we went down & changed it to hell with 2000 pounders. We didn't have any guns aboard or any fighter support and Ruth, Jenks, Armstrong or Howard didn't get to go as we took no gunners.
Healy, Beaulieu, Sig & I were the only ones to finish up. We carried 2500 gals of gas and stretched it to the limit for 8:45 hrs. I guess we had about a hours supply left when we landed. I didn't wear my heavy clothes this trip as we only went to 14,400 ft and it was quite warm. We really hit the target too – a Bullseye. We heard it was 100 % within 500 ft. I think I'll go out and celebrate tonight.
On April 12th President Franklin D. Roosevelt died in Georgia. I figure the U.S. has lost a great man & president.
——————–
This portion of Harold Smith's diary is presented here with the kind permission of his son, Barry Smith.  The diary entries preceding this section are quite extensive and contain detailed information about Harold Smith's training.  The entire diary is available here.  Also available is a transcribed flight log of Harold Smith's aerial flights from April 1944 to May 1945.